On September 9th the first year Strategic Human Resource Management (SHRM) students headed off to GE Healthcare in Waukesha, WI to get a firsthand look at one of GE's manufacturing and business locations. What followed was a memorable day that provided ample opportunities to learn about their products, culture, and business strategies, including their innovative human resources practices.
We started off the experience with an introduction into the many different business areas of GE. Some in the room associated GE with light bulbs and appliances, while others thought of aviation, energy, and healthcare. In their company introduction, we learned that GE has a diversity of product lines and is truly a digital industrial company- they have more software engineers than Google!
Next we explored the manufacturing floor for both the CT and PET scan product lines. It was a truly an interactive experience, as we suited up in protective gear- including googles, full body suits, and steel toe boots – and saw the whole manufacturing process up-close. During the tour, we heard about GE's constant strive for process improvement that defines their culture. It was a great behind-the-scenes way to learn about the business.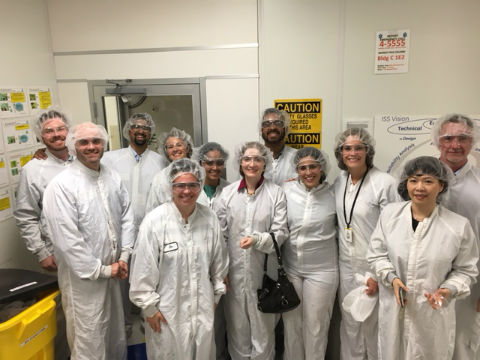 In the afternoon, we heard about GE's Diversity efforts from Yvonne Brodsky, Leader of Diversity & Early Talent at GE Healthcare. The diversity efforts at GE has a long history and was impressive in its scope and depth. Many minority groups, as well as women and the GLBTA community at GE had groups, called networks, which do outreach to the GE population as a whole. In addition, many groups had forums, where they would get together to have an open dialogue on issues affecting that group. Overall, GE Healthcare appears to achieve something that most modern companies are striving for these days: successfully recruiting and fostering an inclusive atmosphere for all of their employees.
Additionally, we heard from Jen Pfannenstiel (MBA, '07) about an innovated solution to performance management that was piloted in the last few months. It addressed the critical aspects of great feedback delivery, including timeliness, and specificity. The process did not necessitate manager intervention, with the effort being on point-to-point feedback utilizing technology. The engaging conversation we had on the approach was educational and really helped to bring HR practice to life.
Overall, the 1st year SHRM group had an educational and engaging trip. This was an extra special experience as we got to meet with numerous alumni with a variety of backgrounds, including Industrial Engineering, Industrial Relations, and Human Resources from the University of Wisconsin-Madison, including: Jen Pfannenstiel (MBA, '07), Morgan O'Neil (MBA, '15), Krista Friedrich MBA, '13), Rachel Crooker (MBA, '12), Nicole Rybeck Wolcott (BS, '09), and Bob Landwehr (MS, '89). My classmates and I are very thankful for the chance to get an inside view into the operational and human resources practices at GE Healthcare and for the support that we felt from everyone involved.
---