One of my favorite activities in Barcelona is by far going to the beach! If you haven't already heard the song "Vamos a la Playa", queue it up right now for some warm and sunny summer vibes! The famous song recorded by Loona was all the rave back in 2010 and still a great way to get hype for a day at the beach! Visiting the beach is so interesting and fun for me because I had never lived this close to the ocean for an extended period. In this post, I'd like to give you a tour and some tips about of all the beautiful beaches I've visited in and around the city!
First, I'd like to start with Barcelona's main beach, La Barceloneta! La Barceloneta is positioned at the center of the city's coastline, right below the historically rich Gothic Quarter. Due to its location, the beach is extremely easy to get to and has literally endless options for foods and drinks. It is also the most touristy and heavily crowded beach in the city. If you are planning to spend a day or even a couple of hours at this beach be prepared to be confronted by an endless stream of street vendors selling everything from massages to mojitos. The real advantage of beaching at La Barceloneta is the fact that you can bus or subway there in only 30 minutes and it offers beautiful views of the city's skyline!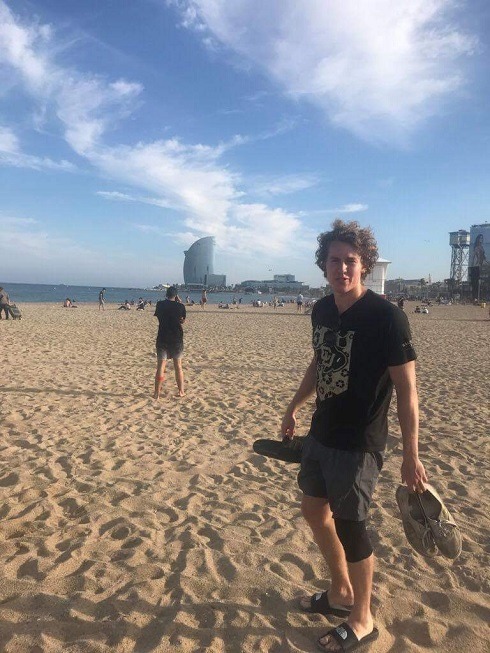 The next beach I'd like to cover is positioned a few miles north of the city in a town called Montgat! Platja Montgat is a gorgeous and narrow strip of beach that stretches up the entire northern coastline of the city. This beach is an excellent option because you will not have to fight off the masses in order to claim a spot in the sand and only sacrifice about 20 minutes in transportation compared to Barceloneta. If you have a standard transit pass (which is used for public buses, subways, and trains), you can ride out to Montgat for the same fee in as little as 45 minutes! If you're looking for a beach with more local and small-town vibes, you need to check this out! Another amazing benefit of visiting Montgat is that most of the surrounding tapas restaurants serve fresh seafood and are a delicious way to end a day at the beach.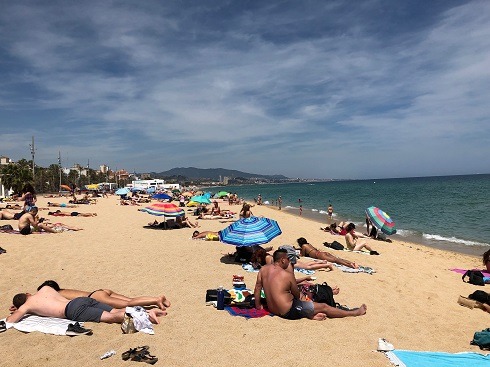 ---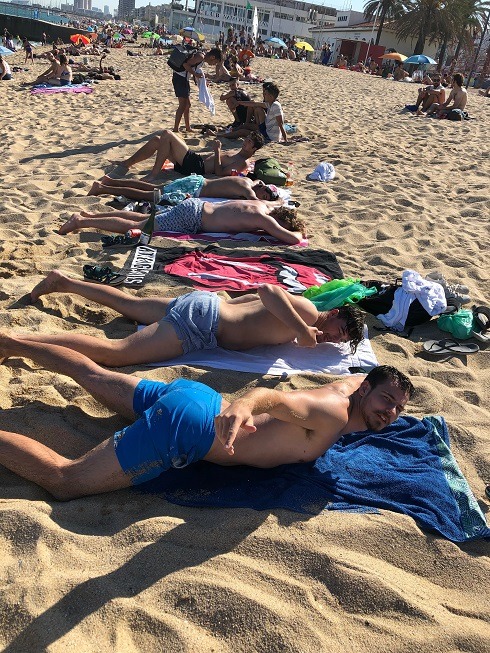 Finally, I want to highlight my favorite beach I visited in Barcelona! A few weeks ago, my roommates and I made the trek down to the seaside village of Sitges! The entire journey takes a little over an hour to complete but once we arrived, we spent the entirety of the day at Platja de Sant Sebastià. I cannot emphasize enough how breathtaking both the beach and village are. Sitges is filled with grand mansions, vintage churches, and a historic old town that borders the entire coastline. The true beauty of Catalan architecture and cuisine can be taken full advantage of here! If you get the opportunity to visit, you need to stop at the El Cable. This restaurant is frequented by tons of locals and offers delicious competition grade tapas at a great price! One of the best things the beach has to offer is a huge paved walkway around the entire beach that allows for relaxing seaside strolls while watching the sunset over the Mediterranean. If you don't have the time to visit, find some way to make more time. You won't be disappointed.
---
In closing, I'd just like to reiterate the fact that you literally can't go wrong when choosing to go to a beach in Barcelona. Each location I highlighted has its individual pros and cons but regardless of your decision you will have an amazing time. Don't forget that when your living on the coast there are endless options for new beaches, swimming holes, and diving sports to be found. So, get out there, do some research, and get your beach body on point!
On Wisconsin!
-Nicholas
---