Get in Touch With Global Programs
Location
Global Programs
Wisconsin School of Business
3295 Grainger Hall
975 University Avenue
Madison, WI 53706-1323
Appointments
Make an appointment with the Global Programs team to learn more about studying abroad.
Meet the Global Programs Staff
Our professional staff works closely with overseas partners. These staff also advise students on study abroad programs, process course equivalencies, and maintain smooth operations of our office.
Peer Advisors
Our student staff peer advisors are all former WSB study abroad program participants. They advise students during drop-in hours, manage the front desk, and assist with office operations.
Lily Buehler
Marketing, International Business, German Certificate
I am excited to be a global programs peer advisor because I wanted the chance to share my accumulated knowledge from my experience with students and help them find their home abroad. My favorite thing about studying abroad was all the people I met from different countries, as well as the travel I was able to do. Being in Vienna was an amazing experience filled with so many different cultures, and I am so happy I was able to have the opportunity for personal growth through these interactions. I will continue studying marketing and international business at UW-Madison and plan on graduating in the spring of 2024 with hopes of moving abroad after graduation.
Emily Chin
Finance
I decided to become a peer advisor because I love planning trips abroad and cannot wait to help students plan their study abroad. I love traveling and being able to create new experiences and meet so many new people! I will be continuing my undergraduate studies as a Finance and Communications major on the pre-law track.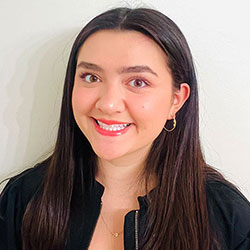 Phoebe Vanna
Finance
I chose to be a global programs peer advisor because I am passionate about exploring and learning through travel. I look forward to studying abroad during my college career so I can share my insights with other students who also share this passion.
Isabelle Fawcett
Supply Chain Management, Marketing, and OTM
I am happy to be a Global Programs Peer Advisor because I want to share my abroad experience with prospective students. Having completed both a short-term faculty-led program (Supply Chain Management in Germany) and a semester-long program (Rome), I am excited to help my peers plan their own trips and share the knowledge I gained throughout my time abroad. My favorite part about studying abroad was traveling to new countries and learning about their different cultures from the perspectives of people we met. I will graduate from UW-Madison in the spring of 2024 with a degree in Supply Chain Management, Marketing, and OTM.
Kaitlyn Cassidy
Management, Marketing, and Supply Chain Management
I am a global programs peer advisor because I hope to help others feel ready and excited to study abroad. The process to study abroad can be overwhelming but can also lead to tons of personal growth and learning. I studied abroad in Barcelona and loved practicing Spanish and learning more about the culture in Catalonia and Spain. I am studying Management, Marketing, and Supply Chain Management and will graduate in May 2024.