Build Essential Skills for Executive Positions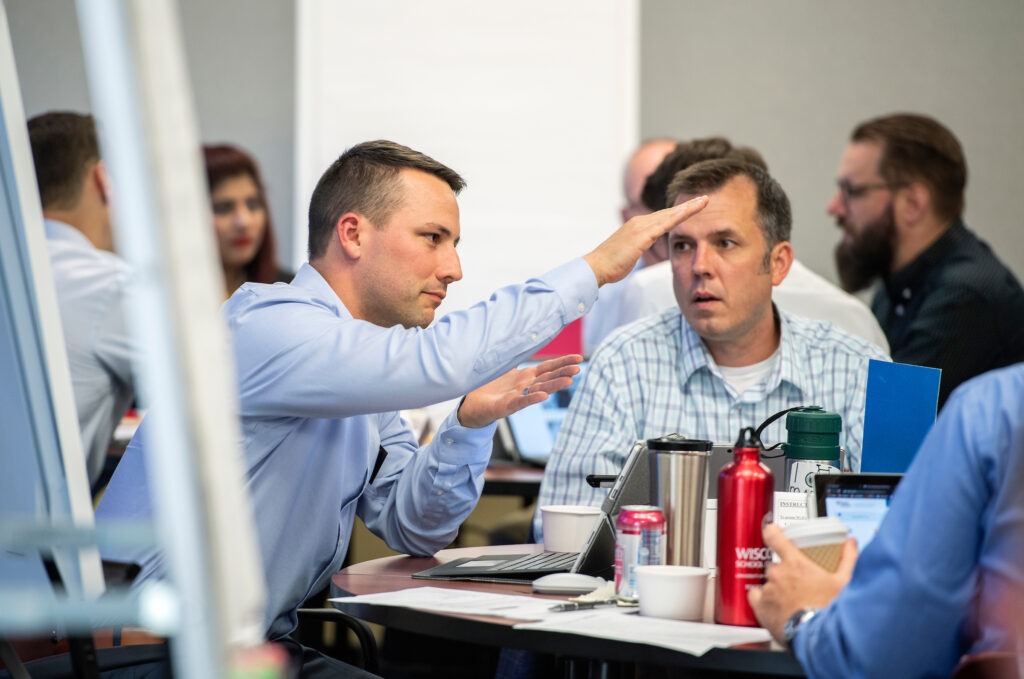 Implement new insights immediately at work.
Go deep into the psychology of leadership
Grow as a strategic decision-maker + communicator
Gain tools to boost team performance now
Understand financials that make up your organization
Learn from current issues + theory
Immerse yourself in international business
Relevant insights. Strategically designed for busy high-level professionals.
Build soft skills + learn business complexities
The curriculum is built for busy executives and organizational leaders. We pair soft-skill classes with more challenging ones, making homework more manageable.
Teamwork with peer executives
Each cohort learns in a structured, lockstep delivery format. Students are broken out into teams, and courses are built on collaboration, discussion, and the sharing of ideas.
Enhance Your Strategic Understanding
The curriculum prepares students for strategic business management, providing a broad-based understanding of key business functions and how they integrate in an organizational context.
The program also focuses on leadership skills, enabling students to develop their own leadership styles and practices to effectively lead people, teams, and organizations.
Classes meet every other Friday and Saturday. Please see the Executive MBA class calendar for details.
Year 1:
Key management functions and leadership skills
Organizational Behavior
Economics for Managers
Marketing Management
Financial Accounting
Leadership
Macro-Economics
Managerial Accounting
Introduction to Financial Management
Consumer Behavior
Year 2:
Advanced strategic management and global business understanding
Negotiations
Business Law
Business Strategy
Executing Strategy
Multinational Business and Finance
Global Learning Experience
Role of Business in Society
Operations Strategy
Accelerating Innovation
Project Management
Markets with Frictions
"After learning about the Wisconsin Executive MBA Program, I knew that its curriculum and structure were closely aligned with my core values, principles, and educational aspirations. I could tell it would serve as a catalyst to successfully accomplish my short and long-term career goals."
Senior Manager, Tyson Foods Inc.
Understand Business on a Global Level.
Prepare for multinational business
The program's global learning experience course provides you with direct experience working in a global business climate. By engaging in applied projects with your cohort, you become more confident and knowledgeable about conducting business abroad.
Travel with your cohort + meet business leaders
The 10-day, international trip in the spring of your second year takes you through in-country site visits with senior leaders of multinational and domestic businesses, trade groups, and government ministries. You become familiar with the opportunities of doing business in the host country.
Past global learning experiences have taken Wisconsin Executive MBA students to the following countries: Brazil, China, Hong Kong, India, Malaysia, Peru, Singapore, Thailand, Vietnam
Connect With Us
Sign up to get the latest information about the program, hear about upcoming admissions events, receive application tips, and more.