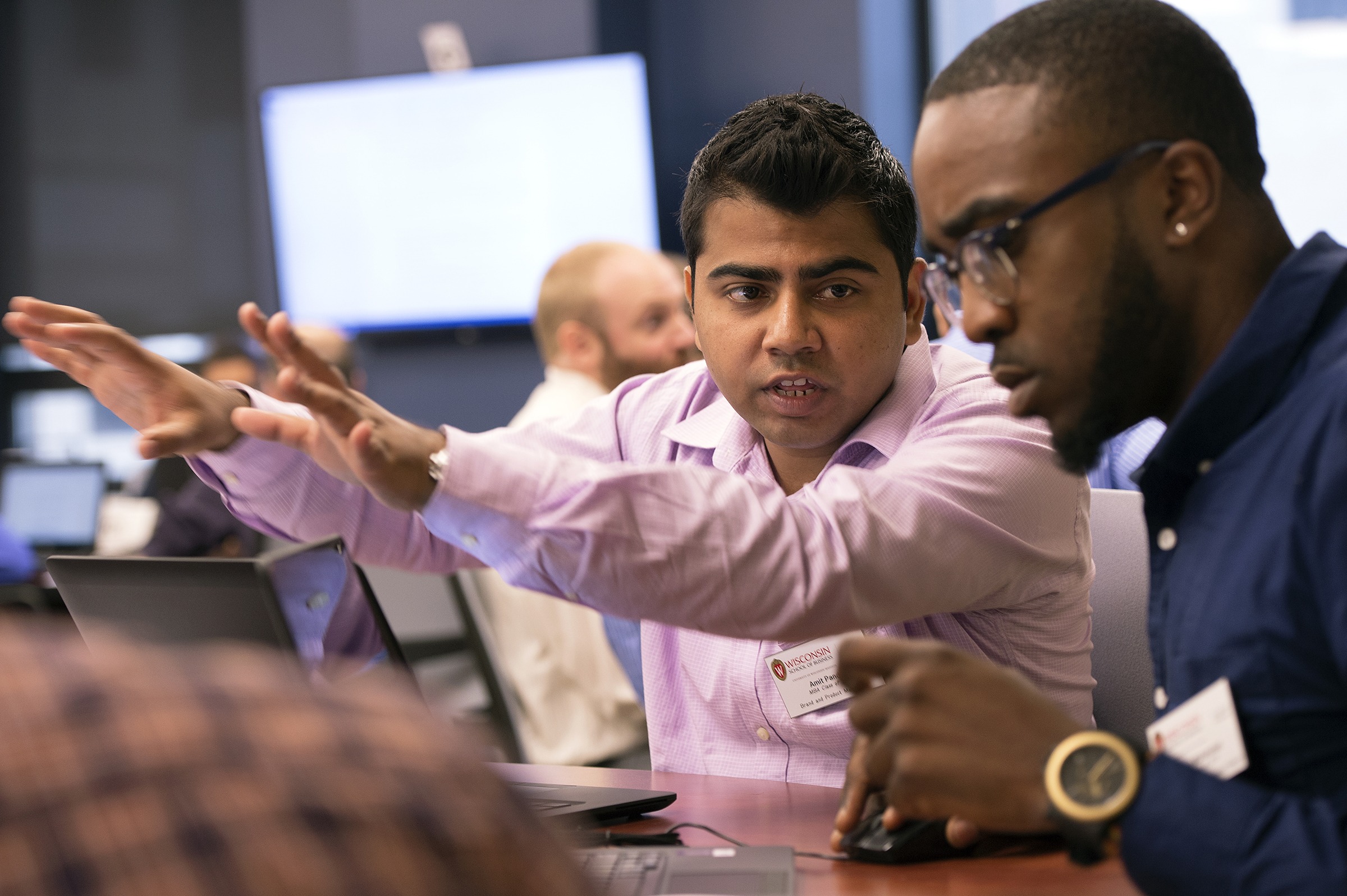 Curriculum
Curriculum is where we shine. You learn essential fundamentals, but you dive deeper into a focus area. It's like two degrees in one.
---
Experiences That Set You Apart
Hear from students about their favorite courses and experiential learning opportunities: supply chain analytics, managing two $8 million portfolios, learning from TurboTax, and more.
Core Curriculum
Year 1
Arrive at your next career move ready on day one. Our general management core curriculum seamlessly integrates key functional areas of business with essential leadership skills. These fundamentals prepare you to excel out of the gate and as you move up professionally. Second-semester courses build on first-semester fundamentals and prepare you for your internship.
Semester 1
Marketing Management
Introduction to Financial Management
Data to Decisions
Leading and Working in Teams
Financial Accounting
Operations Management
Semester 2
Economics for Managers
Business Strategy
Ethics, Integrity, and Society
Consulting Practicum
Specialized Curriculum & Experiential Learning
Years 1 and 2
Begin specializing in your preferred field right away, in your first semester. Experiential learning in our small, specialized program means you get robust, team-focused, hands-on project and consulting experience tailored to your chosen field. This sets you apart in a big way as you interview for a summer internship. And you arrive at your internship able to make an immediate impact. Employers notice. Many internships result in full-time offers.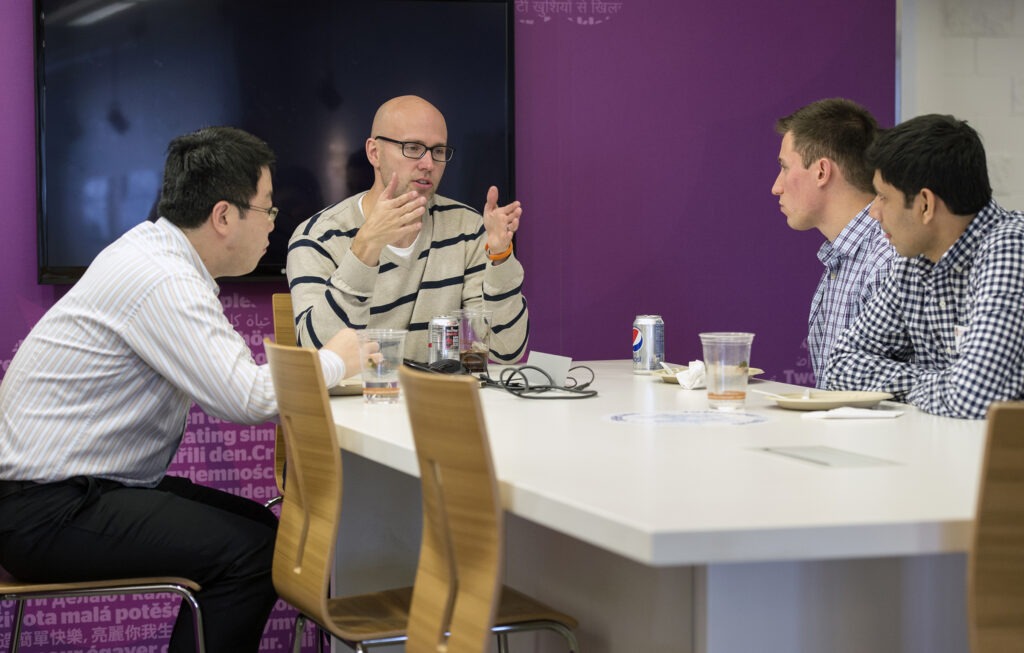 Internship
Summer Year 1
Land at a top company in your field, ready to apply all that you've learned in your first semester. Comprehensive one-on-one career support will have you confident and ready for interviews. You'll stand out when you get there, fully prepared to jump in with early specialization training. Expand your network, experience, and knowledge.
"The Wisconsin MBA provided many opportunities in my first year to practice the soft skills employers are looking for. This proved invaluable during my internship at Boston Scientific. At my internship, I was presenting to senior leaders multiple times a week and presented my summer project to people from across the company. Without my MBA I wouldn't have known how to approach presentations effectively."
Partner Development Manager, Microsoft Healthcare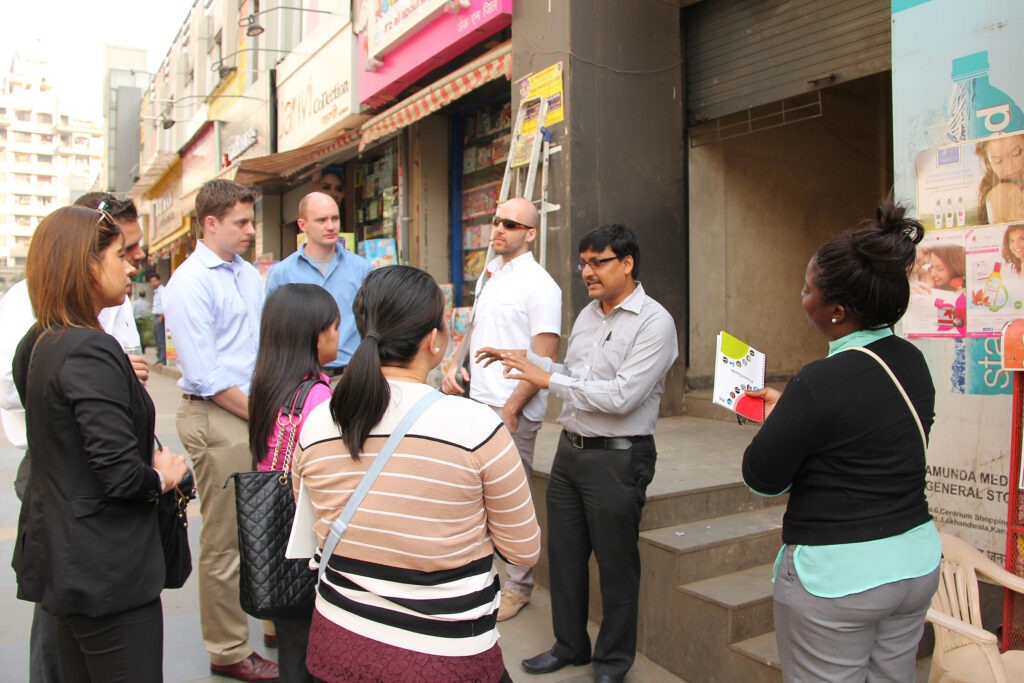 Global Learning
Year 1 or 2 – Optional
Experience global business firsthand in a team consulting project with actual deliverables for a multinational corporation or native company. Work with students from different specializations for a cross-disciplinary perspective in on-site consultations with company leaders; tours to learn economy, history, and culture.
Transformative Experiences in China and Hong Kong
Thirty students from the marketing specializations visited China and Hong Kong. They met with executives at companies like Kellogg's, The Nielsen Company, 3M, and Proctor & Gamble. They also visited the Hong Kong stock exchange and the U.S. Consulate in Beijing, and had the perspective-changing experience of being consumers in China and Hong Kong.
Read more about this global learning experience
MBA in the World for Educational Experience
— The Economist, 2021
Career Management
Career management is seamlessly integrated into the MBA curriculum. Afterall, it's not just what you learn here, it is how you package it to the employers where you want to work. With our high staff-to-student ratio, you are ready to present your strongest traits and communicate the values that will make you a preferred candidate.
Essential leadership training is embedded throughout the curriculum and as part of Ignite Career Accelerator to prepare you to make an immediate career impact.
Learn more about careers & leadership
Graduate Certificates
Customize your MBA degree even further by adding a graduate certificate to expand your skills and knowledge base to further target your expertise.
Certificate in Business Analytics
Certificate in Business, Environment, and Social Responsibility
Certificate in Entrepreneurship
Certificate in Strategic Innovation: Organizations, Technology, and Society
Learn more about certificates
Entrepreneurship
If your vision is to impact the world as an entrepreneur, Wisconsin has what you need to start or grow your big idea. Innovation thrives here, in part because small program size means you get substantial one-on-one attention to develop the exact skills you need. The Weinert Center for Entrepreneurship serves as a hub for learning and connection with students, faculty, and alumni across the campus in a highly supportive environment.
Learn more about entrepreneurship at WSB
Diversity, Equity, & Inclusion
In the Wisconsin MBA, we practice what we teach. Our commitment to diversity in our student body mirrors our commitment to diverse faculty and staff. We are continually adding depth to the program to reflect the world and the workplace, which brings rich perspectives to our curriculum and gives you a truly well-rounded education.
Learn more about diversity, equity & inclusion at WSB