Dean Vallabh Sambamurthy
Dr. Vallabh "Samba" Sambamurthy assumed the role of Albert O. Nicholas Dean at the Wisconsin School of Business on August 1, 2019. Recognized as an impactful administrator, attentive leader, and preeminent scholar in the areas of innovation and digital strategy, Sambamurthy is applying extensive experience to the dean role.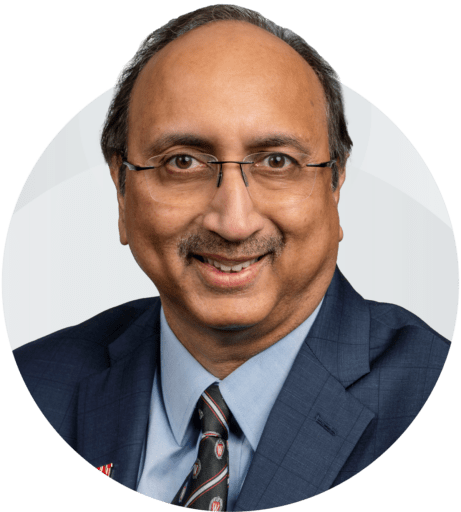 "The Wisconsin School of Business community prepares responsible, team-focused leaders to solve tomorrow's big challenges—truly successful leaders who apply forward-thinking knowledge for lifelong impact. We succeed by infusing emotional intelligence and cultivating values-driven purpose as we empower people of diverse backgrounds to thrive in business and make businesses thrive."
Albert O. Nicholas Dean
Biography
Dr. Vallabh "Samba" Sambamurthy is a leading expert on how businesses compete in the digital economy. His work has been featured in leading academic journals. Several Fortune 500 firms have engaged him as a consultant. Working with executive clients and academic colleagues in China, Taiwan, Singapore, India, and Hong Kong, Sambamurthy has focused on digital business transformations, strategic alignment, governance, and innovation. He has co-authored several books on digital transformation. He has served on the editorial boards of premier academic journals, including two terms as editor-in-chief of Information Systems Research and leadership roles in professional associations.
Prior to his arrival at the Wisconsin School of Business, he served as the Eli Broad Professor at the Broad College of Business at Michigan State University, in addition to leadership roles, including the associate dean of the MBA and professional master's programs, associate dean for outreach and engagement, and chair of the accounting and information systems department. He was instrumental in the launch of the top-10 MS program in business analytics and curricular innovations in the MBA programs. Additionally, he held faculty appointments at the University of Maryland and Florida State University.
Sambamurthy has garnered several recognitions for contributions to teaching, research, outreach, and mentoring. The Association of Information Systems honored him with the LEO Lifetime Achievement award. He was selected as a distinguished fellow of the Information Systems Society at INFORMS, and he received the William Beal Distinguished Faculty Award—the highest honor accorded by Michigan State University.
Sambamurthy received his PhD from the University of Minnesota, his MBA from the Indian Institute of Management, and his B.E. from the National Institute of Technology (Tiruchirappalli, India).
Follow Dean Sambamurthy on Twitter
Dean Samba's Blog
Dean Sambamurthy discusses trends and insights about the future of business and higher education. Read more about his thoughts and vision for the Wisconsin School of Business.
Invest in the Business Badgers of Tomorrow
With your support, we can enhance our capacity to provide an exemplary student experience and prepare future business leaders who will change the world.