Vallabh "Samba" Sambamurthy is no stranger to the Big Ten, having been a student or faculty member at Minnesota, Maryland, and Michigan State. This month, he flips the "M" to a "W" as he takes the helm as the next Albert O. Nicholas Dean of the Wisconsin School of Business at the University of Wisconsin–Madison.
"I am so excited to be a Badger," Sambamurthy says. "Among the Big Ten community, the University of Wisconsin commands enormous reputation and recognition. Therefore, I couldn't be more eager to take on this leadership role at such a hallowed institution with scope for a brighter future."
After serving most recently as the associate dean for MBA and professional master's programs at the Eli Broad College of Business at Michigan State University, Sambamurthy steps into his new leadership role in August. He succeeds Interim Dean Barry Gerhart, who has led the School since February 2018.
Sambamurthy plans to build on WSB's legacy as a top business school and brings a vision of continued expansion and distinction.
"As dean, I see WSB perfectly positioned for innovation and growth," says Sambamurthy. "I'm a big believer that business can be a force for good in society. Among the many things that attracted me to WSB is the Wisconsin Idea—that our knowledge, energy, and talent can flow outside the School's four walls to benefit the citizens of our society and state."
A record of achievement and leadership
Sambamurthy was born and raised in India, where his early passion for automobiles led to an undergraduate degree in mechanical engineering from the National Institute of Technology in Tiruchirappalli, India. He was planning on a master's in automobile engineering until Peter Drucker's book on management captured his curiosity. He pivoted, heading to the Indian Institute of Management in Calcutta, where he earned an MBA with a specialization in marketing and strategy.
He went on to earn a PhD in information systems from the Carlson School of Management at the University of Minnesota, and held faculty positions at Florida State University and the University of Maryland before arriving at Michigan State University (MSU).
While serving as the Eli Broad Professor, Sambamurthy held other leadership roles including chair of the accounting and information systems department and associate dean of outreach and engagement. He helped launch MSU's top-ranked business analytics program and played a pivotal role in crafting Broad's strategic plan.
Throughout his career, Sambamurthy has maintained strong connections with industry, serving as a consultant or educator for large firms such as Accenture, AstraZeneca, Freddie Mac, and Chrysler. Sambamurthy's corporate connections and insights gained from industry collaborations inform his highly regarded approach to teaching, research, and academic leadership.
"Samba has been a strong and steady voice at MSU, encouraging faculty to recognize the importance of interacting with industry and incorporating lessons learned from those interactions into their research and teaching," says Sanjay Gupta, Eli and Edythe L. Broad Dean at MSU. "Samba has made many valuable contributions during his tenure, and I am confident he will deliver tremendous impact and leadership to Wisconsin."
An esteemed scholar and teacher
Sambamurthy is widely recognized as an expert on how businesses compete in today's dynamic digital economy. His research on digital strategy, innovation, and information technology infrastructure has been featured in leading academic journals.
He has received numerous teaching, research, and service awards throughout his career, including the Association of Information Systems' LEO Lifetime Achievement Award and MSU's highest honor, the William J. Beal Outstanding Faculty Award.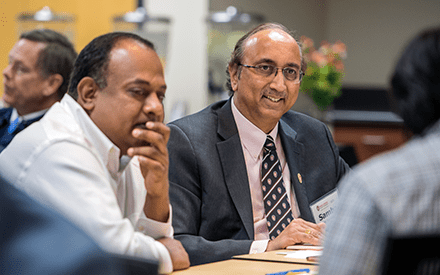 Terry Warfield, PwC Professor and Richard J. Johnson Chair of the Department of Accounting and Information Systems at WSB, says Sambamurthy's reputation precedes him.
"Dean Sambamurthy brings an outstanding scholarly record to the Wisconsin School of Business. He is a prolific researcher, with a publications and citations ranking that places him in the top one percent of all information systems scholars," Warfield says.
"In line with the Wisconsin tradition of great researchers also being great teachers, Samba has garnered teaching awards at two different universities and led development of innovative cross-disciplinary graduate programs," he adds. "These credentials complement Samba's strong administrative leadership skills, which will serve him well as the WSB dean."
Navigating a rapidly changing landscape
Sambamurthy brings a forward-thinking approach to his dean position, rooted in his thorough understanding of how today's economic and technological landscapes are evolving at a breakneck tempo.
"In the rapidly shifting environment we face today, educational institutions must keep pace with change and be intentional about evolving," he explains. "At WSB, we choose to lead the way. We will continue to prepare our students to succeed in this new environment by continually empowering them with new skills and habits of mind."
"One of the fundamental ways in which business school experiences have changed is that student learning is no longer primarily confined to the classroom," he adds.
Sambamurthy sees an opportunity for WSB to expand upon its portfolio of offerings, bolster its array of experiential learning opportunities, and add new avenues for acquiring relevant skills and knowledge. He is deeply invested in helping people continue to learn throughout their professional lives and sees WSB becoming a hub of lifelong learning.
"We need to do more than teach skills; rather, we must prepare students for learning agility. The most important competency our students must acquire is 'learning to learn.' In today's society, there is a continual need for upskilling and reskilling, and WSB is well positioned to nurture that growth in different ways," he says.
Building upon his strength in connecting with and engaging industry, Sambamurthy seeks to create even stronger ties with business experts and better understand the evolving needs of the business community.
Collaboration, innovation, transparency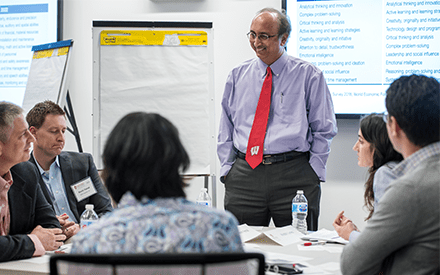 As Sambamurthy begins planning for WSB's future, a culture of collaboration, innovation, and transparency will be a hallmark of his approach. He has already begun meeting with key stakeholders—including faculty, staff, students, alumni, and campus partners—to gather insights, build relationships, and assess strengths and opportunities.
"Samba brings a collaborative and visionary leadership style to this deanship," says UW–Madison Chancellor Rebecca Blank. "His cross-disciplinary approach and drive for innovation will bring great value to the Wisconsin School of Business and the university. I look forward to working with him."
With a personal and professional background that spans multiple countries and cultures, Sambamurthy also brings a global mindset to the role and plans to deepen WSB's commitment to diversity and inclusion.
"I believe that business schools today must reflect the diversity that exists in society. Being an immigrant and having had tremendous opportunities in this country, diversity and inclusion are my core inherent values. And importantly, diversity can take many forms—diversity of people, of space, of thought."
At home in Wisconsin

In making Wisconsin his new home, Sambamurthy looks forward to learning the Badger way of life and experiencing the university's many time-honored traditions along with his wife and two daughters.
"We are excited to embark on this new chapter in our lives," Sambamurthy says. "I have already received such a warm Wisconsin welcome, which makes it easy to call this place home. I am ready to put down roots, dive in, and get to work."
Sambamurthy's early months on the job will include listening sessions on campus and across the country as he continues to gather perspectives from the School's many valued stakeholders. In partnership with other WSB leaders and partners, he has initiated a strategic planning process to first understand and align interests, set a clear direction for the School, and create actionable strategies that move the School toward those shared goals.
"I have a lot of enthusiasm about the Wisconsin School of Business. I am coming into an institution with a strong legacy, excellent faculty and staff, reputed colleges on campus, great students, and dedicated and successful alumni. It's the ideal launching pad for me to provide new energy and an invigorated sense of purpose and vision. I can't wait to see where we go from here."
---