Grainger Hall
Located prominently in the very center of the UW–Madison campus, Grainger Hall is home base for the Wisconsin School of Business.
Inspired Learning Resources
This student-friendly learning and gathering space is one of the most visually appealing and technologically advanced business school facilities in the country—and a favorite study location for students from many campus disciplines.
Three high-tech auditoriums equipped with multimedia and broadcast capabilities
30 classrooms, including two reconfigurable collaborative learning classrooms
Fully equipped study rooms for group study and project work
A courtyard for outdoor breaks
State-of-the-Art Learning Commons
The bright, contemporary, 35,000-square-foot Learning Commons is the physical center and dynamic heartbeat of the Wisconsin School of Business. The space occupies three floors in Grainger Hall. Its vibrant, "human-centered" architectural design reimagines business education, providing cutting-edge learning and study spaces loaded with supportive technology. The space is designed to inspire students, faculty, and corporate business partners as they collaborate with an eye to shaping the future of business.
First Floor
Huber Undergraduate Computing Lab
Flexible resources serve a wide range of options for instruction, study, or research.
Generous work spaces
Latest hardware and institutional software
Convenient onsite printing
Extensive power access
Projection features
Finance and Analytics Lab
This technology-rich space offers the high-caliber resources students will use in the workplace.
Real-time market data via Bloomberg Terminal
Capital IQ, and other essential institutional business software
Recessing computer monitors for full-view interaction
Wireless connectivity to wall-mounted monitors
High-end web conferencing and audio equipment
Second Floor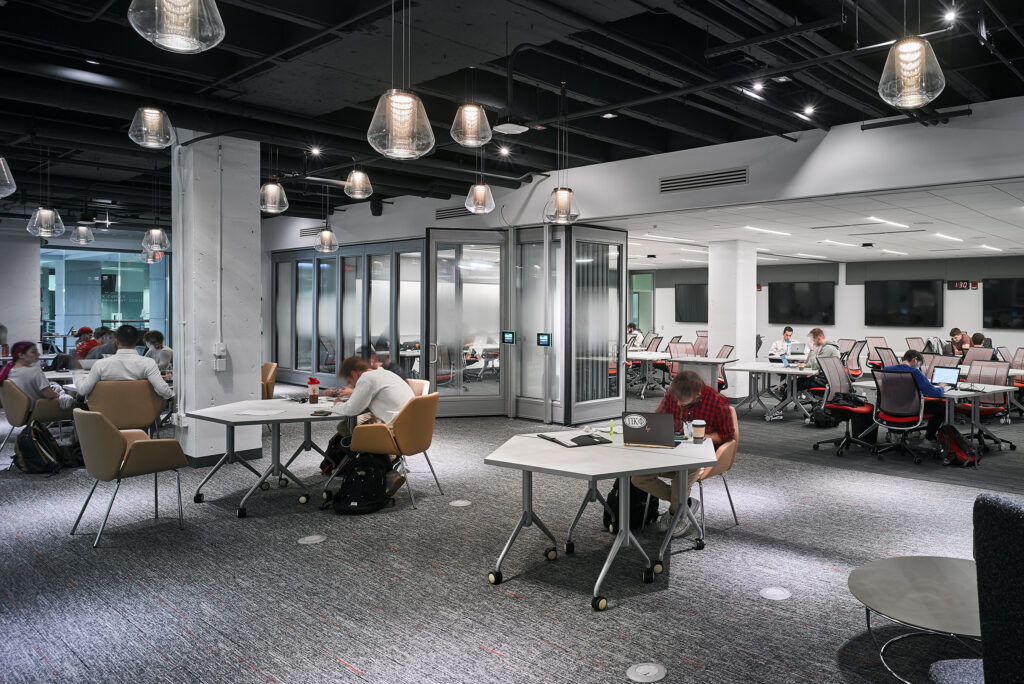 Active Learning Classrooms
State-of-the-art "active-learning classrooms" offer flexibility to take learning to new levels.
Configurable furniture and ample computer and display capability
Spacious, informal seating for study, relaxation between classes, or meeting with instructors
Third Floor
Quiet Study
The third floor of the Learning Commons, accessible from the second floor, is a welcome haven for students to review notes, complete assignments or catch up on assigned reading.
Eight breakout rooms for small group study
A diverse mix of seating and microenvironments, noise-reduction features, and conducive lighting options to reduce eye-strain
Ubiquitous power options for using personal computer devices
Building Hours
Grainger Hall
Capital Café and Peet's Coffee
Learning Commons
For students, faculty, and staff:
| | |
| --- | --- |
| Sunday: | 12:00 p.m.-12:00 a.m. |
| Monday: | 8:00 a.m.-12:00 a.m. |
| Tuesday: | 8:00 a.m.-12:00 a.m. |
| Wednesday: | 7:30 a.m.-12:00 a.m. |
| Thursday: | 8:00 a.m.-11:00 a.m. |
| Friday: | 8:00 a.m.-7:00 p.m. |
| Saturday: | 1:00 p.m.-5:00 p.m. |
Fall/Spring Semesters:
Monday–Friday: 7 a.m.–7 p.m.
(Made-to-order items available from 10 a.m.–2 p.m.)
Saturday and Sunday: Closed
Summer:
Only coffee, grab-n-go and flatbread pizza available.
Monday–Friday: 7:45 a.m.–2 p.m
Saturday and Sunday: Closed
Fall Semester:
Monday–Wednesday: 8:30 a.m.–12 a.m.
Thursday: 8:30 a.m.–11 p.m.
Friday: 8:30 a.m.–5 p.m.*
Saturday: Closed Sunday: 12 p.m.–12 a.m.
Summer:
Monday-Friday: 9 a.m.–5 p.m.
Closed Saturday and Sunday
Closed on holidays.
The hours of operation throughout different areas of the Learning Commons are tailored to meet student and faculty needs, accommodate classroom schedules, and deliver a positive, supportive learning experience.
Business Library
Finance and Analytics Lab
Huber Undergraduate Computing Lab
Active Learning Classrooms