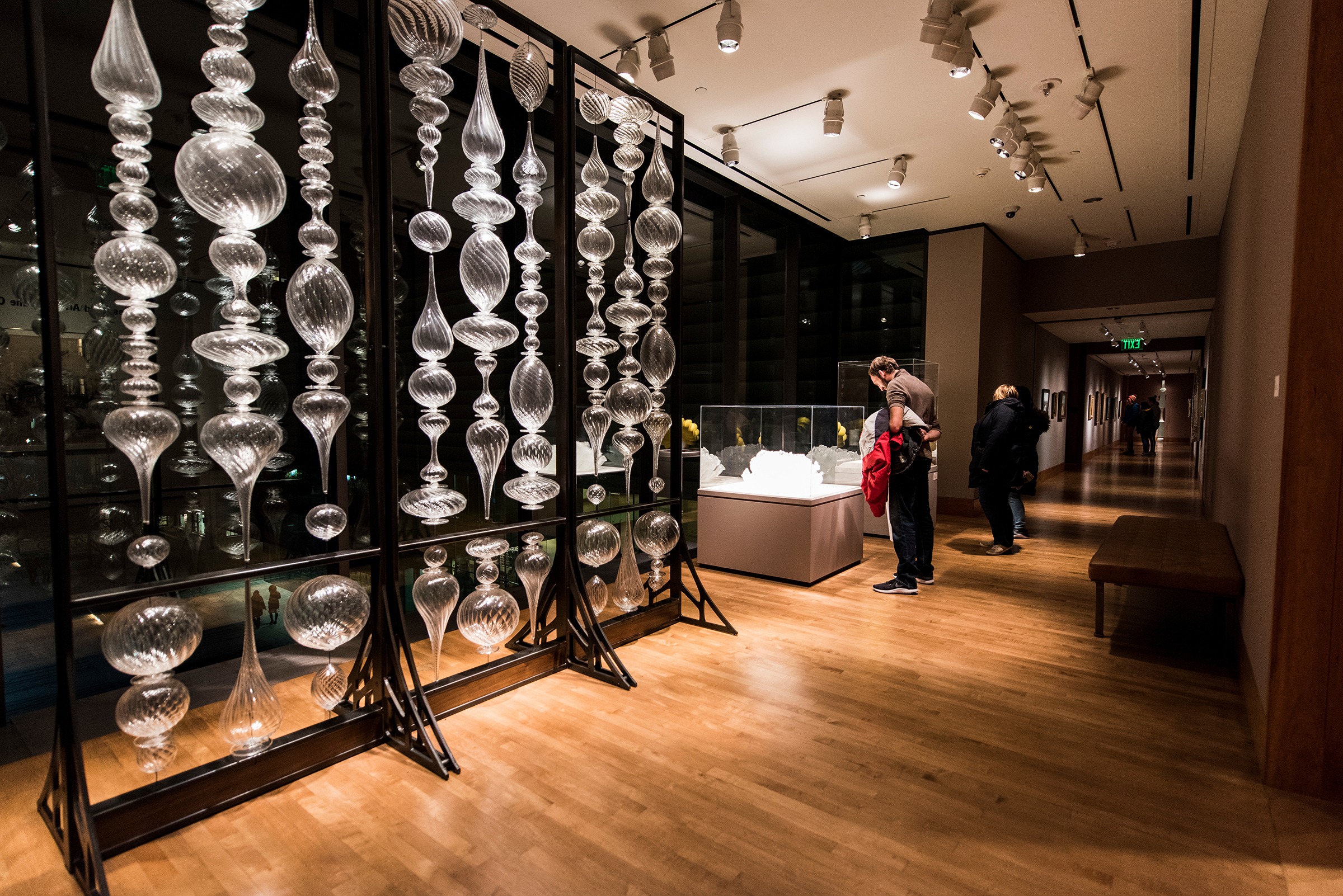 Admissions
---
Start on Your Path to an MA in Arts and Creative Enterprise Leadership Degree
Selecting the right master's program for your career goals is important. Our admissions team is here to help you at every stage, from inquiry to application. Schedule a phone or video consultation with one of our team members to get started.
Application Deadlines for Fall 2024
Application due
November 1, 2023
February 1, 2024
March 14, 2024
May 1, 2024
We offer multiple deadlines to apply. Apply for the deadline that best works for you. If you submit between deadlines, we will review your completed application after the next deadline. If admitted, your enrollment deposit date will be communicated to you in your online admission letter.
Scholarships Available
The Bolz Center for Arts Administration offers significant financial support for students in the Master of Arts Business: Arts and Creative Enterprise Leadership Program to offset the cost of tuition. All students admitted to the program are eligible to receive up to $15,000 of scholarship support.
Tuition & Fees
The following costs apply to the 2023-2024 academic year.
| | | |
| --- | --- | --- |
| Item | Resident Tuition | Nonresident Tuition[1] |
| Tuition | $27,014.72 | $50,663.20 |
| Segregated fees | $1,561.48 | $1,561.48 |
| Estimated yearly total | $28,576.20 | $52,224.68 |
Minnesota residents may be eligible for reduced tuition as participants in the Minnesota–Wisconsin reciprocity agreement. See details below.
Tuition rates vary from year to year, and are determined by the University of Wisconsin System Board of Regents, based on budgets approved by the Wisconsin governor and legislature. Tuition is reviewed and set annually in August. For more information about tuition rates, please visit the Bursar's Office website.
Segregated fees are charges, in addition to tuition, assessed to all students for student services, activities, programs, and facilities that support the mission of University of Wisconsin System institutions, including UW–Madison. The segregated fee rate is updated each summer.
Tuition is listed at the full-time rate for two academic semesters. Summer tuition and any additional credits taken are subject to a per credit cost.
What You'll Need for Your Application
Essay 1
Please explain why you are applying to the MA in Arts Business Program, and why at this point in your life? Tell us your career goals and how the Bolz Center will help you achieve them.
Limit essay response to 600 words.
Essay 2
The Bolz Center embeds the principles of IDEAS: Inclusivity, Diversity, Equity, Accessibility, and Social Justice into all curriculum, activities, and applied learning experiences. What is the role of IDEAS in the arts, and how would you specifically incorporate these principles into your work?
Limit essay response to 600 words.
Essay 3
Tell us about a specific event, program, or other arts experience that you participated in or are familiar with that was a catalyst for change in a community. Describe the event or experience. Who were the stakeholders and what was the impact?
Limit essay response to 600 words.
Essay 4
Having a successful career in arts and cultural management and entrepreneurship requires the ability to collaborate with a variety of stakeholders as you work towards a common vision. Tell us about a time that you were part of a successful team. What was your role in the process? Why was the outcome successful?
Limit essay response to 600 words.
Please use this optional essay to communicate additional information about yourself that is not otherwise represented in the application, and that you feel would benefit the admissions committee. Limit essay response to 600 words.
Include past work experience, educational accomplishments, demonstrations of leadership, and ways in which you have grown professionally. Please include any volunteer board or committee service.
Your past academic history—particularly your four-year degree—indicates to us your ability to succeed in a structured study program.
Bachelor's degree from an approved (accredited) institution is required.
International applicants are required to have the equivalent of a four-year U.S. bachelor's degree. View the minimum degree equivalents for different countries. You may wish to have your transcript evaluated by World Education Services (WES) to ensure you meet the four-year U.S. bachelor's degree equivalency requirements.
You can submit your application with unofficial transcripts; certified copies of transcripts from your degree institution are required once admitted.
The preferred method to receive official transcripts is electronically from your institution. Please access the Parchment website or contact your institution to make this request and send to masters@wsb.wisc.edu. Official transcripts may also be mailed directly from your undergraduate institution in a sealed and stamped envelope sent to:

Wisconsin MBA Program Office
Wisconsin School of Business
2450 Grainger Hall
975 University Avenue
Madison, WI 53706

Official transcripts must be received on or before August 1.
Demonstrated knowledge of business fundamentals completed or expected completion by start of program. Coursework can be done at any accredited university or college. Below are ways to meet this prerequisite. Only one is needed to fulfill this requirement:
Undergraduate degree with business major or minor
Completion of a Certificate in Business or Summer Certificate in Business Fundamentals at UW-Madison
Earning a minimum 3.0 GPA in intermediate college coursework covering such areas entrepreneurship, strategy, marketing, or general business
General Business 310 or 311 at UW–Madison. These courses are offered every semester and during the summer. Applicants may complete these courses as a special student.
At least one year of full-time work experience in one of the business disciplines mentioned above
$75 for both domestic and international students (additional $6 processing fee for international students).
Fee waivers available if active duty in the U.S. Military within five years of applying.
Payment by credit or debit card through the online application system; receipt required to learn of admissions decision.
Admission interviews are by invitation only.
Conducted in person or by videoconference.
No GMAT, GMAT Focus, or GRE test score is required as part of the admission process.
A TOEFL, IELTS, or PTE score is required for international students. The requirement can be waived if you have an undergraduate or master's degree that was taught in English.
You may submit a letter of recommendation as part of your application; however, it is not required. Select a recommender who is qualified to evaluate your potential for leadership or management. They should have a strong understanding of your abilities and be familiar with solid examples of your accomplishments. This individual may be a current or past supervisor or manager, a client or vendor, or a representative of a volunteer or community organization in which you are involved.
International Applicants
Test of English as a Foreign Language (TOEFL)
Applicants whose native language is not English or whose undergraduate instruction was in a language other than English must achieve a score of 100 or higher on the Internet-based TOEFL (or score of 600 on the paper-based TOEFL) within two years of the intended start. Waivers are available if your four-year undergraduate degree and/or master's degree was in English or you worked in an English-only speaking company for at least 2 years. Please direct the Educational Testing Service to forward your test results to the University of Wisconsin–Madison (institution code: 1846)
Results of the IELTS (International English Language Testing System) or PTE (Pearson Test of English, institution code: NML-ZH-25) will also be accepted. An IELTS minimum score of 7.5 or higher, or a PTE internet-based score of 73 or higher or paper-based score of 80 or higher, is required.
An international applicant whose four-year undergraduate degree and/or master's degree (minimum of eight semesters total) instruction was in English, or who will complete such a degree prior to matriculation at the University of Wisconsin–Madison, may request a waiver. To request a waiver for the language test requirement, please select the TOEFL test type in your online application and select "Request a Waiver" for the English proficiency test. We will confirm that English is the language used at the academic institution where your degree was conferred.
Financial statement
Evidence of adequate financial resources for the anticipated duration of the program is required by the federal government for visa documentation upon admission to the Wisconsin MBA Program. It is not required as part of the Wisconsin MBA application.
Additional Details About Costs
Residency for tuition purposes
Wisconsin residency for tuition purposes is determined prior to enrollment and remains constant for the duration of your program. More information is available from the Office of the Registrar. Answers to commonly asked questions can also be found on their website.
Minnesota-Wisconsin reciprocity agreement
Minnesota residents may be eligible for reduced tuition as participants in the Minnesota–Wisconsin reciprocity agreement. Students certified under this agreement, although classified as nonresidents, are assessed the comparable instructional fees in effect at the University of Minnesota, Twin Cities campus, plus the segregated fees assessed to all UW–Madison graduate students. Contact the Minnesota Higher Education Services Office for a reciprocity application.
Student health insurance
As a UW–Madison student, you have the option to purchase health insurance through University Health Services. There are plans for student only, student plus one, and student plus family. International students are required to purchase health insurance through the Student Health Insurance Plan (SHIP). Other options for U.S. citizens and permanent residents would be through the health insurance marketplace. Costs vary based on plan.
UW–Madison Student Job Center
The UW Student Job Center lists part-time, limited-term employment (LTE), graduate assistant, and summer job openings at the University of Wisconsin–Madison and in the private and public sectors. Many students work part time to help offset the costs of their graduate education.