Current UW-Madison Student Admissions
---
Requirements
Are you a current UW–Madison student looking to earn your business degree? Apply for the Wisconsin School of Business undergraduate program. Nearly half of the program's students are admitted after spending at least a year at UW–Madison.
A 2.75 Overall GPA is required at the time of starting the application, and at the end of the spring application term.
Prerequisite courses in communications, calculus, economics, and psychology are also required.
Beginning with the March 2022 application, applicants will be able to apply once for admission.
We encourage you to review the complete list of Wisconsin School of Business undergraduate admissions policies.
Application Deadlines and Key Dates
The application for Fall 2021 admission is closed. The application will open in early March 2022 for Fall 2022 enrollment consideration.
| | |
| --- | --- |
| Deadline | Description |
| March 2, 2022 | Undergraduate admission application opens at 8:00 a.m. CT |
| March 16, 2022 | Undergraduate admission application closes at 4:00 p.m. CT |
| May 20, 2022 | Deadline to withdraw application |
| On or before July 1, 2022 | Application decisions announced |
| September 6, 2022 | New admits officially become business students |
Eligible applicants should apply when they feel their application is strongest, keeping in mind there are a greater number of applicants and admission offers for first-year students looking to start their second year in business. There is no preference based on year in school when making admission decisions.
Ready to Apply?
The Wisconsin undergraduate business program application for current UW–Madison students consists of four parts:
Online application: Available March 2022
Academic record: The minimum GPA to apply is 2.75 at both the time of application and conclusion of the spring term. Your transcripts will be available to us as a part of your UW–Madison records. For additional details on GPA calculation, visit the undergraduate admissions policies page.
Résumé: Check out our résumé resource guide for help.
Essay: View our essay preparation tips.
Admit Rates
| | |
| --- | --- |
| UW All Applicants | 45% |
| UW First-year Applicants | 51% |
| UW Second-year Applicants | 32% |
| | |
| --- | --- |
| Approximate Average Admit GPA | 3.70 – 3.75 |
| Approximate mid-80th Percentile GPA Range | 3.46 – 4.00 |
Admit rates are from the past three years, do not include direct transfer applicants, and vary based on resource capacities and number of submitted applications.
Attend Pre-Business Events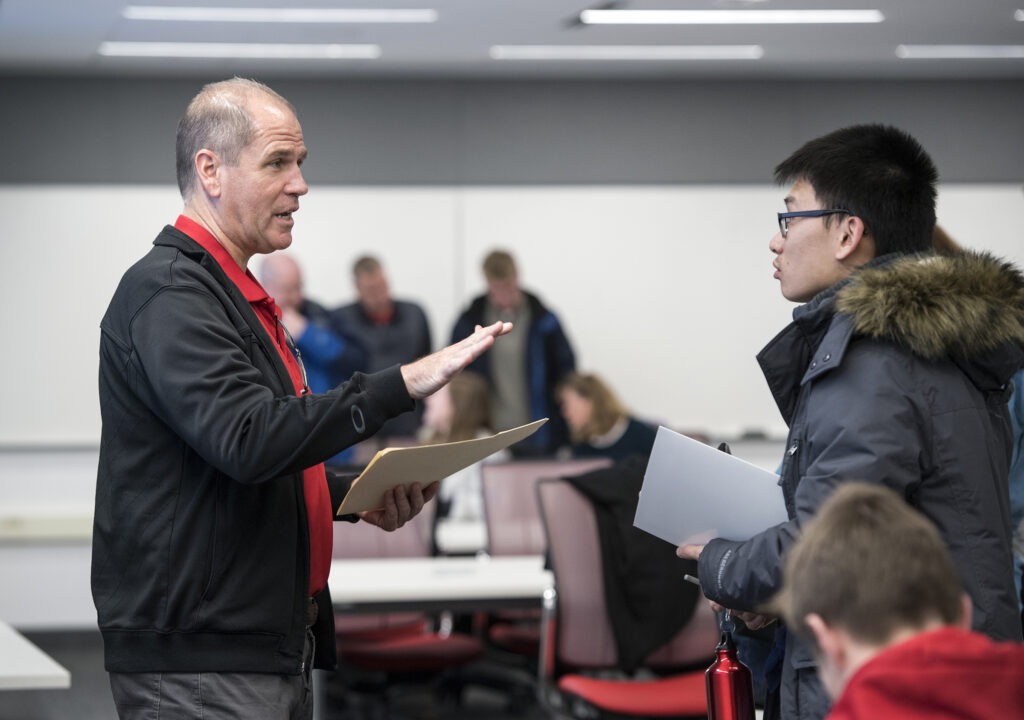 The Wisconsin undergraduate business program hosts a number of pre-business events that will help you explore your interest in business and guide you through the application process. These workshops take a sequential approach, and prospective students are strongly encouraged to attend every workshop offered in this series.
Explore pre-business events
Meet With an Advisor
The Wisconsin undergraduate business program offers one-on-one advising for prospective students currently enrolled at UW–Madison. Our pre-business advising team is available to help you prepare for admission and determine if the program is the best fit for you.
Use Starfish to schedule a 15-30 minute appointment with a pre-business advisor.
Explore majors.
Plan future semesters.
Prepare for study abroad.
Discuss challenges you're facing in class.
Discuss non-academic factors affecting academics.
Current UW–Madison students who are preparing to apply through the pre-business process are welcome to email quick "yes or no"-type questions to the pre-business advising team. Include your student ID number and your @wisc.edu email address.
Email the pre-business advising team
Scholarships and Financial Aid
The Wisconsin School of Business provides nearly $1 million in scholarship support to admitted and newly enrolled undergraduate students each year. To be considered for scholarships from the School of Business, a WiSH application is required and FAFSA strongly recommended to be considered for most awards.