Visit
Grainger Hall, home of the Wisconsin School of Business, is prominently located in the heart of downtown Madison at 975 University Avenue between Park and Brooks streets, and is a brief 20-minute taxi ride from the Dane County Regional Airport.
Location and Hours
Grainger Hall
975 University Avenue
Madison, WI 53706
Monday – Friday: 7:45 a.m. to 4:30 p.m.
Saturday and Sunday: Closed
Getting Here
Traveling by Plane
The Dane County Regional Airport (MSN) provides regional and national service to and from the Madison area, with convenient access to and from the airport to the University of Wisconsin–Madison campus.
Airlines – A variety of airlines serves the Madison area from the Dane County Regional Airport. Please follow this link for airline information.
Rental cars – Many popular car rental agencies serve the Dane County Regional Airport. Follow this link for car rental information.
Taxi service – Available to and from the Dane County Regional Airport. Follow this link for ground transportation information. Taxi pick-up location at Grainger Hall is on North Brooks Street, between University Avenue and Johnson Street.
Traveling by Bus
Greyhound bus lines – Buses have multiple stops in the Madison area. The closest stop to Grainger Hall is located at 200 North Lake Street.
Badger coaches – Offers daily routes between Milwaukee and campus among other major Wisconsin and Minnesota cities.
Van Galder Bus Company – Buses provide daily round-trip service between Madison, Chicago, Rockford, Minneapolis, and St. Paul.
Parking
Near Grainger Hall and the Fluno Center
Pay-as-you-go parking is available in Grainger Hall (Lot 7), the Fluno Center (Lot 83), and a few nearby lots on a first-come, first-served basis. Please pull a ticket as you arrive, and visit the cashier station or pay-on-foot station to pay for your parking prior to exiting the lot. See the UW–Madison parking lot map for more parking options.
Visitor Parking Rates
$1 per half hour for first 3 hours
$1 per hour thereafter
$15 daily maximum
$24 lost-ticket charge
Parking rates and availability are occasionally impacted by athletic or other campus special events.
Event-Related Parking
To arrange for parking at Grainger Hall or another university lot, contact Transportation Services at 608-263-6667.
Learn more about parking at UW–Madison
Recruiter Parking
Contact your Career Center representative in the MBA or Undergraduate program office for parking permit information.
Lodging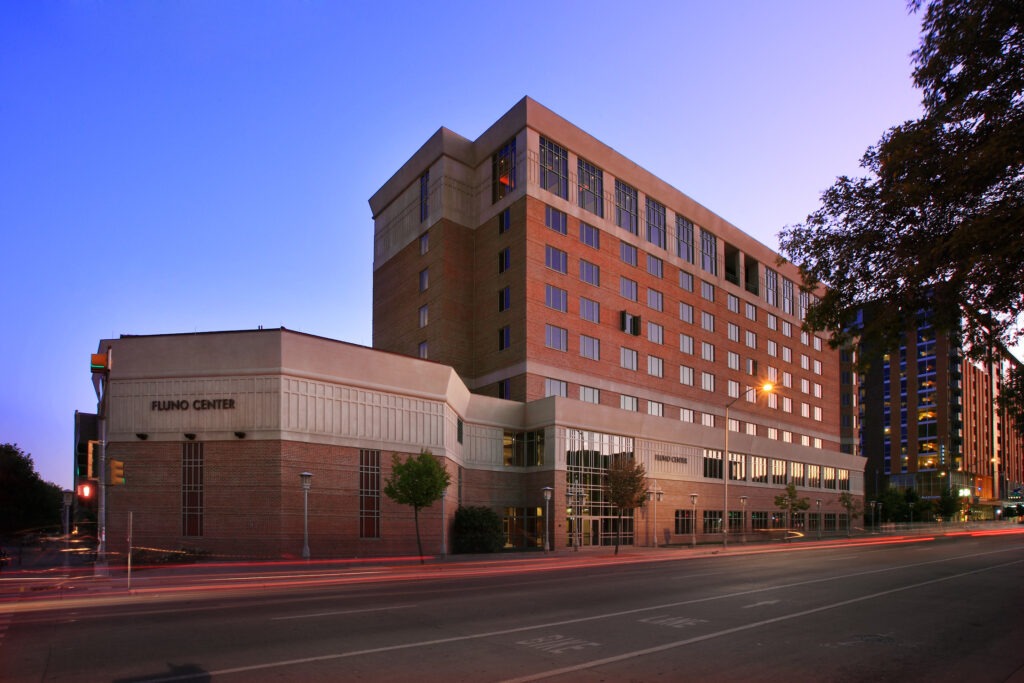 The Fluno Center
Employers holding presentations or recruiting on campus are eligible to stay on campus in the well-appointed guest rooms at the Fluno Center for Executive Education, just a short walk from Grainger Hall.
601 University Avenue, Madison, WI 53715
Direct: +1 608-441-7117
Toll-free: 877-77-FLUNO
Learn more