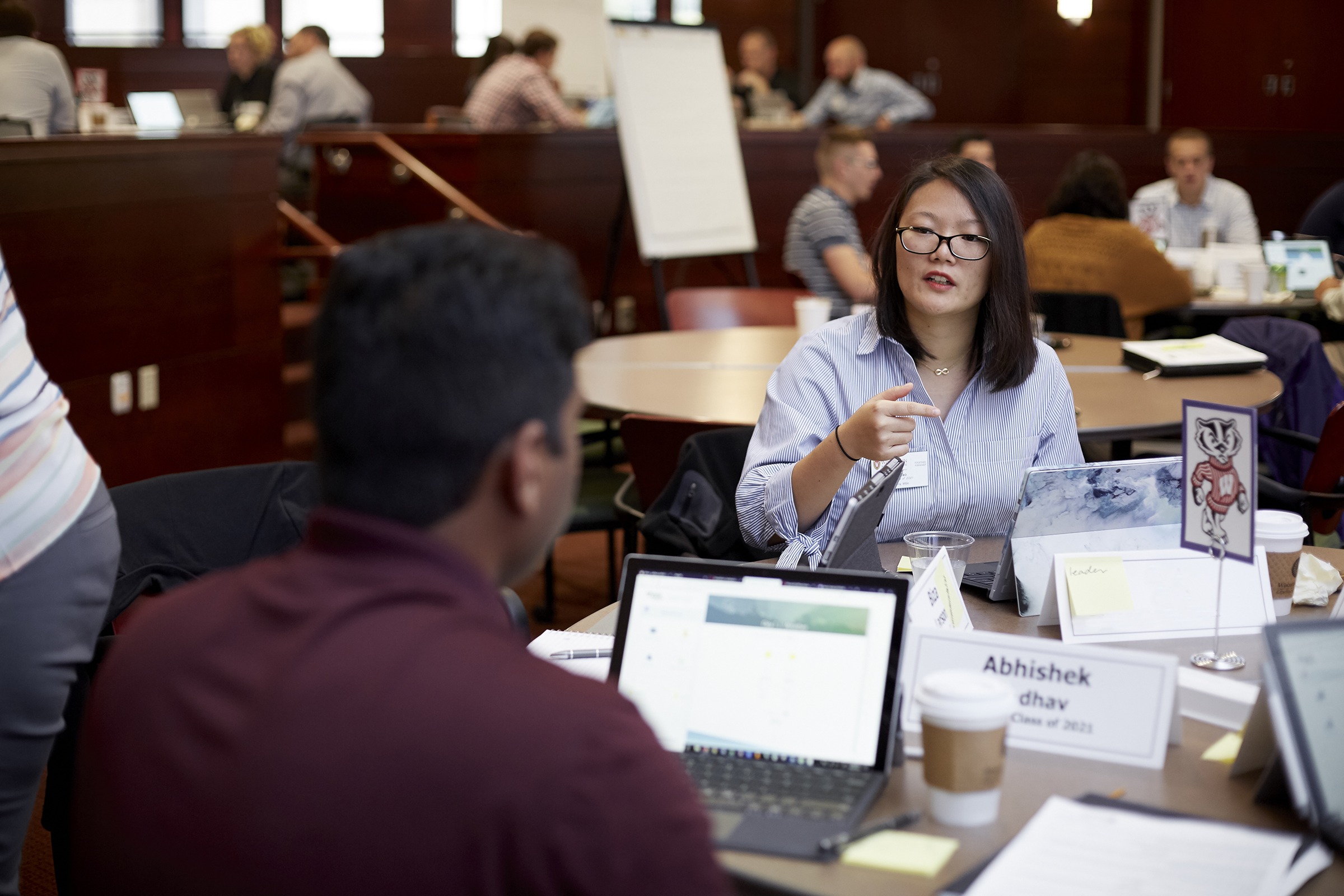 Certificate in Strategic Innovation: Organizations, Technology, and Society
---
Enhance Your Graduate Degree With the Certificate in Strategic Innovation
Create value for your organization and society
Strategic innovation is crucial to organizations that depend on creativity and the development of new products or services to compete in the marketplace. The Certificate in Strategic Innovation: Organizations, Technology, and Society focuses on creating social and economic value within existing organizations, as opposed to startups.
You can earn the Certificate in Strategic Innovation while enrolled in any degree-granting graduate program at UW–Madison. The curriculum allows for skill development in areas ranging from market assessment, research and development, and product design to intellectual property strategy and portfolio management. You can hone your individual skills in creativity, technology strategy, or organizational strategy by selecting the courses that best fit your interests and career goals.
Certificate Declare/Withdraw
Grad Students (doctoral and masters)
Use MyGradPortal (accessible through MyUW) to declare, change, or withdraw certificates.
Professional Students (Law, Vet, Pharm, Med, etc.)
Use the following forms to declare or withdraw certificates.
Completion form
Grad and professional students should submit the Completion Form the semester certificate coursework is completed, which may be the semester of graduation.
Frequently Asked Questions
The Certificate in Strategic Innovation focuses on research, innovation, and product development in existing organizations. The focus of the Certificate in Entrepreneurship is on working in new ventures and the business considerations for a startup organization.
Both certificates emphasize the business context; both can be used to probe sustainability and social-mission goals. Students may earn both certificates by completing unique business courses for each.
There is no additional tuition charge to earn any of the certificates.
Business students pay a tuition surcharge to support the WSB services. Please use the career services for your degree-granting program.
There is no advance registration process.
Program Overview
The Certificate in Strategic Innovation allows you to customize your certificate based on your interests and career goals. In addition to earning 12 credits, you are encouraged to participate in related noncredit innovation immersion experiences via competitions.
The required foundation course, MHR 715 – Strategic Management of Innovation, has no prerequisites and is open to all graduate students in a degree-seeking program at UW–Madison. In addition to MHR 715, you must earn at least 3 credits from the Advanced Innovation Business Courses below and up to six credits of additional advanced entrepreneurship or elective coursework.
Note: You may not use the same advanced business course to acquire two certificates (i.e., MHR 715 – Strategic Management of Innovation, MHR 722 – Entrepreneurial Management, and MHR 741 – Technology Entrepreneurship cannot be counted for more than one certificate).
For examples of how you might customize your certificate, review some sample portfolios.
Required Foundation Course (3 credits)
MHR 715 Strategic Management of Innovation (Spring)
Advanced Innovation Business Courses (at least 3 credits)
MHR 722 Entrepreneurial Management (Fall/Spring)
MHR 741 Technology Entrepreneurship (Fall)
MKT 737 New Product Innovation (Spring)
RMI 650 Sustainability, Environmental and Social Risk Management (Fall)
Elective Coursework
Up to 6 credits of electives can be counted toward the required 12 certificate credits.
ACCT IS 300/ACCT IS 700 Accounting Principles/Financial Accounting
MHR 704 Managing Behavior in Organizations
MHR 705 Human Resource Management
MHR 723 Business Strategy
MHR 977 Emerging Entrepreneurship Technology
MKT 300/MKT 700 Marketing Management
OTM 758 Managing Technological & Organizational Change
LAW 751 Patent Law
LAW 752 Copyright Law
LAW 753 Introduction to Intellectual Property Law
LAW 854 Clinical Program: Law & Entrepreneurship
AAE/MHR 540 Intellectual Property Rights, Innovation and Technology
AAE 706 Applied Risk Analysis
AAE 875 Special Topics (Applied Business Economics)
LSC 435: Brand Strategy for the Sciences
LSC 625: Risk Communication
LSC 902: Public Opinion of Life Science Issues
BME/ISYE 662 Design and Human Disability and Aging
ME 349 Engineering Design Projects
ME 549 Product Design
COMP SCI/ED PSYCH/PSYCH 770 Human Computer Interaction
LIS 603 Research and Assessment for Information Professionals
LIS 732 Strategic Information Services
STS 901 Science, Tech, and Medicine in Society