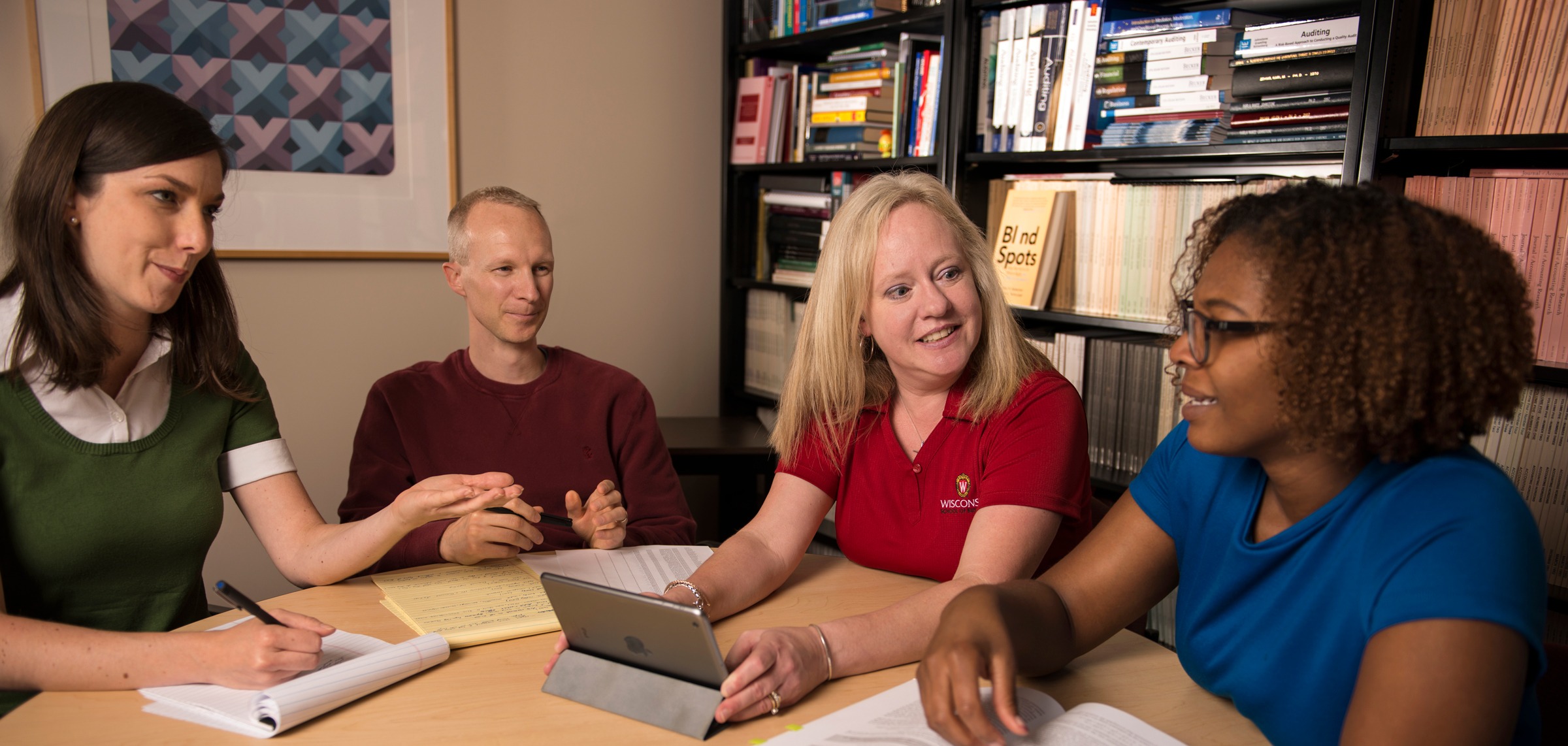 Requirements & Deadlines
---
Business PhD Admissions
Admission decisions are made by a committee of faculty members in the appropriate academic department. Each department offering a PhD has its own criteria and standards of applicant competitiveness.
Please submit your application no later than December 15 to be considered for admission and financial aid.
The Wisconsin PhD Program in business at the Wisconsin School of Business seeks future scholars who:
Are highly qualified and independently motivated
Have a clear goal to begin a career dedicated to research at an academic institution
Have the capacity to increase intellectual understanding of business theory and practice
Can effectively transmit knowledge to fellow business scholars, professionals, and students, and
Whose research interests match well with a faculty mentor
Information for Applicants
Acceptance rate
— (Incoming student five-year average, 2018–2022)
Admissions Requirements
The Wisconsin School of Business PhD Admissions Committee considers each application and admissions decision holistically.
While there is not a minimum standard for admission to the Wisconsin School of Business our most successful applicants meet the following criteria:
Academic Preparation
Applicants must meet the minimum requirements of the Graduate School, including a four-year bachelor's degree from an accredited institution. An undergraduate grade point average of at least 3.0 on a 4.0 scale will be considered for admission. Please see the specific area of study you are interested in applying to for additional academic requirements, as they will vary.
GMAT, GMAT Focus, or GRE
We accept test scores on either the GMAT, GMAT Focus, or GRE. The admissions committee reviews the whole application, so test scores make up just a part of the application. While there is no minimum test score required by each doctoral program, on average our incoming class scores in the 90th percentile range. Only one exam score is required, and it can be either the GMAT, GMAT Focus, or GRE.
Previous Experience
Work experience is not required for admission into our program. Prior involvement with research in an academic setting, work related projects, and publications are a plus.
Our goal is to admit applicants in each class from varying backgrounds and professional experiences in hopes of creating a collaborative community of students dedicated to research and teaching.
TOEFL or IELTS (International Applicants)
Applicants whose native language is not English must demonstrate English language skills.
Admissions Decisions
Decisions of the departmental admission committee are posted to the online application website, where only the applicant may view the decision. You will receive an email notification when the decision has been posted. Decisions are never communicated over the telephone.
If you are admitted, a financial aid package offer will be communicated with the admission decision.
Each academic department has its own independent admissions committee and admissions process. Most admissions decisions are made in February or March, and you should expect a decision no later than mid-April.
How To Apply to a Wisconsin School of Business PhD Program
The application process is completed entirely online. After creating an account with your current email address and password, you will find detailed application instructions along with the online application. You will have access to complete, edit, and update documents for your application until you choose to submit. Once you submit your application, it is final, and you will not be able to make changes to the materials you submitted.
Overview of Application Requirements
Completed online admission application form
Statement of purpose for graduate study
Two essays in response to the application questions, and one survey response
Standardized test scores (GMAT or GRE, as well as TOEFL or
IELTS for international students only)
Transcripts from each institution attended
Three letters of recommendation, preferably from academics
Current résumé or curriculum vitae (CV)
Application Requirements in Detail
Your statement of purpose helps the admissions committee understand your goals and how those goals can be supported with a doctoral degree program. Complete instructions can be found in the online application.
All applicants must submit either the Graduate Management Admission Test (GMAT) or the general test portion of the Graduate Record Examinations (GRE). Official GMAT or GRE test results cannot be over five years old and must be submitted directly from the GMAT or GRE educational testing services. You may self-report your GMAT or GRE scores on the online application, but official score results are also required.
Please use the information below when submitting your test scores:
GMAT – institution code 79K-2S-02
GRE – institution code 1846
You may submit unofficial copies of your transcripts which will be used by the departmental admissions committee for review when you submit your application.
If you are offered admission, a member of the admissions team will follow up with you about submitting official transcripts (original hard copies) sent directly from your schools. Official transcripts must include certificate/diploma and/or proof of degree. Transcripts must include an English translation if the degree is from a non-English-speaking country.
Three professional recommendations are required to apply. Letters of recommendation should be from individuals who are in a position to evaluate your potential for success in a PhD program, including an assessment of your potential for advanced independent research. You will enter your recommenders' names and email addresses on your application. The admissions committee will contact each recommender.
The recommendation forms are submitted separately from your application. You should not wait for your recommender to submit the recommendation before submitting your application; however, your application will not be reviewed without the recommendation forms.
A Microsoft® Word document or PDF format is preferred.
® Microsoft is a registered trademark of Microsoft Corporation.
Additional Requirements for International Applicants
Applicants whose native language is not English must complete the TOEFL or IELTS language exam. Being a citizen or permanent resident of the United States does not automatically exempt an applicant from the test requirement. The test must be taken within two years of the date you will begin classes.
The English language requirement may be waived if the applicant has studied full time for eight semesters or more at a college or university where the sole language of instruction is English in a country where English is the primary spoken language.
A master's degree alone from an English-speaking institution DOES NOT qualify for a waiver of the test requirement.
Our recommended scores are:
A 106 or higher on the Internet-based test TOEFL exam
An overall banded score of 7.5 or higher on the IELTS exam
After receiving an admission offer, international applicants must provide the Wisconsin School of Business with official documentation (referred to as "official transcripts") of all courses taken and grades received from each previous undergraduate or postgraduate institution, including proof of degree or diploma. Academic transcripts must have a seal and signature in ink of the registrar, recorder of records, or other authorized official of the institution(s). Documents in another language must be accompanied by official (notarized) English translations.
Applicants should wait until they receive an admission decision before submitting the International Student Financial Statement and documentation. This document is not required as part of the application for the Wisconsin PhD Program in business. Evidence of adequate financial resources for the anticipated duration of the program (including support for any family members who accompany the student to the United States) is required for visa documentation by the federal government. Only original, signed copies are accepted.