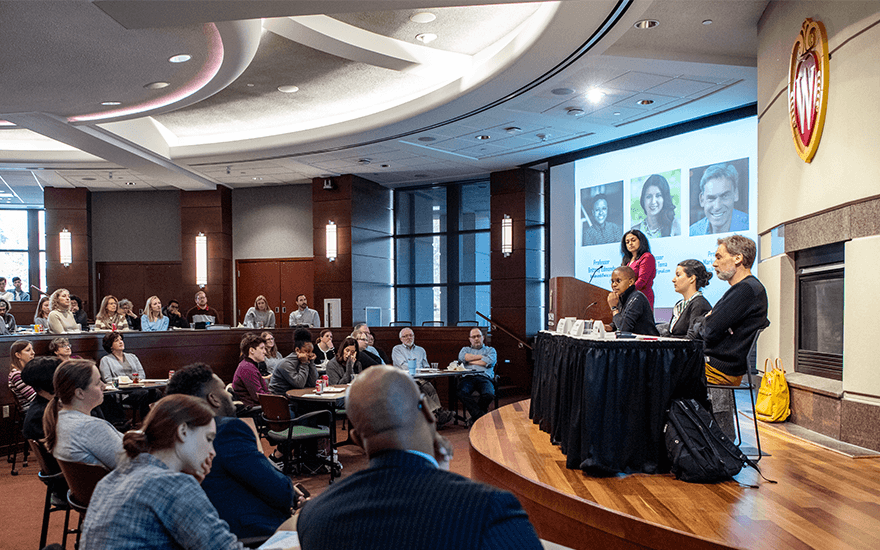 Like many others, I have spent significant time this year reflecting on the continuing quest toward creating a just society for all.
Communities of color—particularly African-Americans, Native Americans, and Latinos—have shouldered a disproportionate burden of the COVID-19 pandemic. This has only compounded the tremendous social disparities already affecting these populations at a time of heightened tensions due to incidents of violence across the nation.
As citizens, we must empathize more fully with those who are different from us and advocate more inclusively for those whose voices are marginalized. As business leaders, we must recognize the value of diversity and its positive impact on the industries we champion. As educators, we must weave these concepts into the fabric of our instruction.
The Wisconsin School of Business reaffirms its unwavering commitment to diversity, equity, and inclusion (DEI) as moral and strategic imperatives. As dean, I reaffirm my commitment to achieving meaningful progress in this area.
Diversity's impact on business
I sincerely believe that business can be a force for good. I have seen firsthand how corporations can drive positive change. During my experiences working with public accounting firms and large manufacturing firms in the Midwest, I have seen examples of how tone at the top, corporate ethos, and systemic attention to processes for recruitment, development, and retention of employees can ingrain diversity, equity, and inclusion into the fabric of a firm.
Businesses bring together a wide range of talent and ideas to serve a broad spectrum of markets and consumers. As some of the most visible and respected institutions in society, businesses thrive on diversity. The business case for diversity and inclusion is well established. In fact, research shows that embracing differences improves individual and organizational performance, leading to increased innovation, profitability, and sustainability.
When I speak with corporate leaders, I hear a common refrain: Today's employers seek a diverse workforce comprised of people who can thrive in a global, multicultural, multiracial, and multiethnic environment. Yet, establishing employee diversity is just the first step. It must be accompanied with systemic attention to fostering equity and inclusion in the workplace. Everyone must feel a sense of belonging, empowerment, and ownership in order for innovative, high-performing teams to become the norm.
This aspiration can, and should, begin while future employees are still in school. As part of preparing graduates for professional success, we must provide the capabilities and nurture the mindsets that they will need to embrace a diverse and inclusive approach.
Setting a foundation
At the Wisconsin School of Business, a commitment to diversity, equity and inclusion is not new.  Arriving here as dean in August 2019, I observed that we employed a leadership position for DEI initiatives, ran innovative programs for welcoming a diverse student body, and held monthly learning forums for faculty, staff, and students to engage in discussions that feature academic research related to DEI. Initiatives such as Business Emerging Leaders, the Consortium for Graduate Study in Management, and partnerships with campus programs have helped us take steps to enroll more students of color and diversify our community, as well as promote conversations around enhancing equity and inclusion in the place.
Diversity and inclusion are introduced early in our students' educational journeys, and is integrated throughout the curricula as essential components of leadership and collaboration. Faculty and staff actively participate in DEI workshops, which help participants identify and overcome their own unconscious biases.
These efforts represent a solid foundation, but we are ready to take them to the next level.
A commitment to DEI
As part of Roadmap 2025, our five-year plan that will position WSB as a global platform for lifelong learning, we have identified three goals around DEI:
Enhance diversity, particularly under-represented minorities and women, among students, faculty, and staff.
Develop skills related to inclusive leadership and cultural dexterity for students, faculty, and staff leading to greater inclusion and increased retention.
Ensure equity and inclusion in all systems and processes including recruitment, admissions, promotions, resource allocation, and decision-making for all stakeholders.
In pursuing these goals, we aim to develop a shared definition of DEI—one that is grounded in academic research and provides core principles of DEI for faculty, staff, and students alike.
We are working toward specific initiatives that will help us meet these goals, including exploring additional pre-college programming, developing new coaching models, enhancing scholarship opportunities, and adding to our curriculum and research expertise. We will build in specific, measurable deliverables that allow us to track our progress and impact.
We realize that solid progress can only be made by embedding values of diversity, equity, and inclusion into the DNA of our community. This includes a demonstrable tone at the top through my leadership team. In addition, we are developing benchmarks to know where we are, metrics to point where we wish to go, and initiatives to experiment and learn. Above all, we are committed to a journey of continuous improvement.
Partners in learning
Just as this learning cannot be completed in a day, it cannot and should not happen in isolation. We are looking to campus, corporate, and community partners to learn from their successes so that our collective learning benefits from a diversity of thought.
We are exploring avenues to expand the pool of diverse faculty, such as forming partnerships with Historically Black Schools and Colleges (HBCUs) to allow for visiting faculty exchanges. We are leveraging and investing in relationships we have already established, such as that with the Consortium for Graduate Study in Management, of which I am currently chair of the board of trustees.
Our new Diversity, Equity, and Inclusion Advisory Committee provides recommendations to program and unit leaders on proposed initiatives. Comprised of staff, faculty, and students, the committee is integral in helping us advance the goals highlighted in our Roadmap 2025 DEI framework.
We are in the early phases of creating a multicultural student center, which will act as a school-wide hub for studying, networking, and collaborating. This intentional space will not only build on the relationships we are developing as a WSB community, but also help create a sense of belonging in the School and foster a commitment to lifelong learning in the disciplines of both business and DEI.
As we build on our strong foundation, I am optimistic about how WSB will expand and evolve its commitment to DEI. Now more than ever, it is imperative for us as a school, as a community, as the home of future business leaders, to dedicate ourselves to this work and make diversity, equity, and inclusion part of our DNA.
I am committed to this work, and invite you to join me. Let's learn what it means to build a more inclusive business world—together.
---