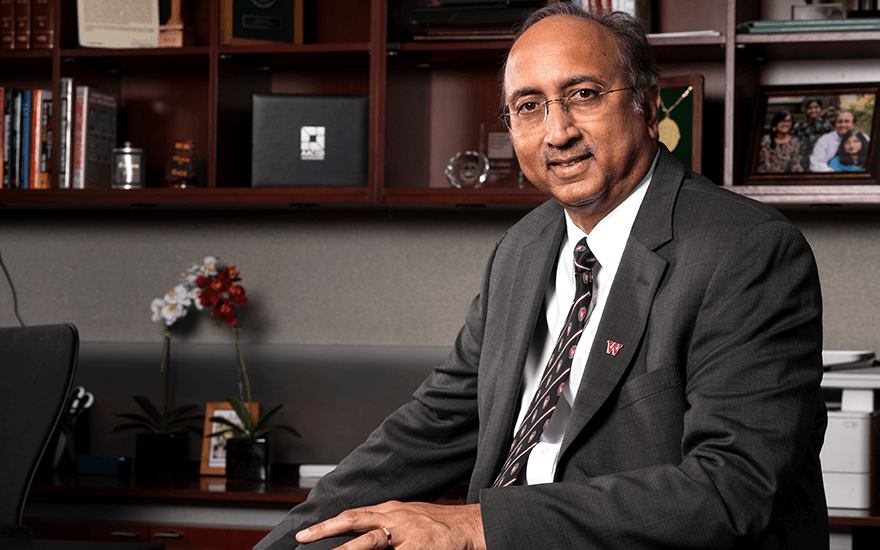 Hearing the doorbell in our new Madison home, my wife opened the door to find some friendly neighbors who had stopped by to welcome us with freshly baked cookies.
"Is this where Dean Samba lives?" they asked. "We've seen all his videos, and we wanted to say hello."
As it turns out, these new neighbors were already part of my WSB community—Business Badger alumni who happened to live right next door. This story is one of many that underscores a major takeaway from my first year as dean: that our strong community is as enduring as it is inescapable, and is among WSB's greatest assets.
From my first few weeks on campus last summer, to the five-stop tour that I made to meet alumni in the fall, to the unexpected disruptions we have experienced since March, my appreciation of this extraordinary community has only grown stronger. I've seen firsthand our resilience and commitment to innovation as we've pursued new and exciting initiatives while pivoting in the face of the pandemic. I have remarked on more than one occasion that "Badgers do dig in!"
As I draft this piece, that tenacity and persistence is being tested. The pandemic has forced the campus to shift all instruction online for at least the next two weeks, and it may prove to be more disruptive than we had anticipated. Even as our students experience the anxiety of these challenging times, I am optimistic that again we will rise to the challenge, and I am confident that the work we've done over the past year has positioned us well despite powerfully disruptive forces. In fact, we are discovering new opportunities for engaging students, colleagues, and alumni in these virtual worlds and realize that the new normal will be even better and stronger.
One of the top priorities of my inaugural year was to develop a new strategic framework. We designed a participatory, inclusive process that yielded Roadmap 2025, our five-year plan that will position WSB as a global platform for lifelong learning by advancing key priorities in our undergraduate program, graduate portfolio, and research impact. Having this clear vision in place will help us persist despite the obstacles we face.
To guide and support our efforts, we reimagined the Dean's External Advisory Board, a diverse group of alumni and business leaders who have attained prominence in their fields. The 19-member board will work closely with WSB leadership as advisors, advocates, and ambassadors to help advance the School's strategic priorities.
It's important to remember the many noteworthy achievements from this past year, including the launch of four one-year master's programs in real estate, arts and creative enterprise leadership, supply chain management, and business analytics. Two of those programs helped expand our portfolio of STEM-designated business offerings. We have added a new summer certificate in business fundamentals for students pursuing nonbusiness degrees and rolled out a new undergraduate major in supply chain management. Our new state-of-the-art career engagement studio provides a more integrated setting for undergraduate students, while a new digital badge program helps them stand out in a competitive job market.
We made major strides in our MBA portfolio as well, notably in the announcement of our reconfigured Professional MBA—a flexible, part-time degree program delivered in a hybrid format that blends online learning with face-to-face engagement. The program introduces an innovative curriculum designed around a system of badges that lets students customize their program based on their unique career interests and establishes a foundation for lifelong learning. We are also seeing continued improvement in our full-time MBA, with strong enrollment growth to nearly 100 students this academic year. In fact, our graduate portfolio welcomed the largest incoming class we have had in decades.
Through it all, my WSB colleagues go about their business with a quiet Midwestern humility that belies their deep talent and resilience. They see obstacles as opportunities, and they treat victory like an everyday affair.
As the reality of the COVID-19 pandemic began to set in during springtime, our community sprang into action. Faculty shared expertise to help address critical issues in supply chain, human resources, small business survival. Alumni offered advice on handling business challenges during the pandemic, many of them taking action in their own companies to address pressing needs. And our students continue to adapt to this new reality with fortitude.
Along with every other institution of higher learning, we recognize the intensified need and opportunity for a more resolute commitment to diversity, equity, and inclusion. The reality is that some members of our community, especially people of color, do not feel welcome in our school. I am committed to making WSB a more accessible and inclusive place for all. Changing that climate will require that we do a better job recruiting a more diverse group of both employees and students. But we must do more, examining carefully how we present ourselves to others, and taking an honest look at the experience people have when they visit, learn, or work in our midst. Such introspection, done honestly, is uncomfortable but no less imperative. As part of this, we are developing a new framework where we aspire to embed diversity, equity, and inclusion into the DNA of our place.
The year ahead is filled with uncertainty and risk. We know that we cannot predict how the coming months will unfold. This is also a teachable moment for those who wish to thrive in the digital economy.
This inimitable generation of students will emerge from college tested by a uniquely disruptive force. This is our opportunity to prepare them to help their future employers address the next big challenge—whatever that might be. And for our alumni and other professionals, this is a moment to recommit to lifelong learning as we navigate together an ever-changing landscape.
This past year has only served to strengthen my commitment to the School. We have a shared vision for a brighter future and are energized about moving forward. If necessity is the mother of invention, then disruption can be the driver of innovation. This resilient community of ours will build upon its proud history to emerge as a better business school, blazing the trail for others to follow.
---