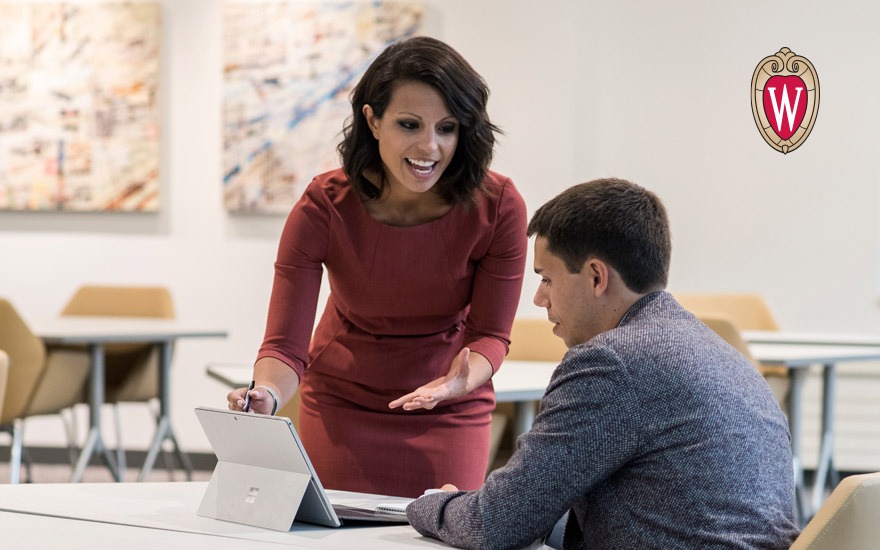 The Wisconsin School of Business at the University of Wisconsin–Madison announces the Wisconsin Professional MBA, a flexible, part-time graduate degree program designed to meet the evolving demands of today's digital economy.
The new professional MBA reimagines the School's existing evening MBA, featuring a blended format of delivery with 50% online and 50% in person. Built as a platform that enables innovation, the program will also introduce a curriculum designed around a system of badges that allows students to customize their program based on their career interests and establishes a foundation for lifelong learning.
"This new program offers the flexibility, convenience, and access that working professionals seek," says Dean Vallabh "Samba" Sambamurthy. "Our nimble and customizable curriculum will allow students to tailor their experience, while the blend of online and face-to-face delivery retains the strong cohort experience that makes the WSB community so meaningful."
The program redesign aligns with WSB's new strategic priorities, marking a significant step in enhancing the School's market-driven, on-demand graduate portfolio.
Intentional design meets needs of students
The new MBA program was designed from the start to meet the needs of today's working professionals. The current structure of WSB's evening MBA requires in-person classes two evenings per week and takes three years for completion—a challenging expectation that poses a substantial barrier for many potential students.
WSB performed significant research to identify how to best evolve the program and offer greater flexibility in its delivery mode and curriculum. The School compiled multiple research studies, including benchmarking against peer institutions and gathering insights and feedback from stakeholder groups such as current and prospective students, alumni, and employers.
"The design of this new program is intentional and evidence-based," says Enno Siemsen, associate dean of MBA and master's programs. "Our research uncovered the needs and desires of today's prospective students, and we have built a high-quality experience based on the voice of our customers."
Based on research findings and with quality as a top priority, the professional MBA will allow students to participate in up to 50% of class content online with monthly face-to-face meetings on the weekend. The program can be completed in as little as two years or as long as five years.
The degree maintains WSB's globally recognized strengths, including a robust curriculum, participation from engaged faculty, strong career advancement outcomes for students, and a collaborative and diverse learning environment.
Blended delivery enhances program strengths
With significant demand for part-time MBA programs and a growing interest in online options—even before the onset of the COVID-19 pandemic—the shift to hybrid delivery allows WSB to expand access to its programs by increasing flexibility for working professionals.
"We know that early- and mid-career professionals have significant demands on their time, both in their personal and professional lives," says Siemsen. "By delivering half of our content online, we are giving students the flexibility they need to advance in their careers, lead a meaningful personal life, and enhance their education."
"Most students entering MBA programs today have grown up in a digital-first world, so they are accustomed to and expect the flexibility that online education offers," he adds.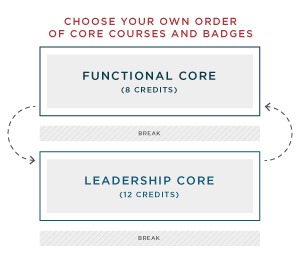 The shift toward blended delivery also expands access to the MBA degree, enabling prospects with young families or professionals who regularly travel for their job to complete this program more easily. It also allows professionals from broader geographic regions to attend UW–Madison for their MBA degree due to the smaller demand placed on students' time on campus.
Every course will go through a thorough design process to identify what content and activities are best suited for online learning versus face-to-face instruction. The continuation of in-person classes acknowledges that some learning is best suited for real-time interaction. The significant relationship- building that occurs in an in-person environment has long been a hallmark of WSB's programs and will remain so with the professional MBA.
"It is critical that students build meaningful and long-lasting relationships with their classmates and instructors," says Siemsen. "The program is specifically designed to create a strong cohort experience where online learning is reinforced and enhanced by the time students spend with each other and with faculty on campus."
Badges enable customization and scale
When students meet in person, they will take classes grouped into badges—a new curricular approach that responds to the need for learning on demand by unbundling traditional MBA programs that have historically adopted a more lockstep approach.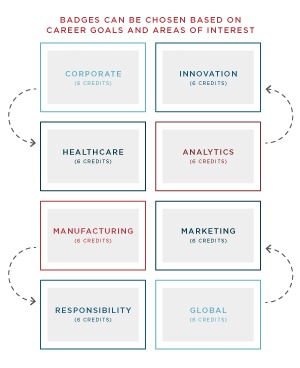 Each badge will be a set of three 2-credit courses and will focus on topics such as innovation, analytics, health care, marketing, manufacturing, corporate finance, social responsibility, and international business. By structuring the program around modules that can be easily added, resequenced, or removed, the program allows for greater customization and overall scale.
"In unbundling the program through this badge system, the Wisconsin School of Business is offering an innovative, first-of-its-kind approach," says Siemsen. "Not only are we providing students with the opportunity to tailor their experience, but we can also provide custom content to alumni, corporations, and campus partners."
The School plans to eventually make the badges accessible to professionals outside of the program, establishing a platform for lifelong learning that addresses the needs of the changing workplace.
"We are excited about the opportunity to make these badges widely available," adds Siemsen. "Our faculty will be able to create meaningful new badge courses in response to industry demand, fostering a practice of continual innovation and agility that will add real value to lifelong learners."
Accelerated options reflect range of backgrounds
Not all students will enter the professional MBA program with the same educational background. The modular structure of the program will allow WSB to better reflect this diversity among the student body.
Those students who have already received extensive training within the Wisconsin School of Business will be accelerated into the program, reducing the total number of credits required for completion. WSB's own BBA graduates, for example, will be allowed to complete the program in less time and at a reduced price.
Preparing students to lead in a fast-changing world
The Wisconsin Professional MBA will enroll its first class in Fall 2021. At that time, all students currently enrolled in the evening program will be given the opportunity to complete their program in its current form or to transition to the professional MBA.
WSB's existing full-time and executive MBA programs are not affected by the introduction of the professional MBA.
Recruitment for the professional MBA is beginning now, and prospective students can learn more and submit application materials at business.wisc.edu/graduate/mba/professional/.
"We look forward to welcoming students into this exciting new program," says Sambamurthy. "In a climate of disruption and uncertainty, this innovative MBA degree will empower professionals to lead in the fast-changing business world."
---