As the newly minted alumni of the class of 2021 graduate and continue on separate paths, I wanted to take the opportunity to talk about really great memories and traditions that we had during these past two years. We had a relatively strange year – our second year was online due to the pandemic, and many 'traditional' events were cancelled or moved online. So, I wanted to walk down memory lane and reminisce about the events we had before and during the pandemic.
The A.C. Nielsen Center has an incredible External Advisory Board composed of insights professionals across different industries. The first Board meeting happened only a couple of months into our first year – in the throes of interview week. There are several key highlights from these events – Kristin's interesting PowerPoint introductions of us to the new class (including some primary and secondary research), the Speed Networking events where we got to meet all of the board members and the opportunity to connect with our mentors. Subsequent board meetings were online, and it was good to see familiar faces and learn what was happening across various industries through the pandemic.
Case Competitions, a classic MBA past time, were routine during our first year. I lost count on how many I participated in, but each has its own story. One that really sticks out to me is the GMN's Case Competition – a 24-hour marketing case competition, run by our Graduate Marketing Network every year. The case was provided by our very own Jan Heide, our marketing professor, regarding a new beverage. Teams stayed up super late working on the project, sometimes emotions would run high, but ultimately everyone would produce… something. We had some great presentations, including a rather creative attempt to rebrand 'water'. I actually feel like this was one of the better case competitions – sometimes all you need is 24 hours. If anything, it definitely gives you an experience to answer at least a few interview questions about working under pressure.
The A.C. Nielsen Center has traditionally had a couple of students assigned to the PPC, or the Party Planning Committee, which organize events and bonding activities for the Center. Traditionally, they would host events such as game nights and PowerPoint karaoke. This year's PPC adapted to post-pandemic online activities and hosted a really fun holiday event where we decorated gingerbread houses over Zoom. It was fun to catch up with people before the holidays and work. It was my first time building a gingerbread house, and it is definitely much harder than it looks!
As the saying goes, you never know what you had until it's gone, and I really regret missing some events! Even so, while the pandemic fundamentally changed our plans, I'd like to say we made the best out of a bad situation. We made some incredible memories, and the support of my fellow peers helped get me through the rougher parts of this pandemic. We made it through in one piece, and I'm excited to see where my fellow class of 2021 alumni are headed next.
It is our absolute pleasure to share with you that Chantell Hernandez was selected as one of Poet and Quants' 2021 Best & Brightest MBAs. We could not be more proud to have Chantell representing UW, the Wisconsin School of Business and the A.C. Nielsen Center with such a high honor.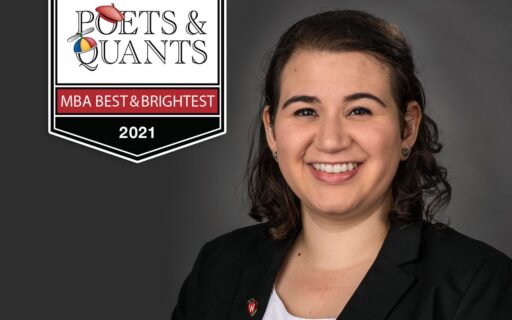 ---