Letter from the Director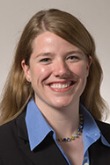 Bring on 2021!
Connecting people, to learn, network, and grow, is essential to the transformational learning experience UW's MBA program aspires to deliver. While it has been challenging to offer those connections due to the pandemic, I can honestly look back at 2020 and be proud of what the A.C. Nielsen Center has accomplished for our students, alumni, and industry friends. The Center Updates section below has a nice list of some of the activities we did this year but in my full letter from the director, I will add a few more.
Our success depends greatly on the fact that so many of you offer your support. Thank you to each of you that helped through 1:1 calls with students, mock interviews, classroom guest speaking, event planning, and financial donations. Thank you so very much! We're all hoping that 2021 brings more health and happiness to everyone and I want to wish that specifically to you and your family. We are so glad to know you and have our connection. Thank you for keeping UW and the A.C. Nielsen Center in your lives.
All my best & On, Wisconsin!
-Kristin
Welcome Class of 2022
This fall, eleven new students interested in pursuing an MBA in Marketing Analytics & Insights joined the Wisconsin School of Business. From across the globe, with backgrounds in everything from teaching to biology to social media marketing management, this group decided that a pandemic couldn't stand in the way of reaching their career goals. We're proud to welcome Logan Butson, Olga Coffee, Gladis Guerrero Gee, Mackenzie Jahn, Jason Lee, Nicole Monarrez, Eli Sonkin, Ngoc Tran, Bilal Usman, Amelie von Below, and Daniel Waller. Learn more about our newest scholars here.
Student Articles
By Amelie von Below

The year 2020 has been a whirlwind for most, yet it has been a great chance for A.C. Nielsen Center students to get insight into the challenges and opportunities that industry professionals are currently facing. There were six trends that stuck with me, that I will be watching going forward. First, firms are reconsidering the role of marketing insights in the organization. From CPG to the tech industry, companies are asking how much (if any) of the marketing research pipeline should be brought in-house. Should insights play the role of the consultant or of the researcher – or something in between? Read the other trends identified
By Ngoc Tran

I come from Vietnam, and there we learn only through textbooks. During my undergraduate, I did not have opportunities to discuss what was happening in the real world nor interact with industry experts. Taking Fall Current Topic Classes through the A.C. Nielsen Center was truly an eye-opening experience. There are so many reasons for my statement but read on and I will walk you through the three most outstanding points to me.
By Olga Coffee

When I decided to change my career and applied to the University of Wisconsin-Madison, I didn't know what to expect as we were going through the pandemic and the uncertainties associated with it. I was worried about managing classes in the online environment and other family responsibilities. As I reflect now on my experience as a first-year student, I am fortunate that I am in the A. C. Nielsen Center and have had the opportunity to learn from my peers, second years, professors, alumni, and the Executive Advisory Board. I am also grateful that the University gave us this flexibility in terms of online and in – person classes, and it alleviated some stress and challenges for me while transitioning to my new career. Read what this semester has been like for the students.
By Chelsea Johnson
Many people are drawn to consumer insights because they're fascinated by other people, and want to learn about consumers while working in dynamic, connected teams. As I headed into the summer, I wondered, was this whole premise going to be thrown out the COVID window? Read if COVID was able to shake the centrality of other people in the business of consumer insights.
Find these and other articles at Our Insights, the A.C. Nielsen Center blog.
Alumni Spotlight
On a Saturday this fall, Ramya Raman, Class of 2012 graciously spent some time talking with Amelie von Below, a current first year studying Marketing Analytics and Insights. The conversation ranged from career advice, to MBA memories, to silicon valley, to deciding when to bring marketing research in-house. Read the full story in this Alumni Spotlight on Ramya Raman.
Alumni Updates
Diego Hahn, Class of 2018
On Nov 17, 2020 at 7:55 a.m., Diego and Michaela welcomed Xavier (Xavi) Arturo Hahn. They are overjoyed to be a family of three!
Hunter Cook, Class of 2018
Hunter was recently promoted to Shopper Insights Manager at Nestle. He will celebrate his two year anniversary at the company next month.
Trevor Spranger, Class of 2019
Madeline Marie Spranger was born at 8:38 p.m. on Nov 7, 2020. She is 8lbs 3oz, and 20 inches. She is the daughter of Trevor, BA '13, MBA '19, and Lauren, BS '13, Spranger.
Rodrigo Stabio, Class of 2019
On July 30, 2020 the Stabios became a family of five. Rodrigo and Catherine welcomed Mackenzie Mia Stabio. Mackenzie is definitely more chill than her older siblings were as babies.
Mary K. Malone, Class of 2001
After 25 years of consulting, Mary K. joined the Wisconsin School of Business as the Experiential Learning/Consulting Practicum Lead in August. She will lead the school's experiential learning efforts, bringing in hands-on, real world projects for students; starting with the MSBA's Analytics Consulting Practicum course. If you have a project or want to learn more reach out. Mary K would love to hear from you.
Center Updates
While our physical space may be quieter these days and some plans have been altered, but COVID-19 hasn't slowed down the A.C. Nielsen Center.
The Class of 2020 and Class of 2021 reached 100% full time and internship placement, respectively
The Clorox Company has joined the External Advisory Board, and new members have been selected for American Family Insurance and General Mills to remain active.
A new Alumni Lunch & Learn Series was launched in conjunction with the Center for Brand and Product Management. The series is open to all MBA students and showcases the multiple career paths in, and outside of, marketing that our alumni take.
The A.C. Nielsen Center worked with the Advertising Research Foundation in rolling out their new Workforce Initiative for Diversity and Excellence Scholarship. UW-Madison was one of four schools ARF selected to source the scholars for their program. As more details become public we will share them with you.
We hosted both an advisory board meeting and an alumni get together virtually. Both were well attended with great conversation!
We've experimented with news ways for the current students to form connections while keeping socially distant. One of which is the A.C. Nielsen Center Favorite Songs Playlist.
Get Involved
Donate
Help us reach our goal of raising $100,000 by giving to the A.C. Nielsen Center Matching Campaign. Malcolm Thorne, MBA '96, has extended his offer to match every dollar, up to $50,000, donated to the A.C. Nielsen Center. We've almost reached our goal, but still have about $10,000 we need your help to raise. Please consider funding the next generation of marketing analytics & insights students by including the A.C. Nielsen Center in your annual charitable giving.
Step into the Spotlight
Share your career path, success stories, and/or sage advice by hosting a virtual Alumni Lunch & Learn or be interviewed by a current student for an Alumni Spotlight posted to our blog site. Please reach out to A.C. Nielsen Staff members if interested.
---