In early January, I was fortunate to have the opportunity to visit India as part of the Center for Brand and Product Management's International Experience class. This two-credit course is offered to students in the marketing centers of UW-Madison's Full-Time MBA program and it is an amazing opportunity to experience a different culture and learn about business in a foreign country through a marketing lens. The 2020 trip provided a way to learn about the various aspects of doing business in India way better than you could ever learn in the classroom. We were exposed to different industries as we visited both tech companies (LinkedIn and Google) and consumer packaged goods companies (SC Johnson and P&G). Not only that, but we had the opportunity to see the relationship between American and Indian companies as India is both a source of manufactured goods and a market for goods manufactured by American companies.
Two of the company visits I found the most informative were Target Sourcing and The Minimalist. At Target Sourcing's Dehli office, we learned about how Target sources home goods and clothing from manufacturers in India and we had the opportunity to visit a textile manufacturer. Staff was very willing to discuss the benefits and challenges of sourcing products from India. We learned about the process of how Target works with partners to design, manufacture and ship textiles to US consumers. At the Minimalist, a Mumbai-based digital advertising agency, we had the opportunity to learn about India's exciting start-up culture and how advertisers appeal to the incredibly diverse Indian population. It was fascinating to see how The Minimalist built itself as a brand first and then began doing it for their clients.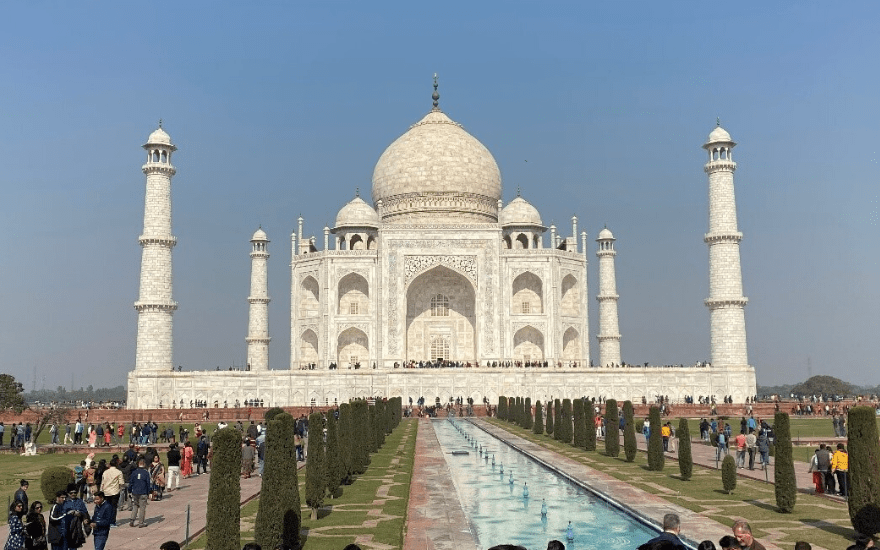 In addition to the company visits, we had the opportunity for cultural experiences. We spent a day touring both Mumbai and Dehli in addition to a day-trip to Agra to see the Taj Mahal and Red Fort. These cultural trips added depth to our experience in India and provided context for the current political and economic platform in India. We also had free days in each city that allowed up to explore what interested us. I met with other students from UW who were originally from India and were home for the holidays. This was a wonderful experience as we visited temples and went shopping. We quickly learned that Indian hospitality involves a lot of food and we had the opportunity to try local dishes everywhere we went.
The entire ten-day International Experience to India was a highlight of my experience in the MBA program. It provided a great balance between learning about different industries and opportunities in India as well as fun and sight-seeing. As a marketer, gaining international experience – especially within a country that due to its population and workforce will be an important supplier and market for goods – is an invaluable part of my education. The added marketing focus meant that at every company visit I learned something I can see being applicable to my career in the future.
---