Day two of Mumbai started just as beautifully as the first – clear skies, balmy weather and a pleasant ocean breeze coming in from the Arabian Sea. As a native Floridian, I felt right at home. After a substantial breakfast buffet in our hotel, I grabbed a coffee to-go to stave off any lingering effects of jet lag before boarding our coach and heading to the offices of Procter & Gamble Company, the American multinational consumer goods giant headquartered in Cincinnati, Ohio.
Driving in Mumbai is quite an experience. With nearly 23 million people living on a small island, you never get anywhere fast. The start-stop journey to P&G allowed plenty of time to take in the hustle and bustle of Mumbai. After about an hour on the road we arrived to the offices of P&G India.
Our meeting at P&G began with a presentation from Sumit, a Tide brand manager of nearly six years. His presentation focused on the challenges of marketing detergent products to Indian households. Interestingly, nearly 90% of households in India still wash their clothing by hand, however, the segment of households with washing machines is growing rapidly. Therefore, winning in households with washing machines represented an important strategic initiative for Tide. I was surprised to learn that most Indians view hand-washing as a far superior method of cleaning clothes than washing machines – an important belief that Tide is hoping to counteract in their marketing communications.
After a brief break, we continued our discussion with Omkar, a brand manager for Gillette. He walked us through the launch of the Gillette Guard, at the time a new product for Gillette in India.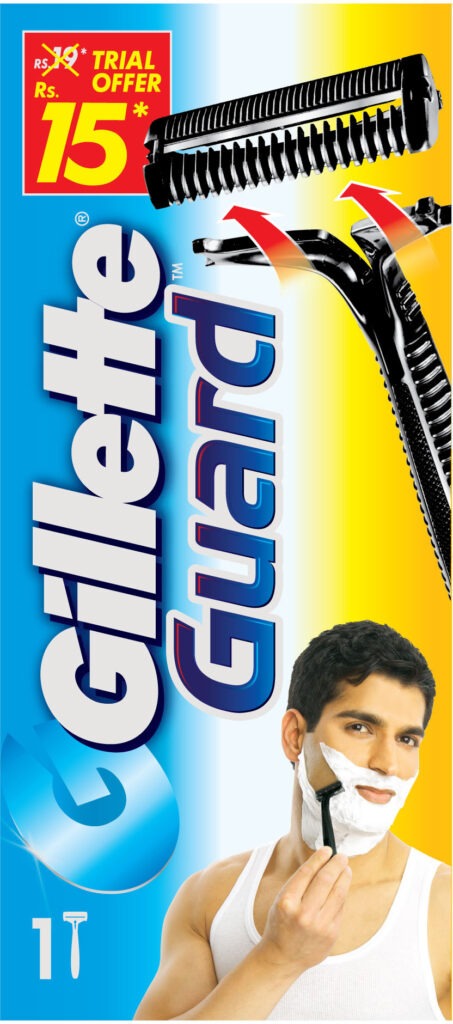 Many Indian men shave primarily with double-edged razors, so launching a single-edge disposable razor represented a challenge for Gillette because it required many consumers to change their habits. The Gillette Guard offered many advantages, most notably the drastic reduction of nicks and cuts from shaving. We were walked through several advertisements that showcased the new product and its advantages, and were shown how those ads successfully led to the rapid adoption of Gillette's new product. Nearly 84 million Indian men use the Gillette Guard today.
Omkar's discussion also led to insight into the importance of packaging in India. The shopping experience in India is much different than the experience in the US. Many Indians don't shop at large retail stores with large aisles, bright lights, and copious amounts of shelving. For Indian consumers, they primarily shop at small mom-and-pop shops, often called bazaars, that are extremely small, with limited shelve space (if any) and dim lighting. P&G took this into consideration when launching the Gillette Guard and made sure the packaging leveraged bright colors to catch consumers attention and that the writing on the packaging was easy to read.
Finally, our discussions at P&G closed with a presentation by Shoutik, an assistant brand manager, on growing products and brands in India. Namely, we focused on Whisper, P&G India's equivalent to Always, and the education and efforts that brand is doing throughout India. Whisper partners with primary schools across India to host mothers and daughters attending the school for a presentation on cultural myths surrounding menstruation and sanitary methods of period protection. These educational efforts are empowering women across India and developing a brand ethos for Whisper that resonates with consumers.
After closing remarks and questions, we quickly scarfed down our lunches so we could board the bus again for more company visits. Our time with P&G provided a great opportunity to learn more about India's culture and how consumer good companies succeed in such a rapidly growing population.
This article is part of the series describing the Marketing Centers' International Trip to India in January 2020. The international trip is the culmination of a two-credit course with the overall learning objective of expanding student knowledge of marketing and other facets of running a multi-national brand in high interest markets beyond the U.S. While on site we visit the marketing offices of several companies and receive engaging case studies on the local consumer, company operations and the challenges of 'local' marketing outside the U.S. Students walk away from the trip with a different perspective that prepares them further for working in global marketing and general management.
The 2020 course and international trip focused primarily on US based multi-national companies in India.
---