The Wisconsin Real Estate Club welcomed Chris Houden, Jr. (MS '22), Managing Partner at Willow Partners, on Thursday, March 23rd, for the third meeting of the spring 2023 semester. Many of the students and professors were happy to see a familiar face presenting. The stories of the deals that Chris was working on while pursuing his master's degree in real estate at UW-Madison truly amazed the club members. He mentioned times when he was learning real estate theory in class, and then applying it directly to his development deals. Chris presented three projects that he is currently working on to the members of REC to provide insight into the various considerations that affect multi-family development.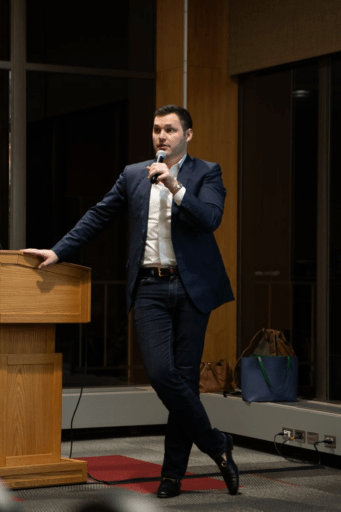 The first case study Chris presented was the Palisade Apartments in Madison. In this example he discussed his floor-by-floor renovations, all while the tenants were still living in the building. In doing so, he moved the tenants into a hotel for a week and worked with a General Contractor and his own property management team to go through each unit one by one. He talked about recapitalization, design, contracts, releases, and construction of this project. Overall, many of the members learned a new strategy of student housing renovating that truly shocked the audience.
The second case study Chis presented was 1550 N. Prospect in Milwaukee. This new development will overlook Veterans Park right on Lake Michigan. Chris mentioned the various obstacles of the project including a present structure relocation, finding a partner for redesign, getting approvals from town officials, costs associated with the pre-construction agreement and due diligence, and the current interest rate environment. The members of the club were impressed by the project renderings, and the overall thought process behind the project.
The final case study observed was 702-34 E. Washington Ave in downtown Madison. Chris spoke about the acquisition, demolition, approvals, and capital stack of the project. He talked about meeting with the city and neighborhood associations, as well as dealing with current tenants. Through all three of these case studies the members of REC were able to gain vast amounts of knowledge relating to the approval process for multi-family development. Each member came to understand the countless obstacles one must take into consideration before beginning a development project.
At the end of the presentation Chris left time for questions. Chris addressed questions about his first development project when he was 23 and the various challenges and lessons involved in this learning experience. Other questions answered included how to deal with current tenants, how to conduct a structural relocation, current macroeconomic trends, and the future of Willow Partners.
Thank you to Chris Houden, Jr. for taking the time to speak to the members of the Wisconsin Real Estate Club. It is always great to hear from fellow Badger alumni!
On Wisconsin!
---