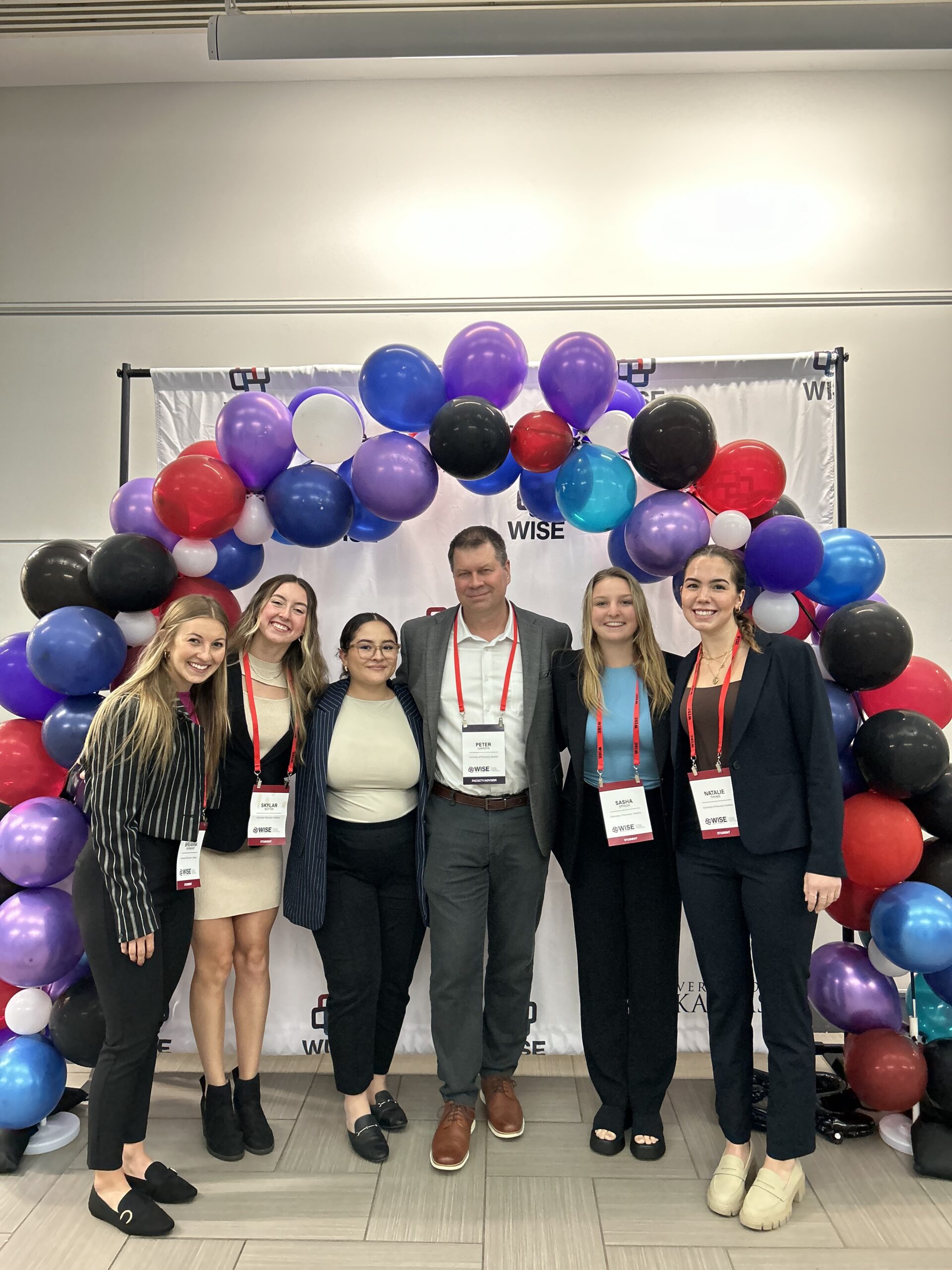 In October five women from the Supply Chain Management (SCM) BBA program were selected to attend the Women Impacting Supply Chain Excellence (WISE) Future Leaders Symposium, hosted by the University of Arkansas in Fayetteville, AR. Breanna Schneider, Skylar Rotter, Sasha Kryazh, Natalie Thoms, and Brenda De La Torre were accompanied by faculty member Pete Lukszys to attend the symposium.
Event Overview
WISE (Women Impacting Supply Chain Excellence) is a student organization within the Department of Supply Chain Management at the University of Arkansas Walton College of Business. Its mission is to promote inclusivity in the field of supply chain management. Membership is not exclusive to women, but the organization focuses primarily on empowering women interested in a career in supply chain to pursue the field. WISE has four strategic initiatives: making connections, professional development, leadership skills, and industry knowledge.
The WISE Symposium brings together supply chain majors from departments across the United States and connects them with top female supply chain leaders to build a strong network of present and future female supply chain professionals. Read more here.
Student Testimonial
Breanna Schneider describes the experience as "enriching, empowering, and collaborative". Breanna and her fellow attendees had the opportunity to visit the J.B. Hunt and Sam's Club headquarters, attend a keynote presentation from J.B. Hunt President Shelley Simpson, and hear from speakers and panelists from across the country on the symposium theme "Chain Maker Change Maker". Her favorite part of the symposium was the recognition of the 2023 WISE Legends, women selected by students to be honored for their contributions to the field. "Two of the 2023 Legends, Michelle Dilley and Ellen Voie, attended the symposium and spoke about their career journeys", she said. "It was inspiring to hear them speak and recognize how they have paved the way in the supply chain industry for generations to come."
The event also gave Breanna the opportunity to connect with supply chain students from across the nation. "I talked with many students who said that at their universities, program and classes are very male dominated. I was fascinating by this, as most of my supply chain classes have an even split (of) gender diversity." At UW-Madison, the supply chain major is comprised of nearly 60% female students, well over the national average of 40% (Source).
When asked how attending the symposium has impacted her outlook on her career path and decision to major in supply chain management, she replied, "Attending the symposium validates my decision to major in Supply Chain Management and is a true representation of the passion and innovation in the industry. The symposium has opened my eyes to the wide variety of opportunities and industries that the supply chain industry has to offer across the nation."
"WISE has created a community within the supply chain industry where I feel empowered as a woman to be my authentic self and take charge of my career path. This experience has left me feeling excited for the bright future of supply chain."
---