Sunday, June 4
|
8:00am
–
Monday, June 5
|
2:00pm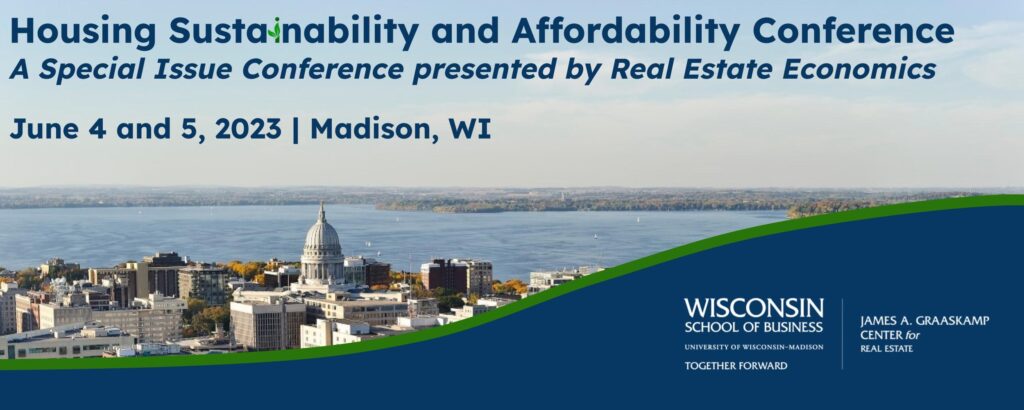 About the Conference
Academic experts, public officials, industry professionals, and community groups will converge at the University of Wisconsin-Madison on June 4 and 5 for the Sustainable Real Estate and Affordable Housing Research Conference. Participants will share cutting-edge research and engage in vibrant discussions on two of the most complex challenges in the world today: sustainable development and affordable housing. The conference is being organized in support of a special issue of the Real Estate Economics, the leading journal in real estate research.
As workplace and residential location choices influence the degree of exposure to environmental harm and risks from with climate change, real estate markets play a critical role in determining a household's access to a clean, safe and sustainable environment. However, race and class intersect with real estate markets for space and assets in complicated ways. The conference will address these complex issues and feature research presentations by academic experts from around the world on the topics such as:
The interaction between zoning, segregation, exposure to pollution, and the development of affordable housing.
Access to affordable/voucher housing and neighborhood quality.
Housing quality, energy efficiency, and energy injustice.
Asset market implications of environmental and social sustainability issues.
Green finance to increase level of financial flow from the public, private and not-for-profit sectors to sustainable development priorities.
The conference is comprised of research presentations, a panel session, a keynote, and networking events designed to encourage substantive interaction among participants. The conference will provide an important venue to share valuable feedback with the authors to improve the quality of their research.
---
Location & Agenda
Conference Location
Room 4151-Grainger Hall
University of Wisconsin-Madison
975 University Avenue
Madison, WI 53562
Agenda
Sunday, June 4
7:30 – 8:15 am
Registration and Continental Breakfast
Room 4161-Grainger Hall
8:00 – 8:15 am
Welcome/Introductions/Presentations
Room 4151-Grainger Hall
Dean Vallabh Sambamurthy, Albert O. Nicholas Dean, Wisconsin School of Business
Chris Timmins, Professor, Department of Real Estate and Urban Land Economics, UW-Madison
Lu Han, Professor,Department of Real Estate and Urban Land Economics, UW-Madison and Editor of Real Estate Economics        
8:15 – 9:00 am
Paper 1: The Drivers of Sustainable Homeownership
Author: Liyi Liu, Senior Quantitative Analytics, Freddie Mac

Discussant: Kyle Mangum, Senior Economist, Federal
Reserve Bank of Philadelphia
9:00 – 9:45 am
Paper 2: Foreign Buyer Taxes and Housing Affordability
Author: Tsur Somerville, Professor, Sauder School of
Business, UBC & Senior Fellow, Centre for Urban Economics
And Real Estate

Discussant: Danny Ben-Sharar, Professor of Finance and Real Estate, Coller school of Management at Tel Aviv University & Director, Alrov Institute for Real Estate Research
9:45 – 10:00 am
Networking Break
10:00 – 10:45 am
Paper 3: Climate Risk in Mortgage Markets: Evidence from Hurricanes Harvey & Irma
Author: Pedro Gete, Department Chair & Professor of Economics, Finance & Real Estate, IE University and Business School
Discussant: Penny Liao, Economist and Fellow, Resources for the Future & Research Fellow, Wharton Risk Center
10:45 – 11:30 am
Paper 4: The Color of Water: Racial Differences in Exposure to Floods Across US Neighborhoods
Author: George Galster, Clarence Hilberry Professor, Urban Affairs in the Department of Urban Studies & Planning, Wayne State University

Discussant: Daniel Phaneuf, Professor, Agricultural and Applied Economics, University of Wisconsin-Madison & Editor, Land Economics
11:30 – 12:15 pm
Paper 5: Heterogeneity in the Recovery of Local Real Estate Markets After Extreme Events: The Case of Hurricane Sandy
Author: Ingrid Ellen, Professor of Urban Policy and Planning, Director for Furman Center for Real Estate and Urban Policy

Discussant: Eunjee Kwon, Assistant Professor, Real Estate, Department of Finance, University of Cincinnati

12:15 – 1:15 pm
Lunch
1:15 – 2:00 pm
Paper 6: Climate Change, Natural Disasters & Housing Finance: A Survey of the Literature
Author: Justin Contat, Research Economist, Federal Housing Finance Agency (FHFA) and Undergraduate and Lecturer/Instructor, University of North Carolina at Chapel Hill

Discussant: Susan Wachter, Albert Sussman Professor of Real Estate, Professor of Finance, Co-Director, Penn Institute for Urban Research, The Wharton School of the University of Pennsylvania
2:00 – 2:15 pm
Paper 7: Racial & Ethnic Differences in the Financial Returns to Home Purchases from 2007 to 2020
Author: Matt Kahn, Provost Professor of Economics, University of Southern California, Research Associate, National Bureau of Economic Research, Research Fellow, IZA

Discussant: Linna Zhu, Senior Research Associate, Housing Finance Policy Center at the Urban Institute
2:15 – 3:00 pm
Networking Break
3:30 – 5:00 pm
Panel Session: Open to the Public
Affordable Housing Panel:  From Theory to Practice and Back!
Moderated UW Professor Emeritus Stephen Malpezzi, a panel of housing experts with deep knowledge of LTC housing development, managing workforce housing, and financing affordable housing will discuss their organizational successes and challenges and engage the assembled academics with new areas of research based on what they see is challenging the affordable and workforce housing markets.

Moderator: Stephen Malpezzi, Professor Emeritus, Department of Real Estate and Urban Land Economics, UW-Madison
Panelists:
Joanna Mack, Associate, Salazar Architect
Lorrie Heinemann, President & CEO, Madison Development Corporation
Elmer Moore, Director, Wisconsin Housing & Economic Development Authority (WHEDA)
Brian Swanton, President and CEO, Gorman & Company
5:00 – 6:30 pm
Networking Reception
Room 5120-Grainger Hall
Monday, June 5 (Room 4161 – Grainger Hall)
8:00 – 8:15 am
Welcome and Introductions
Chris Timmins, Professor, Department of Real Estate and Urban Land Economics, UW-Madison
8:15 – 8:45 am
Paper 8: Investment Incentives of Rent Controls & Gentrification—Evidence from German Micro Data
Author: Vera Baye, Research Associate, School of Business Administration and Economics, Osnabrück University
Discussant: Yang Yang
8:45 – 9:30 am
Paper 9: The Effects of Community Land Trusts on Neighborhood Outcomes
Author: Sarah Raviola, Economics Department, Duke University

Discussant: Aradhya Sood, Assistant Professor, Department of Management (Economic Analysis and Policy Area), UTSC and Rotman School of Management at the University of Toronto
9:30 – 9:45 am
Networking Break
9:45 – 10:30 am
Paper 10: Valuing Public Transit: The L-Train Shutdown
Author: Becka Brolinson, Senior Economist, Federal Housing Finance Agency, Researcher in Economics, Georgetown University

Discussant: Andrew Waxman, Assistant Professor, LBJ School, UT Austin, Visiting Scholar, Belfer Center, Harvard Kennedy School
10:30 – 11:15 am
Paper 11: ADUs in Los Angeles: Where Are They Located and By How Much Do They Raise Property Value?
Author: Jan Brueckner, Professor of Economics, University of California, Irvine, Member, Institute of Transportation Studies, UCI

Discussant: Stephan Heblich, Professor and Munk Chair of Economics, University of Toronto
11:30 – 12:15pm
Lunch
12:15 – 1:00 pm
Keynote Presentation
Diana Hernandez, Associate Professor of Sociomedical Sciences, Columbia University
1:00 – 1:45 pm
Paper 12: How Will Climate Change Alter Household-Level Housing Decisions
Author: Jenny Schuetz, Senior Fellow, Metropolitan Policy Program, Brookings Institute

Discussant: Siqi Zheng, STL Champion Professor of Urban and Real Estate Sustainability, Faculty Director, MIT Center for Real Estate, Faculty Director, MIT Sustainable Urbanization Lab
1:45 – 2:00 pm
Closing Remarks
Stuart Gabriel, Distinguished Professor of Finance, UCLA
2:00 pm
Adjourn
Presenters
Keynote Presenter
Thank You to Our Generous Sponsors!
As a conference sponsor, your organization will be supporting an innovative research conference attended by top academics from around the world in the area of sustainable real estate and affordable housing. Specifically, the sponsor funds will support:
Travel and lodging expenses incurred to bring academic authors and other experts to Madison, Wisconsin.
Operating costs, including food and beverages for networking breaks, the luncheon and reception.
Sponsorship Levels: $2,500, $5,000, and $10,000
Questions? Contact Professor Christopher Timmins, at timmins.c@gmail.com.
Hosted by the University of Wisconsin-Madison Department of Real Estate and the Graaskamp Center for Real Estate in partnership with AREUEA, UCLA, Tel Aviv University and ESCP Business School.