Wednesday, February 22
|
4:00pm
–
5:15pm
Freshman and sophomores who are interested in learning more about the diverse career pathways within real estate are invited to the Pathways to Real Estate Professions: A Real Estate Career Exploration Event hosted by the Wisconsin School of Business Department of Real Estate & Urban Land Economics.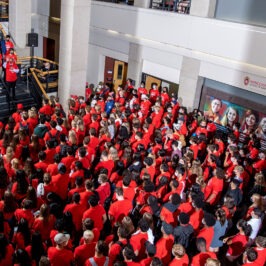 This is an opportunity to
Hear from panelists who work in major sectors of the real estate industry: finance, development, equity, affordable housing and city planning.
Meet with potential employers.
Enjoy snacks and beverages while enhancing your professional network and meeting.
Have access to WSB Undergraduate Career and Academic advisors who can answer your questions about course sequencing, career advice, and more.
Learn more about the Real Estate MS and MBA degrees
Agenda
4:00-4:15 pm: Introduction to the Wisconsin Real Estate Greg Reed, Associate Director of the Graaskamp Center
4:15-4:20 pm: Meet Your Professors
4:20-4:35 pm: Meet Your Advisors:
Matt James, Academic Advisor
Elin Filby, Career Coach
Bryan Zaramba, Assistant Director of Employer Relations
Brian Whitmore, Career Development Manager
4:35-5:00 pm: Young Alumni Panel Moderator: Tim Carr, Real Estate Program Director for Undergraduate Studies Recent Real Estate graduates will share their perspectives on career paths, the job search, and tips and insights on how to get the most out of your time at the Wisconsin Real Estate Program.
Students are encouraged to ask questions! Panelists:
William Zordani, MS Real Estate Student
Katelyn Rossman, Valuations Analyst-Revantage, A Blackstone Company
Kirstin Bonifas, Senior Analyst, Acquisitions at Core Spaces
5:00 pm: Adjourn
For further information, contact Genie Trewyn at genie.trewyn@wisc.edu.
Registration is encouraged but not required. Students who pre register will have the chance to win door prizes!