Right after the spring semester began, MBA students in the Strategic Human Resource Management (SHRM) specialization completed their applied learning trip to Milwaukee. Representatives from the Milwaukee Brewers and Quad (formerly known as Quad Graphics) generously shared their efforts and achievements in HR transformation.
"Tricky" Milwaukee Brewers: As an international student lacking local sports industry knowledge, I was surprised when Cas Castro, Vice President of Human Resources, responded to a question from me by saying, "it's a professional baseball team and has no business with brewing." The most intuitive progress in an HR department is headcount growth, and under Cas's short tenure, the department expanded from 3 to 7 professionals. The new HR team adopted a Human Resource Business Partner model into their practice: three HRBPs are responsible for providing instant and professional support for specific business units. To build a dynamic and harmonious environment, Cas and his staff broke down silos among departments, conducted leadership trainings, emphasized workforce diversity, and lobbied for the best benefits they could offer to their employees. The HR team is committed to shaping the Brewers' culture–to become a world-class organization where people want to work.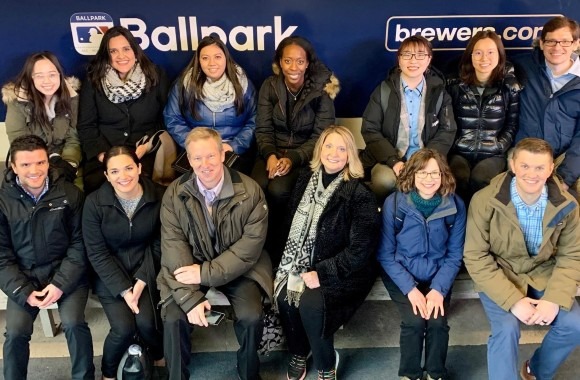 Quad, a famous marketing solution-provider located just outside Milwaukee, was proud of "showing off" its production line. All of us were shocked by its capability, efficiencies, size, and innovative approaches! Coming along with the high business capability of such a huge organization is the same high expectation on its HR department. Quad has acquired a number of different businesses and has repeatedly merged its processes during its expansion, which has required transformation of even the most basic tenets, such as their mission and vision. Aided with technology, Quad's HR team, led by Artell Smith, Vice President of Human Resources, has rolled out an online HR shared service system that allows communications within and among departments, performance management, and staff self-service, which has greatly increased work efficiency among their 18,000 employees. Moving forward, its HR function is becoming more strategic and will continue to explore how to better serve employees' needs and business needs.
What struck me most is that the transformation of the two organizations has shown how important strategic human resource management is, and that businesses are increasingly elevating the importance of human resources as a critical partner to planning and reaching their goals. It is an exciting time to be studying to be a leader for these types of transformations! Ambika, a student in the SHRM specialization, described it as "incredibly interesting and insightful" because "getting the chance to understand how the Milwaukee Brewers have been able to up their HR game and become one of the leading forces in baseball was fascinating." Special acknowledgement to alumni and Milwaukee Brewers for their gifts to make the trip possible!
---