Before I realized that my first semester in business school was over, I was on a plane to Zagreb, Croatia for the MBA Global Learning trip. Each year, the full-time MBA program offers the opportunity for students to expand our knowledge through a cross-cultural experience outside of the United States. Another goal of the trip is to complete a consulting project with a multinational corporation through teams comprised of different specializations. I jumped at the opportunity to continue to implement what I had learned in my first semester. There were certainly lots of incentives to attend the trip including the fact that I had not been to either Croatia or Munich before.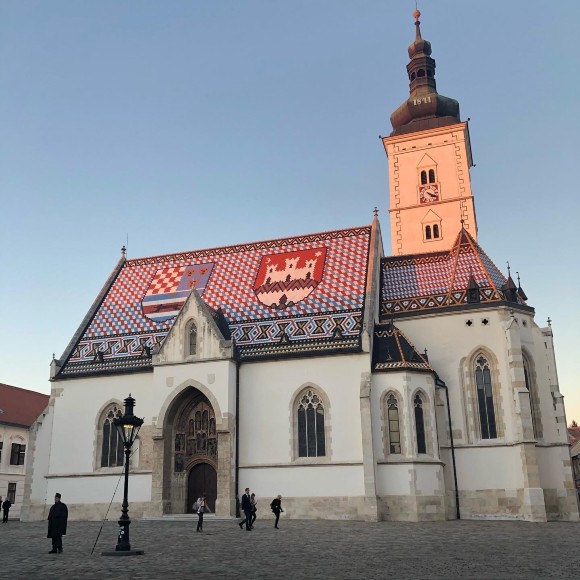 Zagreb, the capital and largest city of Croatia, is filled with so many historic and modern buildings. The city is very walkable and offers many cafes to enjoy with friends. Before heading to Europe, I attempted to learn some phrases in Croatian, which is a very difficult language. I was proud to have learned hvala ("thank you") to use when visiting Zagreb's many shops in the central area of the city. In addition to guided tours and food immersions, we visited Roche Zagreb, Rimac Automobili, and the U.S. Embassy in Croatia. Each company gave us a unique perspective in their respective industries, and the U.S. Embassy shared how their work includes developing business relationships in Croatia for the benefit of U.S. companies.
The next stop on our trip was a quick flight north to Munich, Germany. München, as it is known in German, is in the state of Bavaria with a population of 1.5 million people. When most people think of Germany, they probably think of the culture of Bavaria with its beer halls and bratwurst. Of course, this modern city is also home to BMW, Siemens, IBM Watson and so much more.
In addition to getting to know more about some of these companies, we also learned about the painful history of Dachau, which is a short bus ride from Munich. The former concentration work camp is now a memorial that reminds its visitors of the injustice and horrific conditions endured by prisoners targeted by the Nazi State in the 1930s-early 1940s. It is an important backdrop for which to understand Germany in its social, political, and business environment.
In this short trip, we accomplished so much, especially getting to know my classmates in other specializations and their approaches to understanding our consulting project. Overall, I enjoyed visiting these exciting cities and expanding my business knowledge on a global scale. I highly recommend the trip to other students as part of the Wisconsin MBA experience.
---