To say that Kendra Armstrong (SHRM MBA '12) makes the most of her time is an understatement. As a student, she was a teaching assistant, served as Co-President of both Graduate Women in Business and Graduate Business Christian Fellowship, and participated in several other committees and a case competition. After her summer internship at Bank of America led to full-time employment in their HR Development Program, she finds herself enjoying their company in North Carolina for nearly seven years now.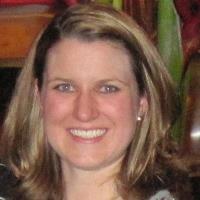 Armstrong is employed as a Human Resources Manager, supporting Corporate Treasury within The CFO Group. She provides end-to-end HR generalist support on topics such as organizational design, talent acquisition and development, compensation, employee relations, and more. Favorite parts of her role are the career and talent development conversations she has with employees and the Treasury leadership team. Armstrong said, "It is exciting to witness people growing in the role that they're in, and discussing what could come next and how best to support them for that next move. Maybe I played a small part of what could be the next development opportunity for them."
In addition, Armstrong has found herself supporting organizations through large-scale organizational change: how to prepare for it, execute it, and follow-up. Though we were talking via phone, I could tell that she was smiling when describing her role in organizational change. She indicated that the Change Management course through the MBA program was crucial to her development in navigating change.
When asked about her advice for current MBA students, she said, "It's a very special two years! Take advantage of all of the academic and extra-curricular offerings. These are two years you won't be able to replicate; make the most of your time. Enjoy and have fun, too!"
Having fun and continuing to make the most of her time, Armstrong served on the Wisconsin Business Alumni Board for four years, serving as Vice Chair and Chair during the last two years. While she was giving herself to "5 or 6 other boards simultaneously," she was honored in 2016 as one of 8 to Watch Under 40 by the Wisconsin School of Business. Grateful for the opportunity to serve those wonderful organizations and develop meaningful relationships, she has let her terms expire to focus on planning her fall wedding and the next steps that life may bring.
Making the most of her time appears to be an everyday goal for Kendra. It seems to serve her—and everyone around her—quite well!
---