I recently had the privilege of sitting down with A.C. Nielsen Center alumni, Kelly Goldthorpe, to learn about her career. Kelly has paved a unique path since before her time in the MBA program, starting her career as a driver for Oscar Meyer's Wienermobile. During that year, she covered 22 states, traveling "the hot dog highways" to visit "Walmarts all across America." During her time in the A.C. Nielsen Center, she continued to seek out unique experiences, completing the Madison Ironman during her second year in the program. I'm sure her Ironman experience was a lot of things, but she noted that it was a representation of the power of the Wisconsin community as all her classmates came out to cheer her on. Kelly noted this support and encouragement continued after graduation and that her classmates and the rest of the Wisconsin community have contributed and supported her career along the way.
After spending two years in the A.C. Nielsen Center, Kelly began her insights career as a consultant at a global growth strategy firm in Chicago called Prophet, gaining experience working with companies in different industries on a variety of problems. During that time, Kelly discovered what we all hope to discover at some point in our lives: her true passion. She realized that her daily bike ride commute brought her joy and she decided to start networking in the bike community in hopes of merging her passion and career. Eventually her networking efforts brought her to the General Manager of Divvy, a bikeshare company in Chicago. The two of them scheduled what was supposed to be an informational coffee chat for Kelly, but her expertise in consumer insights led to a 10-week freelance project, where Kelly helped Divvy develop and answer the most important user research questions. Long story short, the project led to a full-time offer and so began Kelly's career in the bike space.
Kelly grew her career at Divvy, starting out as a local marketing manager and ending up in a product marketing role after Divvy was acquired by Lyft. During her time at Divvy and then Lyft, she learned that she was not only passionate about biking, but she was also passionate about transportation on a broader scale. She loved understanding the ecosystem, community and social infrastructure that transportation is based on, as well as how her company fit into that.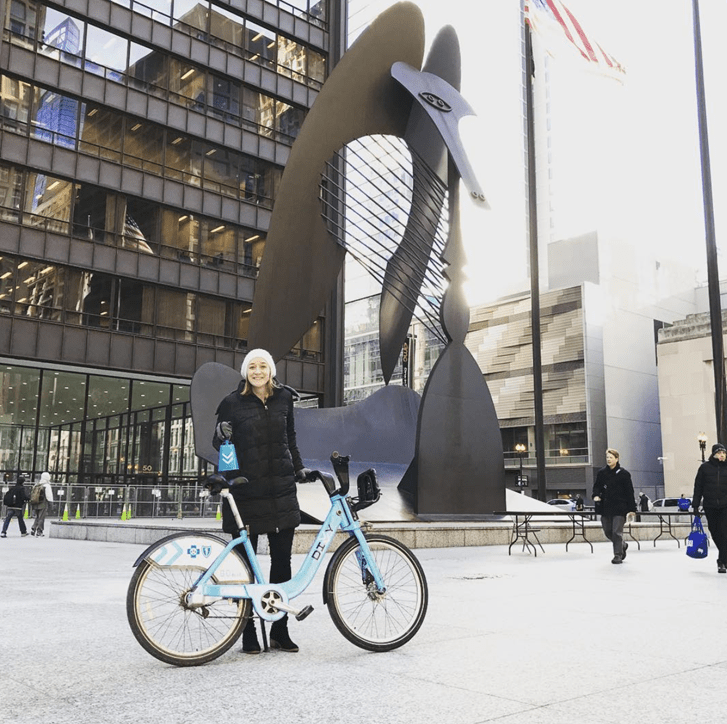 Kelly recently made the transition from Lyft to Peloton, an at-home exercise equipment and media company, where she continues to work in a product marketing role. While it was a hard decision for her to leave transportation, she realized that Peloton has a lot in common with Lyft's bikeshare branch. Both companies offer a combination of physical and digital experience, or hardware and software. At Peloton, she's focused on user acquisition in the e-commerce space, and how the value proposition can come to life on Peloton's website. She's finding it interesting to see how she can apply consumer insights to the content experience on the site.
While Kelly is enjoying her experience at Peloton and is continuing to find purpose in her work, when I asked her about the project she's most proud of, she talked about her time at Divvy. Creating an option for consumers that's cleaner for the environment, safer for the community, and cheaper than other forms of transportation spoke to her passion for making the world a more sustainable place. More specifically, she talked about her work on the launch of bikes in the Lyft app, which immediately expanded the distribution channel of bikes to new users. Following the launch, Kelly was calling riders to learn about their experience and purchase journey, and she learned that many of these rides were net new rides, or rides that wouldn't have happened if bikes didn't exist in the Lyft app. This project made her feel like she was tangibly impacting climate change and her neighborhood.
Kelly credits the A.C. Nielsen Center and Wisconsin alumni network for many of her career opportunities and ongoing learning and development. She says she never would have gotten her role at Prophet without the alumni network, and the first person she talked to in the biking community was a Wisconsin alum. When I asked her where she sees herself in five years, she said something that really resonated with me: "I don't have a title I want to achieve, more so a mission I want to achieve. And I think it really is making the world a more sustainable place." As Kelly continues to pave her own way and build her unique career, I know that she'll continue to keep her passions and that mission front and center.
---