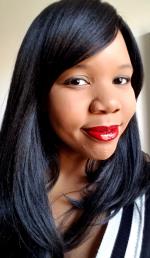 Marjorie Scott (MBA '12) is an A.C. Nielsen Alum and a fellow of the Consortium for Graduate Studies in Management. Currently, she is the Global Marketing Sciences Education Lead at Facebook. She takes the reports from Facebook's data scientists, interprets their significance, and reports their findings internally to Facebook's marketing and sales teams and externally to key customers. Her projects allow her to travel the world; most recently she traveled to Mexico City, Dublin and Sydney. When not traveling, she is based out of Facebook's main headquarters in Menlo Park, California.
Prior to becoming a Badger, she received a BA in Psychology and Theatre from Pitzer College. She then started on the path towards a PhD, receiving a Master of Science in Social Psychology at Howard University, where she studied the factors that go into patients' H1N1 vaccination decisions. However, Marjorie felt like her calling was not in academia, and she decided to pivot in her career by going to an MBA program.
During her search for the perfect MBA, she had a few main objectives. She had student loans to pay, so ROI was a key decision driver – it had to be a great program with great outcomes for its alumni. Second, she didn't have any experience in the business world, so she was looking for a program that would give help her succeed without a business background. By choosing the marketing research specialization, Marjorie was able to leverage her existing strengths: "At least I know research, and we can figure out how to bridge that gap. I didn't feel like I was going to be behind."
Two things stood out for her when she decided to join the A.C. Nielsen Center for Marketing Analytics & Insights. First, she was struck by the collaborative environment the Wisconsin School of Business. She met with center director Kristin Branch, "Kristin and the team made me feel like I was in good hands … They were as invested in my success as much as I was." The school's selective class sizes and specialization model also lent to creating a tight knit community. Secondly, UW-Madison is a founding member of the Consortium, created in 1966. "That meant that UW-Madison understood the importance of diversity before it was cool. They cultivated a unique experience that I wouldn't feel in other schools."
The Consortium's Orientation Program also cemented her belief that she belonged in business school. "The Consortium was meaningful during school and became even more meaningful afterwards, coming into the business school was already hard. I was coming from a completely different background, and you hear about all the hurdles about being a woman, and even higher hurdles when you're a woman of color. But this was an opportunity to have a leg up. I came out of OP with two internship offers, and it finally felt like 'OK you have a place in business.' This was my first experience even before starting school, but that meant so much. You're becoming part of something greater that your MBA. You have to be ready to take on the torch of the Consortium and know that one day you're supposed to represent the underrepresented."
The transition to Madison was easier than expected, "We had this image in our head that it was just going to be farmers milking cows on the street – I don't even know what I expected. It was a good transition – Madison is very different. Some say it's a college town, but I feel like it's a college city." Her favorite memory from the program was studying abroad to China, where she visited Colgate and Dell facilities, major tourist attractions and took a trip to Macao. But most importantly, she learned how different cultures do business and got to do it with people she grew to love over the two years in the program.
She interned at General Mills during her summer internship and worked full-time after graduation as a Global Consumer Insights Associate on various teams. This work eventually led her to the supplier side, where she worked as a Manager of Checkout Tracking for the NPD Group. Eventually, her affinity with data science, psychology and tech, as well as her ability to communicate complex discoveries in data led her to Facebook. Throughout her journey, she has stayed in contact with her UW Consortium family and fellow Nielsenites, "It's great to have people to lean on when you reach another turning point in your career."
Marjorie's advice for someone considering getting their MBA: "There is no perfect time – but there is a perfect place. For someone who is open to community and vulnerable to new experiences, then Wisconsin is the place to do that. Take the leap of faith and hopefully land somewhere comfy and full of cheese."
Marjorie will be attending the 2020 A.C. Nielsen Industry meet up in Silicon Valley where industry leaders will be discussing upcoming innovations and trends in marketing insights and analytics and looks forward to seeing other alumni and industry members there.
---