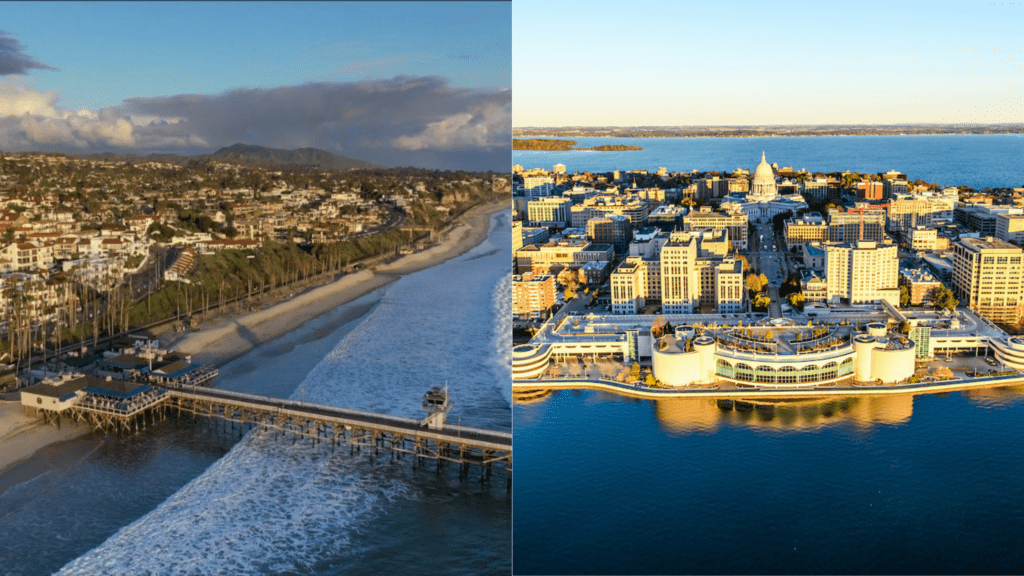 Those who know me understand that I am not a rash or intemperate person. I'm likely to deflect when someone proposes an impulsive trip as I usually prefer routine. However, after getting the urge to jump start my career, I began looking for schools with the best and most unique marketing programs in the States. Being in Southern California, I had a few local options to seek out for marketing, but after doing research on programs, I found myself drawn to Madison. I have a cousin who went to Madison and she would always emphasize how nice the people were and how beautiful the area was, which on top of the impressive program, helped obtain my attention. I have lived in Orange County my entire life. Even in my undergraduate education at the University of California, Irvine, I was never more than thirty minutes from my home, and I ended up commuting my last two years of attendance. I was also so unfamiliar with living in a big city, a state capital at that, after living in the suburbs my entire life, so I was curious to see what unique experiences it could provide me with. After considering my offers, I decided to be spontaneous and go to live in Madison and away from my family. I responded and submitted my acceptance to UW Madison in early February of 2020. The world promptly exploded.
With every passing week that went by after my acceptance, cases increased, and travel got increasingly restricted.  With California being such a hot spot, we were worried that flights might be cancelled altogether.  My parents and I even had a contingency plan at one point to rent a RV and drive all the way to Madison if things got bad enough.  Fortunately for us, that did not come to pass.  The anxiety of navigating an airplane and flying in one during an airport remained, however.  Luckily, my mom, having worked as a nurse, was able to supply us with both n-95 face masks as well as face shields to double up on protection if we ever became too cramped, which only happened at the security checkpoint.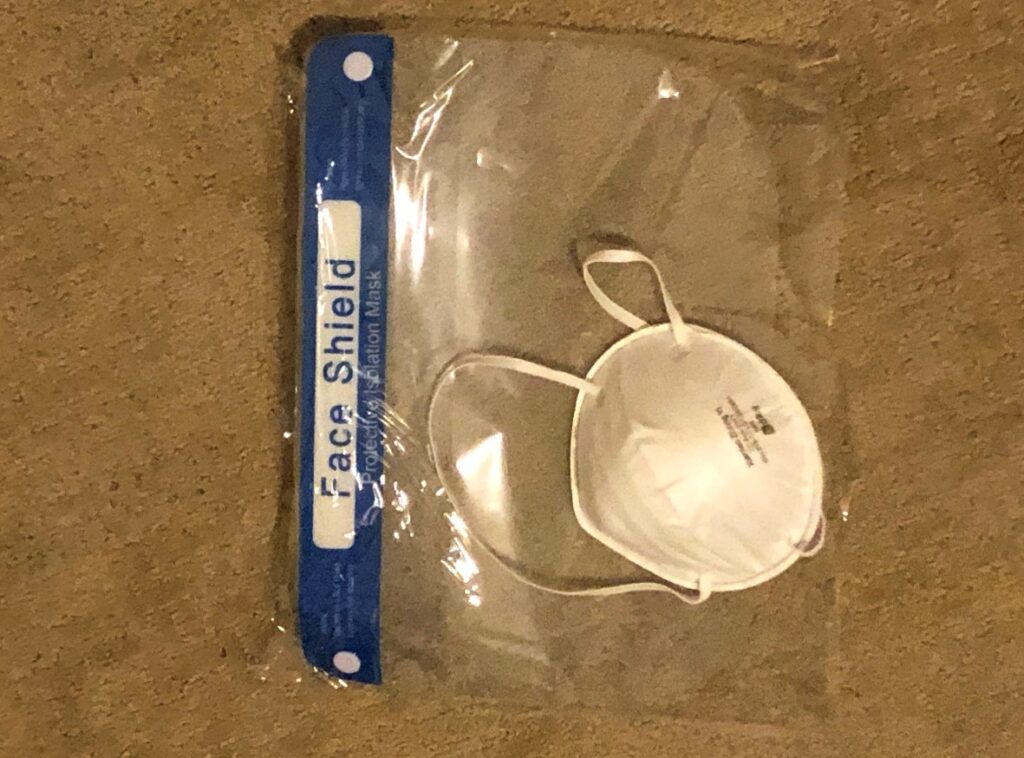 Oddly enough, I found myself more worried about other people's behavior at the airport and on my flight. My greatest fear was to be bystander looking on incredulously as some dope got tackled and dragged off a plane, my slacked jaw of disbelief visible through my mask. Fortunately, while we did see people every now and then walking through the terminal mask-free and were sure to steer clear of them, on the actual flight my co-passengers seemed to behave for the most part. With that, we completed our two flights and ended up in Madison, where the move-in would begin in proper. This is where I learned the most valuable advice I would pass on to anyone planning a move like this, pandemic or no: preparation.
When listening in on discussions with second years and alumni I was shocked that the best time to begin looking for your apartment in Madison is in June. Three months! That still seemed like a world away. Luckily, I took the advice to heart and settled my lease with Ovation 309 in June. This was a huge benefit as I was able to then start purchasing important items and services for my apartment before I had even moved in.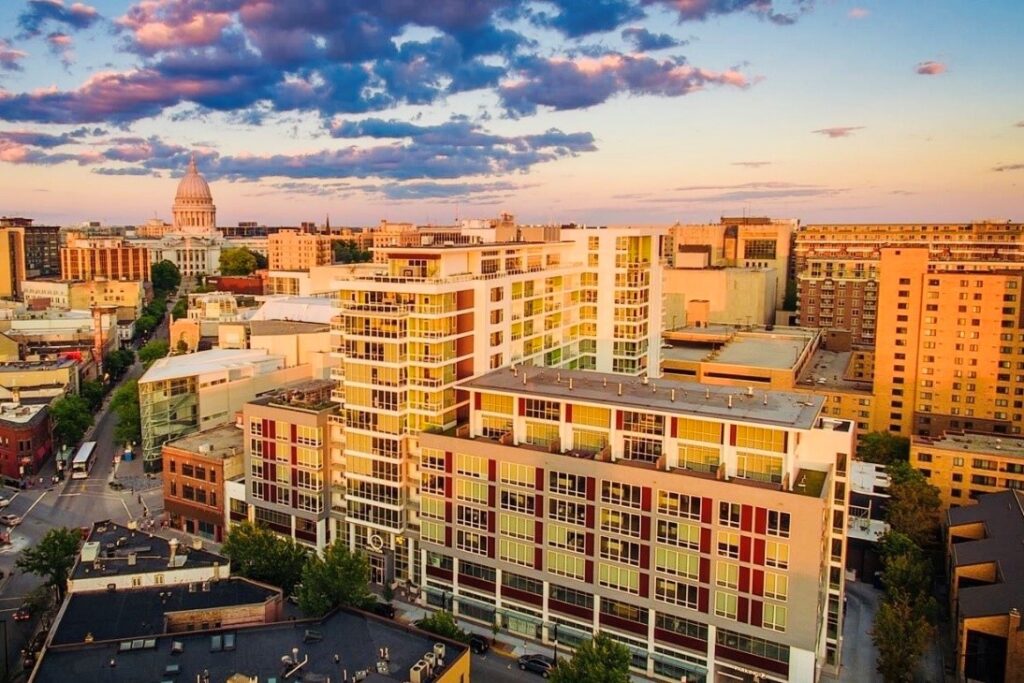 Once my lease was signed, I went about befriending my leasing specialist, which led me to figuring the best ways to go about moving in. Two of my biggest goals were to have furniture and internet set up in my apartment prior to moving in. I had tried looking at furniture in California to see if I could buy the same models in Wisconsin, but everything was so brutally expensive, I quickly gave up. By keeping in contact with my landlord, I was directed to CORT furniture rental, who I feel has provided me with solid quality furniture at a reasonable price. I also don't have to worry about getting rid of my furniture once I move out at the end of the program. I was also directed on how to set up AT&T fiber in my apartment. Getting a fiber optic connection intrigued me, and so far, I have been pleasantly surprised by both the connection and its price. This underscores my advice of preparation and becoming familiar with your leasing specialist/landlord before moving into Madison or anywhere, as it will make things exponentially easier on you.
With those major issues out of the way, the remaining tasks were completed relatively easily. A few trips to Target to set up my apartment with food and supplies, a trip to Best Buy to pick up a TV we had preordered, and a setup of my gaming equipment were fastidiously completed with the help of my awesome family who came to help me out. One hiccup occurred when I was requested to take a picture in a suit for my class profile picture. Of course, I had a suit… it was just left back home to be shipped to me later by my family when they came back. Thinking quickly, we went to Men's Wearhouse and they were nice enough to let me take a picture in a suit jacket, so that crisis was thankfully averted.
Once everything settled down, I bid my family farewell and began to take the city by storm! I'm kidding, of course, but even without the pandemic, I usually take a pragmatic approach to a new environment. I was able to walk around the city a bit with my family, and I do walk to school whenever the campus is actually accessible, so I feel like I'm slowly getting immersed in the culture and setting of Madison. Looking back at my spontaneous decision to move to Madison for my graduate education, I should feel like it was one big disaster of fate after another, but I don't. By preparing ahead of time and establishing relationships with important individuals beforehand, I was instead able to enjoy facing the challenges the move provided me, as it allowed me to assert my independence and grow through overcoming difficulties I had never encountered before. Madison is a lot different from my Californian home, but so far, the truly unique education provided by UW Madison is helping me not worry about those differences but instead embrace them as the sources of positive change they are.
---