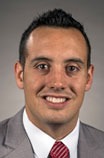 The decision to get an MBA for me was simple: Absolutely. The tough part was choosing the right schools to apply to. In thinking about my future career, I was certain that I wanted to be in marketing. Whether that was Marketing Research and being the voice of the consumer, or a marketing role closer to sales, I wasn't quite sure.
Prior to applying to school, I had been in the tech industry for four years in Supply Chain, Sales, and Sales Enablement roles. I really loved the tech industry and saw myself eventually making my way back to it. I knew that I wanted to move into marketing, and after much research, Wisconsin made sense for my goals.
During the internship search, I learned that P&G had a tremendous marketing program, and I wanted to be a part of it. I networked with alumni and prepared myself for their assessments and interviews. After a few rounds, I was extended an offer to join their Consumer Insights team (CMK) for the summer. Even though it was a different industry (CPG), I thought that an internship would be a good place to test the waters. Our marketing research cohort ended up interning at the following companies: General Mills, Pepsi, SC Johnson, Beam Suntory, AbbVie, United Healthcare, Shapiro & Raj, American Family, Lands' End, Walmart & P&G.
It was a great learning experience for all of us and we all came back after the summer much more prepared to take a full-time role as a Consumer Insights professional, even though I wouldn't be returning fulltime to P&G.
Even though I had a great experience during my internship, and I loved P&G, it was not the right fit for me. So, after my internship ended, I took some time to think about my career and what I really wanted. I knew I still wanted to be in marketing, but I felt a stronger pull towards tech. I knew that it would probably mean that my family and I would have to move to a more expensive part of the country, but I felt that this was the right decision.
After interviewing with many companies, and turning away from an incredible offer from a CPG company, I ended the semester without any offers. I was ready for the holidays and my trip to China, so I went home after my last class in December and was ready to not worry about a job until after I came back from my trip.
As I was sitting with my kids playing, I got a call from a recruiter and he asked if I had some time to chat. He told me that Microsoft wanted to extend me an offer as Marketing Manager. Microsoft was one of the companies I had interviewed with but was still waiting to hear from. Since the holidays were upon us, I didn't think I would hear from anyone.
This is exactly what I wanted, so after some negotiation, I accepted the offer. My family and I will be relocating to the Seattle area after graduation.
In regard to my classmates, we are all over the place. From the above list of companies, we have added Microsoft and ExxonMobil to the list. It's been a wild ride, but I am grateful that I stuck with my gut… and even more grateful that it worked out.
Where the Graduating Class of 2019 is Going:
Ammad Amin: Walmart
Cindy Bai: Pepsi
Duc Chau: Still Seeking Employment
Jess Colberg: Exxon Mobil
Kathryn Elenius: Still seeking Employment
Alison Heimert: General Mills
Kelsey Ketelsleger: SC Johnson
Felix Nguyen: Still Seeking Employment
Stew Slipher: Levy Restaurant Group
Trevor Spranger: United Healthcare
Rodrigo Stabio: Microsoft
Where the Class of 2020 Will Spend Their Internships:
Paras Bansal: General Mills
Rick Cardenas: Disney ABC Television Group
Dani Klunk: General Mills
David Koser: Eli Lilly
Emily Litvak: Adobe
Max Maiken: Danone North America
Bryson Smith: General Mills
Tyler Vaughn: Pepsi
---