Letter from the Director
By Kristin Branch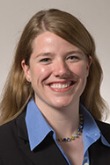 What a semester!  Fall 2017 was a full one.  In addition to our program being in the national spotlight, our first year MBA students tried a new academic approach where our core MBA classes were redesigned to be delivered in seven week segments.  Plus, we had over 20 companies come to campus to recruit our students across the 1st and 2nd year students driving a lot of great results. Many of our students have accepted internship or full time offers, for which I know they are very grateful. Of course, we still need more internship and full time opportunities so if you hear of any, please pass them our way.
Our fall field trip to Chicago included visiting new industry partner, Conversant Media where we learned about how 'big data', like shopping data and internet behavior, is remodeled into effective on-line advertising.  We also visited our alumni, board member and industry friends at PepsiCo to cover a variety of topics including flavor testing and advertising testing.  The field trips also serve as a way for students to get to know each other better through the adventures of the bus ride, happy hour with alumni & industry friends and exploring a new city.
The A.C. Nielsen Center continues to lead in our unique positioning of combining MBA strategy and business acumen with marketing research knowledge to deliver insights to impact business.  We are always working to strengthen our educational offerings to help students build both their analytical toolkit as well as their business impact and consultative skills.  We are excited to be offering the 2nd round of our new Consumer Insights Consulting Practicum in the upcoming spring 2018 semester.  This capstone class features the students doing live consulting work for companies who sponsor the class.  This year's partners include American Family Insurance, Beam Suntory, Bunker Labs, Coca-Cola, Lands End, Microsoft, & PepsiCo.  A big thank you to our partners are these firms and all of our alumni and board members that contribute to our educational mission!
There are some great photos and alumni updates in this Focal Point. Thank you to all who shared and I continue to be so grateful for the community we have in our A.C. Nielsen Center.  We hope you remember UW, the Wisconsin School of Business and/or the A.C. Nielsen Center in your annual charitable giving – your gifts really do make a difference.  If you feel your career and/or personal development was positively impacted by your time on campus, we hope you can contribute to our ability to continue to offer that to future students.  And as always, please let us know if there is anything UW, the Center or I can do to help you.
Here's hoping your holidays are filled with happy moments and cheers to all the new adventures and learning 2018 will bring.
On, Wisconsin.
Giving
Please consider the A.C. Nielsen Center and the Wisconsin School of Business in your giving expenditures. Our A.C. Nielsen Center Endowment covers approximately 40% of our operating budget so your gift will immediately impact all the Center does and our primary focus– student scholarships. We'd also be honored to have you include the Wisconsin School of Business Fund if you're looking for a gift that is not Center-specific. Both the A.C. Nielsen Center fund and the Wisconsin School of Business Fund can accept single gifts, monthly, or multi-year pledges via easy processing.
If you do not already have a contact at the University of Wisconsin Foundation and would like someone to answer your questions and/or help you with your planning, please contact Jerad Meyer at jerad.meyer@supportuw.org.
Student Blogs
EAB Mentors: A Meaningful Relationship
By Lindsey Rasie, Class of 2018
One of the benefits of being part of the A.C. Nielsen Center is access to industry leaders through our External Advisory Board. We're assigned mentors when we first arrive and then get additional mentors in our second year. When I was first assigned my External Advisory Board (EAB) Mentor… Read the entire story »
Favorite Class of 2017: Qualitative-Based Marketing Insights Rules!
By Niraj Amin, Class of 2018
My favorite class this semester is Qualitative-Based Marketing Insights. I truly mean that because I can genuinely feel myself becoming a better marketing researcher every time my classmates and I complete a task for this class. Read the entire story »
First Semester Review
By Alison Heimert, Class of 2019
"What do consumers think about Snapple Straight Up Tea?" the associates from Dr Pepper Snapple asked the class of incoming MBA students. It was only the fourth day of orientation at the Wisconsin School of Business. I was feeling nervous, excited, and ambitious as I shuffled off with my group to the nearby CVS to interview a local college student about her preferences in the iced tea category. Read the entire story »
Trip to Chicago Experience
By Stew Slipher, Class of 2019
As a first-year A.C. Nielsen student eager to learn what the world of marketing research has to offer, I was fortunate to receive the opportunity to travel to Chicago for two days and see the profession in practical application. I was certainly not disappointed by everything the trip had to offer! Read the entire story »
Alumni Spotlight: Jim Rudolph, Class of 2013
By Jessica Colberg, Class of 2019
Catching up with an Alum: Jim Rudolph
Jim first heard about the A.C. Nielsen Center for Marketing Research as a senior at Carthage College in Kenosha, Wisconsin where he was majoring in business, marketing, and math. One of his advisors suggested that market research would be an excellent way to combine mathematics and marketing, and furthermore, they knew just the place to do it: the A.C. Nielsen Center at the Wisconsin School of Business. Jim was immediately interested. Read the entire story »
Faculty Research Spotlight: Money & Motivation
Featuring Justin Sydnor, Leslie P. Schultz Professor in Risk Management and Insurance 
You're dead tired. It was a long day at work, and although you had every intention of hitting the gym when you packed that workout duffel this morning, it couldn't sound more unappealing now. At this point, you wouldn't go if someone paid you.
As it turns out, that may not be far from the truth. Read the entire story »
Alumni Updates
Kate Krier Alvarado, Class of 2004
Kate Krier Alvarado and her husband, Dave, welcomed Zander James to the family in May.  Keira (4) loves being a big sister.
Daniela Farmache, Class of 2008
Daniela's family expanded, baby Elliott arrived in August.
They are still enjoying the Philippines and got an extension from Amway for an extra year.
Kelly Goldthorpe, Class of 2015
Left Prophet in June to pursue a freelance opportunity with Divvy, Chicago's bike share system – a 4 year old start-up
After a summer conducting rider research (including ride-alongs along the Chicago lakefront – not a bad gig) Kelly transitioned into a full time role as Director of Marketing + Rider Experience with the organization
Stephen Griffiths, Class of 2015
The Griffiths family is expanding. They are expecting baby #5 (due date is December 15th!)
Laura Sheehan, Class of 2017
Upon graduating from the A.C. Nielsen center this spring, Laura spent her summer traveling Europe with family and friends before starting her new position at SC Johnson in Racine, WI.
In August, she made the move from Madison to downtown Milwaukee, and is now working as an Associate Manager of Global Consumer Insights and Business Analytics on Air Care.
You can see some pictures from Laura's travels in our photo album.
Eliza Swedenborg, Class of 2014
Eliza Swedenborg is working in Washington, D.C., at the World Resources Institute. She leads user-centered design and impact strategy for WRI's open data global water risk mapping tools. Eliza also manages Water Program projects in Ethiopia, including national water mapping in partnership with the Ethiopian government.
On August 21st this year, the day of the solar eclipse, Eliza married her partner, Joshua Hill.
Student News
We are excited to have a number of A.C. Nielsen students taking on leadership roles this year.
Student Leadership Positions: 
Graduate Business Association
VP: Rodrigo Stabio
Community Chair: Alison Heimert
International Rep: Duc Chau
Joint Venture Club: 
VP (Families): Rodrigo Stabio
MBA Veterans Club: 
Out for Business: 
President: Jessica Colberg
A.C. Nielsen Alumni & Friends Summit: Fall 2018!
Save the date for October 19th, 2018! This is also homecoming so we are excited to add in some fun events on Saturday the 20th as well.
2018 Summit Theme: Disruption
Our industry and business overall are facing disruption across many facets from the need to bridge the say-do gap to the increased speed from insight to decision-making.
The 2018 Summit will explore the top trends in research from the rise of experimental market research tools to the integration of big data and empathy to better position you and your organization to lead the disruption vs. being disrupted.
If you are interested in participating in the Summit by hosting a concurrent session or offering up a case on dealing with disruption please contact Kristin Branch at kristin.branch@wisc.edu.
Keep up to date on Summit speakers, agenda & registration information at our website: http://www.acnielsensummit.org/
Stay Connected
Just as you are proud to be a Business Badger, we are proud to have you as part of our team and want to showcase your news and accomplishments. Please keep us in the loop as you hit major milestones in your career and personal life. Suggested content includes: promotions, new employment, engagements, births, etc.
If you have any news that you'd like to share with us, please send it to Sarah Kervin at sarah.kervin@wisc.edu.
If you have any industry (or other) questions you'd like answered by our wonderful alumni, check our alumni sharepoint site.
For alumni to log in:
Log-in: Grainger\Nielsen_Alumni
Password: ACNalumni
To keep up to date with other alumni, check out job postings and post industry questions on your own please join the A.C. Nielsen Alumni Group on LinkedIn.
---