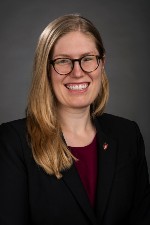 One of the best ways to bring learning to life is by real-life application. The IGNITE Leadership Week, held during a week-long break between the first and second modules of fall semester classes, is an opportunity for first-year MBA students to hear from leadership and communication experts and apply what we learn in a real-life case competition.
The week opened with presentations from two communications experts. One presentation discussed conversational advocacy, and how conversations are a key piece of the sales or persuasion life cycle. This presenter shared frameworks for shaping messages and delivering them, and had us go through the process in example scenarios. The second speaker discussed tips for improving PowerPoint presentation design and delivery.
To help us apply these principles immediately, two founders of local start-ups staged a mini case competition for us, sharing some of their pressing business issues and tasking us with delivering innovative ideas the next day. My team worked on growth strategies for a local personal care brand, presenting ideas across price, product, placement, and promotion to drive growth. We presented these suggestions to the company founder, and took additional questions on our ideas.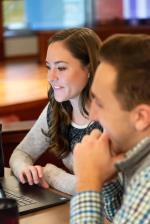 The best part of the week was the chance to partner with my core MBA team. For your first two semesters, you're assigned a cross-functional team of other first-year MBAs, who are your built in partners for classroom activities and projects. My core team has quickly become a great set of friends and colleagues, and I enjoy getting to learn more about their expertise and working styles. Working on a high-pressure project with them was a ton of fun. I also appreciated the engagement of the second-year coaches who gave us their advice for case competitions and presenting to judges.
I'm already looking forward to the next chance I have to use the lessons I learned during the IGNITE Leadership Week.
---