Joseph Engstrum: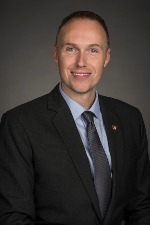 Having more than 10 years of professional experience, Joseph has spent the bulk of his career as an instructor and entrepreneur in South Korea and Thailand. He first developed his voracious appetite for world travel and cultural exploration on a high school trip to Mexico. This inspired him to live and study in Spain where he advanced his language abilities and studied Spanish history and culture, and later to intern in Mexico, where he consulted the Morelos State Ministry of Tourism on tourism design projects.
Later, his passion for multiculturalism took him to South Korea as an English Instructor. Fascinated with the rapid pace of change in Korea, Joseph prolonged his stay and turned his focus to corporate education. His interactions with professionals across various industries instituted a deep understanding of Korean history, economy, and politics, as well as an acute understanding of Korean business culture. Joseph transferred this knowledge into a position with the Seoul Global Center, where he consulted start-ups on FDI and visa procedures necessary to establish a company in Korea as a foreigner.
Joseph's appetite for a challenge and his penchant for learning by doing led him to establish two businesses while living abroad. First, in Northern Thailand, he opened and ran a restaurant and bar. Then, in 2016, he created Momentum Education, a consultancy and training company, based in Seoul. Joseph leveraged his career history to grow Momentum from a one-person operation to a firm that employed a dozen trainers and worked with several top global companies.
He spent his internship at American Family Insurance in Madison, Wisconsin this past year and has happily accepted an offer for a full time position starting this spring.
In his free time, Joseph enjoys exploring the lesser traveled parts of the world, hosting dinner parties, reading nonfiction (because a lot of really interesting stuff happens in the real world too!), and an occasional round of golf.
Joseph's second year mentor, Ross, says of him, "I always admired your calm demeanor and your ability to be collected under any circumstance. I'm sure you've handled this last semester in the same way! All of the best to you in post-grad life!"
Bailey Hackbarth: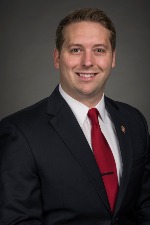 Bailey Hackbarth graduated from the University of Wisconsin – Milwaukee in 2011 with a Bachelor of Arts in English. Upon graduation, he was commissioned as an officer into the United States Navy where his initial assignment was on-board the destroyer USS Shoup in Everett, Washington. During this time, he took on leadership roles as the Gunnery and Anti-Submarine Warfare Officer, managing several divisions of sailors and weapons systems worth over $40M. His first deployment led him to the South China Sea and Persian Gulf, where he earned his Officer of the Deck and Surface Warfare Officer qualifications and played a major role in ensuring maritime security and international freedom of navigation. In 2014, he transferred to the Norfolk, Virginia-based USS Gravely as the ship's navigator, charged with the safe maneuvering and efficient ship-handling of the 510-foot vessel at sea. This tour of duty was one of Bailey's favorite military positions, as it demanded intense attention to detail, strong cross-functional leadership, and decisive action under ambiguous circumstances.
Following his time on the water, Bailey spent nearly three years driving program management and administration in the realm of diversity and inclusion at the U.S. Naval Academy in Annapolis, Maryland. It was here that he developed a passion for inclusive excellence in higher education, and in addition to mentoring diverse students from around the globe through personal and professional counseling, he earned a Certificate of Mastery in Diversity and Inclusion from Georgetown University. He is excited to bring Lean In Circles to the University of Wisconsin School of Business.
Bailey's favorite memory from his time at the WSB was the 2019 International Marketing Experience trip to China. It was a once in a lifetime opportunity to connect with classmates, learn from international companies and explore new cultures. Bailey took full advantage of his MBA and was a member of the MBA Veterans Club, JVC, GWiB, GMN and GBA.
Bailey spent his internship summer at Procter & Gamble in Cincinnati, Ohio. He will be heading north to Minneapolis to join General Mills this year.
His second-year mentor, Will, expressed his own excitement for Bailey, "I still remember how excited I was to see you'd committed to the program a couple years ago, and you've done an incredible job since the moment you stepped on campus. Best of luck at General Mills, I know you're going to be an outstanding ABM!"
Outside of work, Bailey enjoys working out (whatever is streaming on Beachbody.com), producing electronic music, and cheering on the Milwaukee Brewers. He is also passionate about national politics and is an MBA Ambassador with Service 2 School, a nonprofit organization dedicated to helping fellow veterans gain admission to top U.S. business schools. Now recently separated from active duty, Bailey has enjoyed raising his two young sons in his home state of Wisconsin while broadening his general business knowledge with a specialized MBA in the Center for Brand and Product Management.
His advice for incoming students, "Make the most of every moment- your time will fly by!"
Michael LeNeveu: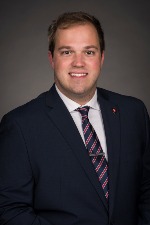 Michael LeNeveu graduated from The Ohio State University in 2015 with a Bachelor of Science in Business Administration with a specialization in Marketing. Upon graduation, Michael accepted a position in the Macy's Executive Development Program in Chicago, IL. In this role, Michael worked as a Sales Manager at the flagship location in downtown Chicago. In managing departments with annual revenue upwards of $7 million, Michael learned how to lead large teams and develop talent while outpacing sales trends and projections. Looking to hone his interpersonal skills and develop his sales acumen, Michael joined Aflac as a Sales and Marketing Representative in July of 2017. In this role, Michael directly marketed local businesses, led sales presentations with business owners and enrolled employees in benefit offerings. Michael finished in the top 2% of sales professionals nationally in gross production in two of his first four quarters with the company.
Michael had a great internship summer at Procter & Gamble this summer and will be returning to Cincinnati, Ohio and P&G this upcoming spring.
Outside of work Michael enjoys a variety of interests including travelling both domestic and internationally, skiing, playing tennis and basketball, and photography.
"I know you're going to do great things and you'll be a rock star at P&G!" Andrew, Michael's second year mentor says of Michael. He is completely right as we know that Michael will do truly amazing things with his career.
Michael Lynch:
Since graduating from Cornell University in 2009 with a B.S in Applied Economics and Management, his professional experience has included positions at General Electric – Healthcare Technology in its Financial Management Program followed by marketing experience at Twinings Tea North America, a subsidiary of Associated British Foods. It was at Twinings where Michael confirmed that brand management was his career passion. His work spanned new product launches to advertising development, which contributed to the company's success as one of the fastest growing hot tea brands in North America over the past decade.
In his spare time, you can find Michael exploring Madison's farmer's market or supporting Wisconsin sports with his wife Rosie.
Michael spent his internship summer at Kimberly Clark and will be heading across state lines to start at General Mills after graduation.
Patrick, one of Michael's second year mentors, summarizes Michael's tenacity well: "You had personal circumstances that challenged you more than most other students could imagine but you never missed a beat. That resolve and determination combined with everything you've learned in the classroom and during the job search will, without a doubt, position you for success in the next stage of your life. I couldn't be happier for you to land a position at General Mills and know you'll quickly set yourself apart with your experience and personality!"
Alex Neufeld: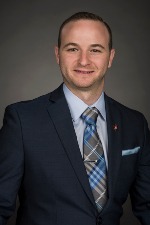 Alex Neufeld graduated from American University in 2012 with a Bachelor of Science in Business Administration, with specializations in Accounting and in Marketing. After graduation, Alex accepted a position in the account services department at Neon, a full service healthcare advertising agency within FCB, in New York City. During his time there, Alex worked closely with numerous clients including Abbvie, Pfizer, Novartis, and Taiho. He has worked on new product launches, brand strategy development, message development, mobile app design, budgeting and numerous other projects. He was promoted three times in five years from Account coordinator to Senior Account executive.
While at Neon Alex helped launch LONSURF, an oral chemotherapy for late stage colorectal cancer. Alex and the team developed the brand strategy, the creative concept, the messaging and all the marketing materials for the product. The launch was highly successful; the client realized revenue far exceeding expectations for the first year. Most recently Alex worked on a mobile app for women with endometriosis. It was the first of its kind created in-house by Neon and one of the most innovative projects at the company. Through multiple rounds of research, the team learned what patients wanted and designed an app specifically for them, providing personalized in-app experiences. Then, using content reactive to user inputs, the app grew organically into a customized product; the more the user interacted with the app, the more customized her experience became, leading to increased engagement and re-engagement.
In the program Alex's favorite memories center around the international marketing trips to China and India.
Alex spent his internship summer at Hershey in Pennsylvania and will be returning there post-graduation.
In his off time, Alex can be found playing or watching any number of sports including baseball, basketball, tennis, and golf. He also enjoys traveling and trying local cuisines.
Jeff, Alex's second year mentor reminisced about him and his trademark confidence, "Some of us come into the MBA program looking for help in every way we can get it, while others are able to manage and navigate more confidently and effectively; Alex following the latter route. I remember my first meeting with him in the Fall of 2018, asking what he was interested in and how I could help. His response was basically "I got this!"; which he did."
Alex's has great recommendations for incoming students.
"I would suggest trying to do as much as possible and getting as many different experiences as you can. First year is busy and can become overwhelming, but your time here goes by quickly so don't waste it."
Hannah O'Brien:
Hannah O'Brien graduated from the University of Wisconsin-Madison in 2015 with a Bachelor of Business Administration in Marketing and Finance. Following graduation, she accepted a role with Baker Tilly as a consultant on the Enterprise Transformation team. In this role, she improved efficiency of monthly business cycle by documenting business processes and developing tools in Microsoft Access to aid her client in scheduling tasks, tracking progress and resolving issues. She created the capability for an external team to obtain data needed for contracting within an hour reduced from a previous month long lead time, further improving efficiency. After two years as a staff consultant, she was promoted to senior consultant and given responsibilities in training and coaching five new team members. During her time as a senior consultant, she successfully implemented three new value-based care programs at a healthcare payer client incentivizing healthcare providers to deliver more efficient care to their patients. She helped the client improve technologies and scale their VBC programs from three to 100+ contracts.
Outside of her core work responsibilities, Hannah was involved in the Baker Tilly GROW (Growth and Retention of Women) committee and planned multiple events for the firm, assisted in the revision of the firm's QMLC (Quality Management Life Cycle) procedures and recruited new hires for Baker Tilly. Hannah also led the student ministry group and young adult small group at Willow Chicago. She created a 'Good Neighbor Team' through World Relief to help new refugee families assimilate to life in Chicago as they arrived in the US for the first time. She also enjoys teaching indoor cycling classes and running half and full marathons. Additionally, she founded and branded her small business called 'Cookies & Cream' that produces and sells cookie ice cream sandwiches in the Chicago area.
One of her favorite memories from her MBA was the 2019 International Marketing Experience trip to China. She has made a major impact on her fellow students being a great classmate and one of the most positive people in the WSB. Hannah won the Class of 2020 Outstanding Student Award from the WSB for her impressive academic career here.
She spent her summer internship at SC Johnson and will be heading back there post-graduation.
Aggie, Hannah's second year mentor shares her excitement for Hannah: "You worked so hard these past 2 years and have so much to be proud of. Even if the ending was a bit atypical, I hope you remember Madison for all of things that make it perfect in its own way- the people, especially."
Another mentor, Lindsay, summarized Hannah so well: "I've never seen someone more calm, cool, and collected under pressure than you over the summer at SCJ! You're going to rock it full-time and I can't wait to see all the amazing things you do."
Carly O'Meara: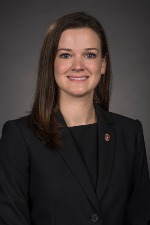 Carly O'Meara graduated cum laude from Tulane University in 2011 with a Bachelor of Science in Management with a Marketing major. After graduation, Carly accepted a role with Moroch Partners, an advertising agency in Dallas, where she spent a majority of her five-year tenure on the Account Service team supporting the Midas Auto Repair client. She rose to be a successful Senior Account Executive who consulted the corporate marketing team and managed over 75 local media plans and budgets for major markets such as New York, Philadelphia, Boston and Detroit. Taking the communication and project management skills she developed with Midas, Carly secured a position at another Dallas advertising agency servicing the King's Hawaiian brand with both marketing and sales support. This role introduced her to the CPG world and sparked her interest in a brand management career path. Carly is thrilled to further develop her brand management skillset at the Wisconsin School of Business.
Carly was excited to move back to her home state of Wisconsin for her MBA after living in the South for over 10 years.
Throughout her time at the WSB Carly was actively involved in a number of clubs including: GMN, Food & Wine, Net Impact, and Graduate Women in Business.
Carly spent her summer internship at SC Johnson and will be moving to Chicago to work at Tyson post-graduation. She is most excited to put all her hard-earned MBA knowledge to use in her career.
In her spare time, she enjoys cooking for friends, trying new restaurants and staying active at various fitness classes.
One of her mentors, Sarah, expressed her excitement for Carly, "Congrats to an extremely talented and beautiful woman, inside and out! This is a huge accomplishment and I hope you're very proud of yourself. Wishing you the very best in your future endeavors!"
Neha Patil: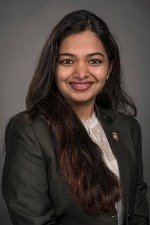 Neha Patil graduated from Birla Institute of Technology and Science (BITS) in Pilani, Dubai in 2016 with a Bachelor of Engineering degree in Mechanical Engineering. While at BITS, Neha served as the sponsorship head of the Event Management Committee and as the President of the Photography Club, Reflexions at the university.
In addition to these leadership roles, Neha interned in the sales department at Levtech Consulting Dubai, a Microsoft Gold Partner Firm and in the engineering division of Rotopak Industries, Dubai, one of the largest packaging companies in the Middle East. After graduation, Neha worked as business development manager at her family business, Patil Group Construction – a firm based out of her hometown and focused on luxury residences. During her two years with the company, Neha single-handedly established the digital marketing division for the company with the help of online media channels and Google Analytics. She undertook training the current staff to ensure self-sufficiency of the new division. Based on her success, Neha was given the task of implementing a customized Enterprise Resource Planning software across all departments which she completed within prescribed budget and yielding superior results.
Neha spent her internship summer at Royal Caribbean and has accepted an offer from Roadrunner Recycling as a product manager.
Anas, Neha's second year mentor shares what we all recognize in Neha: "The thing I remember most about Neha is her grit. The way she navigated her internship search days with resilience and hard work was amazing and I personally learned a lot from her on that regard. As she enters a new phase in her professional life, I'm confident that she will work wonders wherever she goes."
Sonia Petty: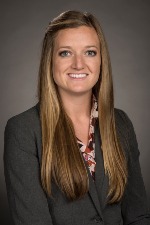 Sonia Petty graduated from the University of Wisconsin-Madison in 2014 with a Bachelor of Science in Wildlife Ecology and a certificate in Environmental Studies. Following graduation, she conducted research on seabirds in northern Germany, where she utilized her German speaking and writing skills while gaining valuable research experience. Upon her return to Madison, Sonia worked as the project manager for a wildlife research lab at the University of Wisconsin-Madison, where she coordinated the building and deployment of 27 automated micro-greenhouses throughout the Great Lakes region. In this multi-faceted role, Sonia identified and secured research sites and collaborators, trained new graduate students, and served as the primary point of communication between builders, engineers, and researchers. Her skills in creative problem-solving and cross-functional collaboration made the environmental research project a success and piqued her interest in pursuing a career in management.
Sonia spent the following two years working a variety of field and lab-based jobs and her repeated promotion into leadership roles along with her strong interest in business eventually led her to pursue her MBA in Brand and Product Management at the Wisconsin School of Business. In addition, she obtained the program's certificate in Business, Environment and Social Responsibility, which will allow her to incorporate her passion for the environment into her business degree.
In her free time, Sonia enjoys hiking, boating, playing soccer, and spending time with her dog, Lily. She also enjoys traveling participated in the Wisconsin MBA's global learning experience. Her most memorable experience here was in fact, the International Marketing Experience trip to China in 2019. Exploring Hong Kong with fellow CBPM students, sampling every bubble tea and dumpling in sights and exploring the markets are some of the incredible memories.
Donovan & Alex, Sonia's second year mentors expressed their own pride in her journey: "We're so proud of all the hard work you put in during your time at UW, especially for your internship interviews. Stay confident and always stay true to yourself. We can't wait to see what the future has in store for you, and just know, we will be celebrating with you as you "virtually" walk across that stage!"
Chad Reinhardt: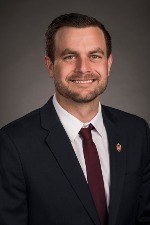 Chad Reinhardt graduated from Florida State University in 2013 with a Bachelor of Arts in Religious Studies. During his time at Florida State University, he was part of a leadership board that started a new church in the downtown area of Tallahassee. After graduation, he went on to receive a Masters of Arts in Biblical and Theological Studies. During his time in his Master's program, a love of business began to foster through his work as Social Media Manager at one of the leading Reformed Christian Book Distributors. During his time at Westminster Seminary Bookstore, he successfully grew their marketing partnerships by 50% and implemented the launch of a new marketing platform.
In September of 2016, he took a position as a Publisher Service Representative at Ingram Content Group. In this role, he maintained publisher relationships and ensured that all digital specifications were ready for distribution. Shortly after joining the team he transitioned into his role of Digital Coordinator where he worked cross-departmentally with finance, business development, IT, and content operations to onboard and coordinate all digital reporting for the department.
Outside of work, he enjoys listening to podcasts, reading books, coffee dates with his wife Danielle, traveling and cheering on the Florida State Seminoles any chance he gets. Chad is active in his community by running A/V for his church and participating in a men's community group.
Chad has relished the CBPM tradition of enjoying time after applied learnings at the Vintage and is looking forward to continuing learning and being pushed in his post-graduation career at the Reckitt Benckiser Group.
Taha, Chad's second year mentor sends his congratulations to him and shares some wise advice.
"All of that hard work that you've put in over the last two years has finally led up to this. I know it can be bittersweet as well as you say goodbye to those you have practically lived your life with during your time in Madison. While you may be moving to a new city and starting a new chapter in your life, those relationships are going to stay with you forever. I know that this is a challenging time, but the skills and resiliency you've built over the last two years are going to take you far. I wish you all the best as you continue your exciting journey and I look forward to seeing what the future brings for you!"
Michael Rennerfeldt: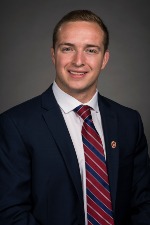 Michael Rennerfeldt graduated from Iowa State University in 2016 with a Bachelor of Science in Agricultural Business. Upon graduation, he accepted a role as a Sales Specialist with Tyson Foods Inc. In this role, he was responsible for managing daily sales operations on 13 accounts with varying business needs stemming from the different purposes they served in the US beef supply chain as distributors, processors, and foodservice operators. During his time in this role he increased total sales volume over all accounts by 8.6% and after 18 months was promoted to a new role as a Sr. Sales Specialist. In his new role, he also assumed responsibility for the largest account by volume in a sales territory spanning 10 states and was able to help contribute to a year-over-year volume growth of 22% with the region's largest customer. During this time, he also spearheaded a project working cross-functionally with sales accounting and IT to modify a sales process to increase visibility into shipping variances between order processing system and product that shipped on order. The modification of this process helped decrease replenishment time on orders that shipped short on product due to the improvement in visibility, giving his company a greater ability to react.
Michael spent his summer in Cincinnati, Ohio, at Procter and Gamble and will be returning to P&G post-graduation.
His second year mentor is excited to welcome Michael back to P&G: "I'm so stoked to have you coming back to P&G next year. I've always thought you've done a great job of listening, taking feedback and acting on it as you see best. It'll continue to be a great skill for you moving forward. You'll be an awesome addition to C7 and can't wait to have you in Cincinnati. But first have a ton of fun this summer!"
In his time outside of work Michael likes to spend his time practicing functional fitness, watching college football, and spending time with friends and family.
Victoria Schetelich:
Vicky Schetelich graduated from Penn State University in 2014 with a Bachelor of Science in Hotel, Restaurant, and Institutional Management. After graduation she accepted a position with Aramark and moved to Southern California to join their Sports and Entertainment branch at the Anaheim Convention Center. As a member of Aramark's Accelerate to Leadership program for recent college graduates, Vicky had the opportunity to learn from Aramark's best managers and executives, and helped run catering for large corporate events.
After a successful year in the Leadership program, she was offered a position at the Washington State Convention Center in Seattle. Vicky happily moved to this active Northwest city, and joined her new Aramark team as a Catering Manager. In this role she was responsible for managing and coordinating assignments for 400 banquet servers, as well as executing catering operations and consulting clients through their events. After a year and a half of excelling in this role, Vicky was promoted to a Catering Sales Manager, where she worked with clients during the months leading up to their event. She owned and designed food and beverage agendas, menus, and budgets, and acted as the liaison between her clients and the rest of the Aramark team.
After two years in Seattle, Vicky moved to Madison, WI, and began working for a Start-Up company called AkitaBox. She joined their implementations team, and quickly found a surprising interest for working in software and providing services in the form of data and efficiency. Although a bit different from her past, Vicky was still able to use her knowledge of hospitality and event operations to succeed in customer relations and project management in the start-up technology world. She has gained valuable insight into a new industry, and had the opportunity to make a noticeable impact on a growing company.
In her free time, Vicky enjoys running, hiking, skiing, reading, cooking, and watching Penn State football games. Although she finds herself most often flying back home to New Jersey, her other favorite hobbies include traveling and planning vacations. She loves to explore cities across the country and world. In fact, one of her favorite experiences from the MBA was the International Marketing Experience course to China in 2019.
Vicky had a successful summer internship at Intuit and will be heading back to California post-graduation. She's looking forward to meeting her new team, being responsible for her own deliverables and moving to San Francisco.
One of her second-year mentors, Lindsay, says of Vicky: "Vicky, you have an infectiously positive attitude, you treat others with kindness and respect, and you aren't afraid to voice your opinion. These are all the makings of a great leader, and I have no doubt that you will be successful."
Lynsey Sczechowicz: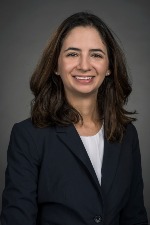 Lynsey Sczechowicz is excited to join the Wisconsin School of Business as an MBA candidate in the Center for Brand and Product Management. After graduating from Northeastern University in 2013 with a Master's degree in History and concentration in Public History, she worked as a Digitization Assistant for the Special Collections of Harvard Business School's Baker Library before becoming the Reference and Outreach Archivist in the Audiovisual and Digital Initiatives Department at Hagley Library. In both roles, Lynsey was deeply immersed in business history.
At Hagley Library, she worked with the collections of iconic brands such as Avon and Wawa, and with the papers of business luminaries such as Ernest Dichter, the father of motivational research. The parts of her work that she found most exciting and engaging involved planning and executing the reinstitution and rebranding of the Library's social media accounts and strategizing to grow the accounts' followers. As a result of her efforts, followers of both accounts grew by over 350% in under three years. She also enjoyed identifying and solving workflow problems, quickly recognizing the need to organize the large amounts of files being created by the Audiovisual Department as a result of digitization. To help organize these files, she initiated and collaborated with colleagues to create a folder structure and file-naming schema for more than 10,000 files.
Lynsey spent her summer at Boston Scientific and will be returning there post-graduation. One of her mentors, Patrick, shared his excitement for her, "Congratulations on your graduation, Lynsey! It's a shame that covid-19 has disrupted your guys' in-person celebration, but nonetheless, you did it! I wish you all the best in your full time role at Boston Scientific!"
In her spare time, Lynsey enjoys cooking and traveling with her husband.
Megan Stock:
Megan Stock graduated from the University of Wisconsin – Madison in 2011 with a Bachelor of Science in Life Sciences Communications. After graduation, she accepted a role with the Wisconsin IceCube Particle Astrophysics Center, an international astrophysics research collaboration that runs the South Pole-based IceCube Neutrino Observatory. Through her six years as the outreach and communications coordinator for IceCube, Megan honed her competencies in communicating complex topics through digital and traditional media, engaging audiences of all ages, and organizing and executing effective public events and meetings.
Megan then spent nearly two years working to launch a new business that embodies the spirit of Wisconsin in curated, themed gift boxes. As the brand manager for WiscoBoxes, she developed gift box themes to recognize meaningful moments, established processes and operations for purchasing and fulfillment, networked with vendors to institute buying procedures, established relationships with corporate customers, developed brand messaging and launched the company's social media presence.
Megan followed her interest in tech to Amazon for her summer internship but had her heart captured by CPG and will be moving to Chicago to join Tyson post- graduation.
"I'm looking forward to putting all that we have been learning and practicing into action. I can't wait to start thinking creatively about how to solve business problems and work on teams to implement solutions." Megan says while looking towards a bright future.
When she's not working, she enjoys cooking for friends and family, happy hours and traveling with her husband, Ben, and spirited dog, Chancho.
Megan won the 2020 Leadership Award from the Wisconsin School of Business MBA Program. This was a well-earned honor due to her constant cheerful leadership in and out of the Center.
Her second year mentor, Jean, shared her excitement for Megan, "Congratulations on getting your MBA!!! Extra kudos to making it during such a challenging time. What bragging rights you've earned for taking both full-time MBA and "online MBA"—who would have thought that it could be achieved two months ago?! In all seriousness, it is truly a testament to your hard work and resilience. Please celebrate it with takeouts from your favorite restaurant, and please celebrate it again within their four walls when life resumes."
Kaitlyn Wilchynski: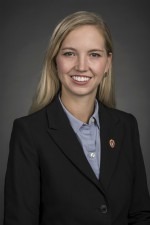 Kaitlyn Wilchynski is excited to pursue her MBA in Brand and Product Management at the Wisconsin School of Business. Born and raised in Western Canada, Kaitlyn graduated from the University of Regina with a Bachelor of Arts (honours) in English and a Bachelor of Arts in History in 2012. It was in her home province of Saskatchewan that Kaitlyn began her professional career as an executive-level political advisor. Kaitlyn first worked in policy advising before switching to communications where she oversaw the development of complex communication strategies and helped create and implement innovative policy initiatives. Her role was diverse and ever-changing and Kaitlyn's ability to work with a diverse group of people, stay calm in any situation, and her capacity to balance multiple tasks in a fast-paced environment singled her out as a leader early on. The aspect of her job that Kaitlyn was most passionate about was personal and party branding as well as understanding voting behavior; she decided to find a graduate program that would allow her to build a career around these passions. Realizing that it was marketing and consumer behavior that she was interested in is what led Kaitlyn to pursue her MBA in Brand and Product Management.
As a passionate community volunteer, Kaitlyn has been on the board of my non-profits and volunteered in leadership roles on numerous provincial and federal campaigns in Canada. While not working or volunteering, you will find Kaitlyn attending her children's hockey games, reading and traveling with her family.
Kaitlyn had a successful summer internship at Intuit and will be returning to California post-graduation. She's looking forward to launching new products and getting them in front of customers frequently as this is what she really loves about working with software.
Kaitlyn won the 2020 Wisconsin MBA Badger Spirit Award and so it's no surprise that she's already excited coming back for information sessions and interviewing.
Patrick, one of Kaitlyn's second year mentors, summarizes our time with Kaitlyn well: "As I think back on everything you've endured and accomplished during your MBA, I can honestly say that the perspective I gained from being around you far outweighs some of the practical advice I was able to provide along the way. While managing a commute and being an awesome hockey mom, you successfully navigated academia, made a big a career switch, got a work visa, and still found time to routinely grab beers at the Vintage. Whenever I think I'm busy or stressed, I always think about leaders like you who remain relentlessly positive no matter the obstacles life throws at them."
---