My first year in the program has been a real whirlwind. Everyone told me that it would fly by, and they were not wrong! It is crazy to me how quickly circumstances change in life. One minute I am a prospective student just hoping to get in, and the next minute I am meeting with prospective students trying to build the class of 2022.
This summer I will be headed to Tyson Foods as an MBA marketing intern on one of the brand teams. As someone who is pivoting my career into brand management, I know I am ready because of my experiences throughout this year. Now for some highlights by semester…
First Semester
Networking was the name of the game right from the start. I spent the first few weeks getting to know my new classmates and making friends. Then recruiting events kicked off. Before I knew it, I was attending information sessions and happy hours with our recruiting partners. I also set up many informational interviews with brand center alumni. The alumni network was one of the reasons I wanted to become a Badger, and they did not disappoint. I cannot overstate how crucial this was in helping me learn more about the industries that I may end up pursuing, as well as company cultures and roles available.
I also spent some time in the classroom. The applied learning class lived up to my expectations and really helped me to see what it would be like to be the "hub of the wheel". I have very little marketing experience prior to business school, and this course helped me learn to think like a marketer. Another highlight is Jan Heide's marketing management class. Jan teaches marketing in a way that anyone can understand it, and the case-based teaching style is the perfect way to see marketing concepts applied to real world situations.
Winter Break
I took the marketing center's international trip to Mumbai and New Delhi. This provided me the opportunity to visit multinational companies in both the tech and consumer packaged goods including Google, LinkedIn, and SC Johnson. Expanding my global acumen through this trip will be critically import to my internship in brand management.
Second Semester
The Graduate Marketing Network's case competition kicked off our return to school with a bang and was a fun way to practice my presentation skills. At the same time, interview season also kicked off. I spent the majority of the first three weeks focused on finding my home for the summer. I came out of that period with a few options, and I was thrilled that Tyson was among them.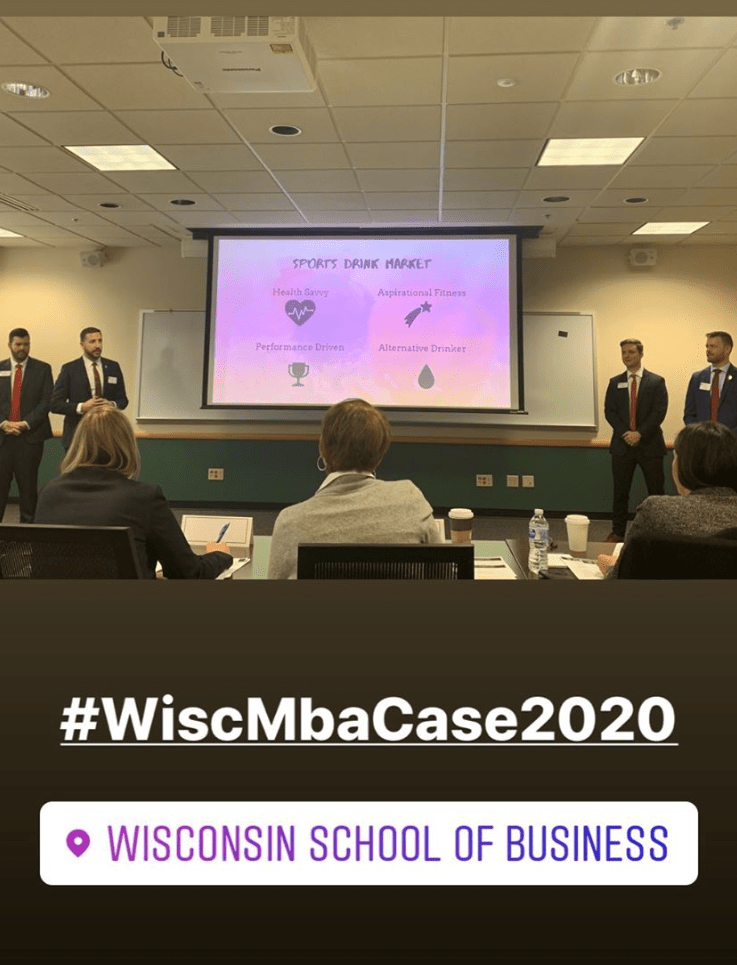 Around this time, Covid-19 upended the entire world (including our WSB community). Following spring break, our courses all moved to the online format. This is not how I saw the end of my first year playing out, but it turned in to a learning experience. The change of format forced me to become familiar with working from home and video meetings with my teams, both areas that I had little experience. Since I still am not sure whether my internship with take place in person or if I will be working remotely, I would say those are quite valuable skills. Clearly the Wisconsin School of Business and the Center for Brand and Product Management have prepared me for success at every step of the way.
---