Once checked in through security, we were led through an open office space that was well suited for a tech company. I even saw a Darth Vader action figure sitting on someone's desk… some things really do transcend all borders. In our conference room, a table full of candy and cookies awaited us. There was also a station for coffee or chai tea served in ceramic mugs. After getting settled in, we were greeted by our gracious host, Meenal Rajda, who was a member of the brand marketing team.
We began our time watching a promotional video for Season 6 of Get a Job, a television show that airs on MTV in India. The popular reality TV show follows students through their journey towards their dream internships. Can you imagine being followed around by a TV crew throughout your first semester of business school? The highs and lows make for good television, and they also show viewers that it is possible to land the job of their dreams. Major companies from all over the world sign up to be a part of the program, including Amazon, Microsoft, and Coca Cola. Other highlights included the football club Manchester United and a Bollywood production company. Season 6 is set to begin airing this month in the region.
Next, Meenal asked us to split up into small groups to brainstorm ideas for how we could help LinkedIn reach more students in India.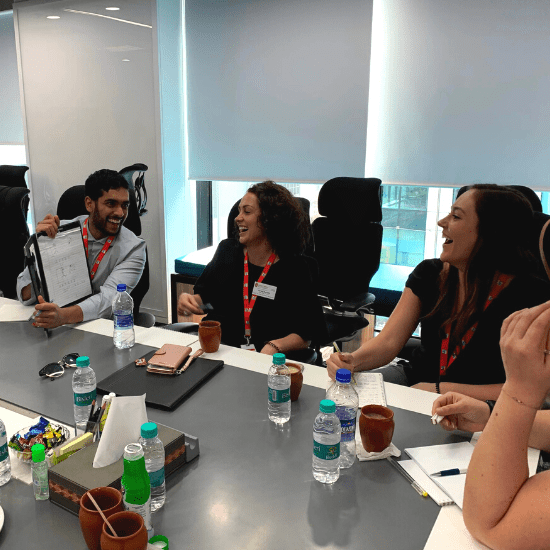 After 10-15 minutes of ideation, it was time for the group to share-out our ideas. Some of the highlights included:
One-on-one "chai chats" (trademark pending) with employees of various companies for students who connect with them on LinkedIn.
A survivor-like reality television show with challenges to determine who will win an internship.
A reality television show that follows a start-up to show more about careers beyond the typical corporate roles.
A reality television show that follows someone who is trying to use LinkedIn to pivot their career into another direction.
A series of shorts showing students how to build their personal brand, including interview flops to avoid and showcasing various mentors.
Utilizing LinkedIn Learning to showcase specific employers and the skills that those employers are looking for.
Placing kiosks on university campuses where students could sign up for accounts.
Our last activity was to watch the In It Together advertisements that LinkedIn ran on television this year. This exercise really highlighted the difference in communication strategy in different countries. In the US ad, the focus was clearly on networking. The Indian ad was all about landing a job (right in line with Get a Job). Even though the positioning of the ads were different, the focus of the campaign was the same. It was meant to elicit an emotional response by highlighting what we are in it for. I'm in it to positively impact the lives of everyone that I come into contact with. What are you in it for?
This article is part of the series describing the Marketing Centers' International Trip to India in January 2020. The international trip is the culmination of a two-credit course with the overall learning objective of expanding student knowledge of marketing and other facets of running a multi-national brand in high interest markets beyond the U.S. While on site we visit the marketing offices of several companies and receive engaging case studies on the local consumer, company operations and the challenges of 'local' marketing outside the U.S. Students walk away from the trip with a different perspective that prepares them further for working in global marketing and general management.
The 2020 course and international trip focused primarily on US based multi-national companies in India.
---