Having recently been named the nation's #1 undergraduate Real Estate program by U.S. News & World Report for the second year in a row, the appeal of Wisconsin talent continues to draw top real estate firms from across the nation. On September 20, the Wisconsin Real Estate Club hosted its largest career fair ever, with 66 employers represented and over 450 students in attendance. Varsity Hall in Union South was full of students and employers having conversations, trading business cards and resumes, and making connections.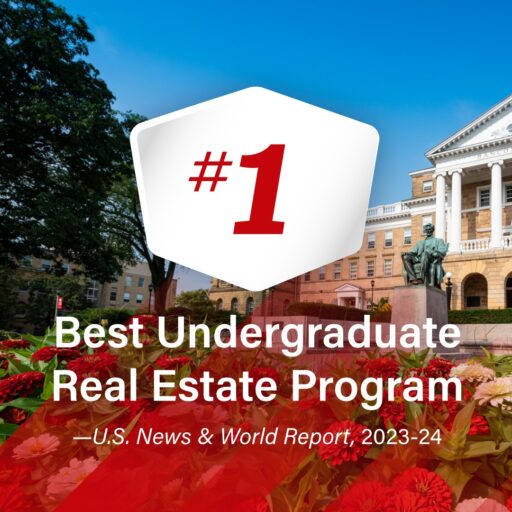 The fair was organized by the Real Estate Club in collaboration with the Graaskamp Center for Real Estate and the Wisconsin Real Estate Alumni Association (WREAA). This fall's fair was timed to coincide with WREAA's Biennial Conference on September 21 & 22, to allow alumni to connect with students while they were in Madison for the conference. Over half of the employer representatives present were alumni of UW's Real Estate programs, either at the undergraduate or graduate level.
Real Estate Club Co-Presidents Ian Wright and Chris Janeck were pleased with the turnout. "The Career Fair not only empowers Badgers with future opportunities in the real estate industry but also ensures that our partners and alumni maintain a strong presence on campus," said Wright. "We really appreciated the alumni and employers who made the trek to Madison and are looking forward to replicating that success in the future."
If you were not able to attend the fair, the Spring Real Estate Club Career Fair will be held on Tuesday, February 13, 2024. The student organizers want to thank the Graaskamp Center and WREAA for their support and assistance, as well as the employers and students who attended.
Companies represented at the Fall 2023 Real Estate Club Career Fair:
Affinius Capital
Aksia, LLC
Ares Management
Blueprint Healthcare Real Estate Advisors
Bridge Industrial
Buckingham Companies
CEDARst Companies
Century 21 Affiliated
Colliers
Continental Properties Company, Inc.
DLC Management Corp.
Dominium Eastdil Secured
EQT Exeter
EY
Faropoint
Fiduciary Real Estate Development
Forward Development Group
Gorman & Company
Green Courte Partners, LLC
Greystar
Greystone & Co., Inc.
Greywolf Partners, Inc.
Hammes Partners
Hendricks Commercial Properties
Hillwood
Hines
Horizon Develop Build Manage
Inland Real Estate
Invesco
JLL
KPMG
Landmark Properties
LaSalle Investment Management
Link Logistics Real Estate
Longpoint Realty Partners
Matthews Real Estate Investment Services
MLG Capital
Mortenson
MWF Properties
Northmarq
Northwestern Mutual Real Estate
Nuveen
Pearlmark
Physicians Realty Trust
Remedy Medical Properties
Revantage, a Blackstone Real Estate Portfolio Company
Rialto Capital
Ryan Companies
Ryan, LLC.
Slate Asset Management
StorSafe Self Storage
Stotan Industrial
Stream Realty Partners
TA Realty
The Commonwealth Companies
The Neutral Project
Three Leaf Partners
Toll Brothers
Trilogy Real Estate Group
Trinitas Ventures
TruStage
Voya Financial
Walton Street Capital
Wisconsin Housing and Economic Development Authority (WHEDA)
WPT Capital Advisors
---