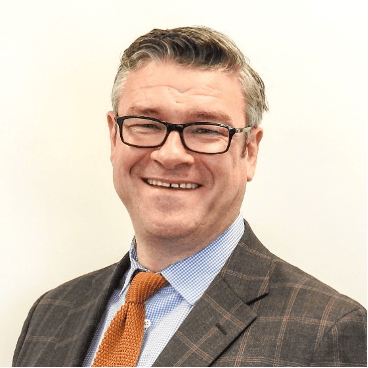 We are proud to welcome John Duggan, Co-COO, The Concord Group to our Board of Advisors. His industry insight and experience will be a valuable addition to the Graaskamp Center for Real Estate as we work to maintain our position as the global leaders in real estate education. Read below to learn more about John.
Describe your current position and what an average work day is like for you.
I'm the Co-COO of The Concord Group. We are a development and construction consulting firm, providing Owner's Representative (OR)services, Project Controls and Technical services including commissioning, energy modeling, facility condition assessments, sustainability and ESG consulting. I primarily oversea our OR services and Wisconsin office. I oversee approximately 30 staff members across 6 different offices throughout the Midwest, south and southeast. Having the opportunity to work on many different project types including commercial, Healthcare, Higher Ed, K-12 and Municipalities, each day is different
In your view, what is the biggest opportunity in commercial real estate today?
I have been working on bringing private financing to our clients and an option to conventional financing. Overseas pension funds, long term money, looking for moderate rates of returns are very attractive to the consistency and stability of the US market. This money can be utilized in conjunction with or in lieu of institutional funds. The main two forms are a) monetarization of assets, such as utilities, or parking and b) credit tenant lease (CTL), which provides different financing to traditional bond financing. In both cases, by creating a Special Purpose Entity (SPE) to deliver the asset, it enables the project delivery to bypass the unnecessary red tape of an organization to significantly improve speed to market.
What does the world need from real estate professionals today?
Collaboration and transparency. In our opinion its very difficult, if not impossible, to have true collaboration without true transparency. As we look to be more progressive in our project delivery, we utilize technology and entities with different skill sets through early engagement. We need a detailed plan and process that promotes collaboration and transparency, so our clients can trust in the process.
What are the Industry's most profound changes over the last 15 years? Looking to the future, how do you think the industry will change in the next 15 years?
Without a doubt it is technology. That being said, the CRE industry is still extremely antiquated compared to other industries, that's why I see technology being a significant driving factor for the foreseeable future. It's the driving force towards more collaborative and progressive project delivery, resulting in greater efficiency, control and speed to market. We have been actively involved in the development of Ingenious. BUILD, a state-of-the-art project management software solution that is data-driven not document driven and puts all project team members on the same platform.
What do you enjoy most about being in the real estate profession?
It's what I've always wanted to do. Every day is different. I get to work with people from all different walks of life.
What's the most interesting or fulfilling project you've worked on?
I've worked on numerous healthcare projects, which are always fulfilling. We are currently working on the Cancer Research Building at The Medical College of Wisconsin, which is a great and necessary mission. The most interesting is certainly the Milwaukee Streetcar Project, many twists and turns, some positive some not so positive.
What advice would you give to our students who are about to embark on a career in real estate?
Embrace every day. There is so much to learn. Knowledge can come from some of the most unlikely sources.
---