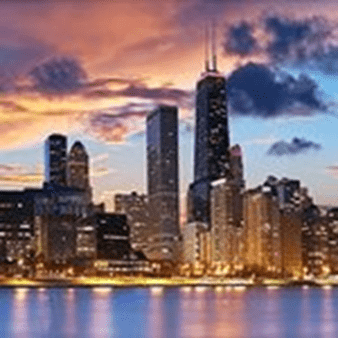 On Thursday, March 10th, 12 of the Wisconsin Real Estate Private Equity Track graduate students traveled to Chicago for a two-day study trip during where they had the opportunity to connect with Robb Bollhoffer and his leadership team at 29th Street Capital, WREAA Fund I L.P. investors, and Jonathan Brown (MBA '14), Executive Director at J.P. Morgan Chase. The purpose of this trip was to provide students an applied learning opportunity outside of the classroom where they could explore and absorb real-time information in the world of real estate investing.
Students began the trip at 29th Street Capital's (29SC) office in the historic Chicago Civic Opera Building. For the occasion, 29SC flew in its regional directors, who were able to provide the students information on the nuances of their markets as well as their individual approaches to real estate investing. In addition to learning about regional operations, students also had the opportunity to learn about integration of property management, building development capabilities, and leveraging PropTech. Having previously visited Brennan Investment Group, the students were also able to compare and contrast the numerous ways real estate private equity companies can structure operations and build their teams.
After the office visit, students further conversed with 29SC members and several WREAA Fund I L.P. investors over dinner. During this time, students discussed with the alumni the fund's investments and the class' progress sourcing, underwriting, and managing the fund's investments. Students also benefited from the one-on-one interaction where they could learn more about each of the alumni's business backgrounds.
At breakfast the following morning, students met with Jonathan Brown to have a conversation about real estate debt, critical loan terms to understand, and the process behind securing debt for a real estate project. Jonathan also provided the students experience-backed advice on what to focus on when underwriting an investment opportunity, placing strong emphasis on the sponsor's character and capacity.
The students in the Real Estate Private Equity Track greatly appreciate and thank these industry experts and the Wisconsin Real Estate Alumni Association who make it possible to step outside of the classroom and learn first-hand about the challenges, opportunities, and successes of pursuing a career in the real estate industry.
About the Real Estate Private Equity (REPE) Track: The UW Real Estate Private Equity Track offering is the result of close collaboration between the Wisconsin Real Estate Alumni Association, the Graaskamp Center for Real Estate, and the Wisconsin School of Business. Student teams make investment recommendations to the WREAA Fund Investment Committee. The students use outside capital to deliver real returns for investors. The mission of the track is to develop competent real estate investors who understand the real estate private equity organization.
Thank you to our generous hosts and sponsors:
Robb Bollhoffer Managing Principal, 29th Street Capital
Jonathan Brown, Executive Director, J.P. Morgan Chase
Michael Brennan, Chairman and Managing Principal, Brennan Investment Group
Wisconsin Real Estate Alumni Association (WREAA)
---