Top real estate firms from across the country registered to meet with Wisconsin Real Estate students both virtually and in-person in Madison for the opportunity to connect with young real estate Badgers at 2022 Fall Real Estate Career Fairs. From development to lending, the companies represented every sector of the real estate industry. With the Wisconsin Real Estate Program's strong reputation and our track record of successful alums, companies were excited to meet our current students. In total, 68 companies and over 250 students attended both fairs.  These events provided a great opportunity for undergraduate, MBA, and MS students to form valuable relationships with many of the companies with which they hope to eventually secure internships and full-time positions.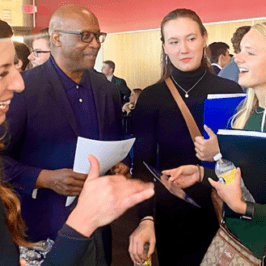 Greg Reed, Associate Director of the Grasskamp Center, shared his thoughts on the events, "Career Fairs are an efficient and effective part of the career placement process for both undergraduate and graduate real estate students alike. Students get to visit with multiple firms all at once while employers can efficiently meet with students and gauge which ones might be candidates for further consideration."
September 21 – Virtual Real Estate Career Fair
The Virtual Real Estate Career Fair offered students the chance to talk to companies in one-on-one time slots. The structure of the virtual fair is appreciated by many students and employers. While no face to face interaction takes place, by planning and scheduling out meetings time is used very efficiently.
September 22 – Fall Real Estate Club Career Fair
On September 22, the Pyle Center hosted a record number of real estate students and employers at the Real Estate Club's Fall Career Fairs.  The fair had three separate rooms full of employers, and students made their way around the venue for two hours of shaking hands, learning more about career opportunities, and talking real estate. Countless resumes were traded for business cards, and by the end of the day, it was clear that the fair was a success.

The in-person fair was hosted and run by the Wisconsin Real Estate Club, and students also want to thank the Wisconsin Real Estate Alumni Association, the Graaskamp Center for Real Estate for supporting the Career Fairs. If you missed the fair, there will be another opportunity to attend the Spring Real Estate Club Career Fair slated for February 8, 2023.
Companies represented at the Virtual Real Estate Career Fair
U.S. Bank
Associated Bank
Northwestern Mutual
Teacher Retirement System of Texas
CUNA Mutual Group
Blackstone Real Estate Portfolio Companies
Toll Brothers
Dominium
Continental Properties Company, Inc.
MLG Capital
JLL
Cabot Properties
MWF Properties
Northmarq
Ventas, Inc.
SitusAMC – Real Estate Valuation Services (REVS)
Greystone & Co., Inc.
Link Logistics Real Estate
Hammes
Longpoint Realty Partners
Mapletree Investments Pte Ltd
NAI Legacy
UDR
Companies represented at the In-Person Fall Real Estate Club Career Fair
Artis REIT
Ascentris Real Estate Private Equity
Bluegreen Vacations
Blueprint Healthcare Real Estate Advisors
CBRE Group, Inc.
CEDARst Companies
Colliers
Continental Properties Company, Inc.
Core Spaces
CUNA Mutual Group
DLC Management Corp.
Dominium
Eastdil Secured
EQT Exeter
EY LLP
Faropoint
Greystar
Hammes
Hendricks Commercial Properties
Inland Real Estate
Invesco
J. Jeffers & Co.
JLL
Kroll
LSC Development, LLC
Magnolia Capital & STYL Residential
Marcus & Millichap
Matthews Real Estate Investment Services
MLG Capital
Mortenson
MSP Real Estate, Inc.
MWF Properties
Newmark
Northmarq
Northwestern Mutual – Corporate Office
Nuveen
Pearlmark
Phillips Edison & Company
PNC Financial Services
Realterm
Regions Bank
Rialto Capital
Ryan Companies
Slate Asset Management
TA Realty
The Commonwealth Companies
The X Company
Trilogy Real Estate Group
USAA Real Estate
Waterton
Wisconsin Housing and Economic Development Authority (WHEDA)
WPT Capital Advisors
---