Over 600 Alumni, students, faculty, and friends of the University of Wisconsin-Madison real estate program gathered together in Madison at this year's biennial conference on September 21 and 22nd. The conference kicked off with the Biennial Badger Golf Open at the University Ridge Golf Course followed by a walking tour of student housing, panels, and the Women's Tea event.
The Women's Tea is a newer women's event that celebrates and builds upon connections between alumni, students, and guests. Members of the student organization Women in Real Estate (WIRE) were in attendance and were able to reconnect with recent graduates who were also part of the club.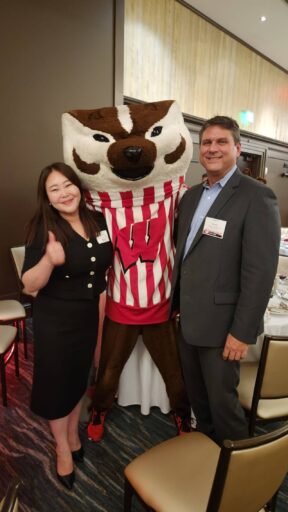 On Thursday evening, record-breaking attendance at the Alumni Banquet at the Edgewater Hotel pushed some student attendees to sit outside the ballroom. Dinner entertainment included WREAA updates, presentations of awards, and an update by Dean Samba. Chris Merrill, Co-Founder, Chairman, and CEO of Harrison Street, was awarded the Graaskamp Real Estate Visionary Award and gave an insightful fireside chat about his experiences. The Graaskamp Real Estate Visionary Award recognizes the successes and contributions of an individual or firm to the real estate process through the integration of both business and social ethics. Mr. Merrill highlighted the importance of working hard and searching for opportunities in real estate. The night ended with the UW Madison Bank and Bucky Badger leading varsity and other university classics for the fifth quarter.
Friday morning was full of panels featuring speakers from the entire real estate industry. Some highlights include updates about the UW Madison Real Estate Program, finding opportunities in challenging financing situations, and reimagining historic building stock. All were very insightful for attendees and proved optimistic for future developments and investments.
The alumni luncheon at Memorial Union featured an impactful presentation by William McNulty, head of Mission for White Stork and co-founder of Team Rubicon. His humanitarian efforts, specifically in relation to the war in Ukraine, showed the importance of teamwork and purpose in excelling in a competitive world. Students and Alumni alike were able to learn much from his presentation while connecting over lunch.
The conference ended with property-type forums and a closing networking reception. Experiences were shared, stories were told, and connections were made. Throughout the conference, the strength of the Wisconsin real estate program was evident as badgers connected through their shared experiences.
---