On October 28th of this year, first- and second-year MBA students in the Marketing Leadership Institute had the unique opportunity of visiting two outstanding companies in Chicago. These companies have been key players in the recent pandemic-era: Salesforce and Kimberly-Clark!
As a first-year marketing MBA student, I could not wait to jump on the Badger Bus and see all the opportunities that Chicago has to offer. This became even more apparent when we approached the skyscraper-studded skyline. There is something undeniably special about living and working in a big city. It makes you feel like you are a part of something bigger than yourself.
The Morning: Salesforce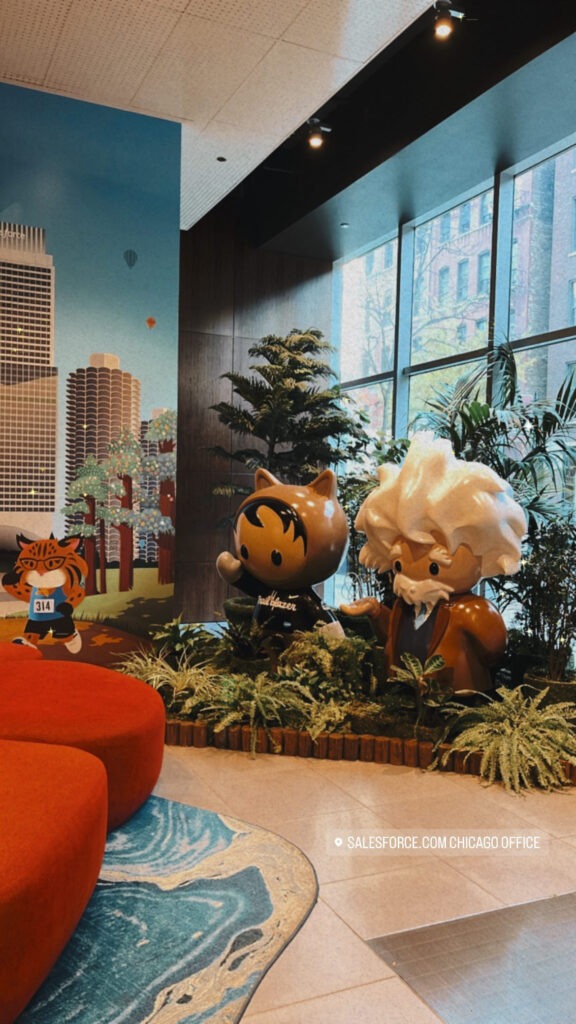 Right at 9 AM, we crossed the street from our River North hotel to Salesforce's downtown office (their sparkly new tower should be completed in 2023). Statues of the company's signature characters welcomed us in every corner of the office. The floor-to-ceiling windows gave great views of the city and, yes, visitors can eat the snacks available in the break room. This visit was especially alluring to the first-year students in the newly developed Technology Product Marketing specialization within the MLI. During our visit, we got to hear from fellow Badgers about what working in tech marketing really looks like and how they effectively market their valuable but intangible CRM services. As someone who used a custom version of Salesforce at their pre-MBA job, learning about how their product is customized to better suit their customers from a new perspective was fascinating to me. As students, we also loved how Salesforce spoke with candor and humor when describing what they called "no s**t" moments.
The Afternoon: Kimberly-Clark
After our head-first dive into the tech world, we ventured over to the Loop to visit Kimberly-Clark's sleek new Chicago office. They have spent the past year making the transition from Neenah, WI to Chicago in order to spark that competitive advantage when hiring top talent. After a tour of their new office (complete with designs from a Madison-based interior design firm!), students got the chance to participate in a unique applied learning session.
We learned all about the real-life problems that a CPG brand manager faces and made recommendations off their consumer insights. We learned about KC's new social media strategy and how one brand team can make a wave throughout the entire 150-year-old company. It is exciting to see that despite the pandemic complications, KC is still thrilled to be recruiting MBA interns. They emphasized their enthusiasm with their high turnout of Badger employees eager to help us through our marketing student journeys.
The Evening: Chicago-Based Alumni Networking
After a long day of learning, there was nothing better than ending the day with an alumni happy hour in Chicago (except for maybe at Vintage). Second-years got to reconnect with recent alumni and first-years flexed our ever-so-important new networking skills while sipping cocktails with like-minded Badgers. Second-years who spent their summer internships in Chicago reminisced on their experiences and spoke on how excited they were to be returning. I couldn't help but daydream about what my summer would look like if I pursued an internship opportunity in Chicago. We made new connections, and strengthened old, through our mutual love of UW-Madison and UW-Madison sponsored events that bring our community together. I personally got to speak with some alums who went on the MLI's last trip to India in 2020 – and I cannot wait to update them on how our 2023 India trip goes!
After the networking reception, a few of us hopped right back on that Badger Bus returning to Madison, but others, such as myself, decided to stay the weekend in this amazing city. As I left the venue, I couldn't help but feel grateful for all the opportunities that the Marketing Leadership Institute has already offered me. Our program's industry connections and alumni relations are truly unmatched. After this trip, I realized that it's no wonder fellow first-year students in other specializations look on to our program with a healthy jealousy. I may have joined this program for its outstanding reputation and my family ties to the university, but I have stayed because of the exceptional programming and support throughout my MBA journey.
---