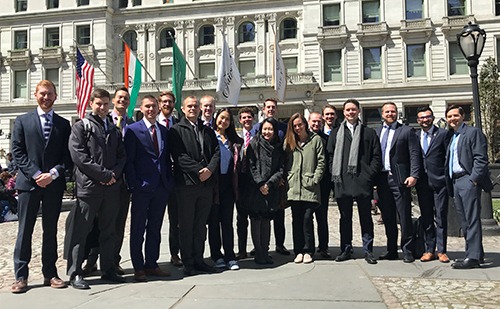 In the second week of April, the Nicholas Center students and staff had the opportunity to travel to Manhattan and experience the center of American finance. Our corporate hosts included; Goldman Sachs, FTI Consulting, J.C Flowers & Inc. and Ernst & Young, who arranged info sessions and tours with our group. Students were excited to meet influential members of these financial services companies, ask questions and speak to recruiters.
The students also had the opportunity to experience the NYSE opening bell ceremony, tour the trading floor and see Jim Cramer's live CNBC broadcast; some even managed to get themselves on television. Other tours included the Federal Reserve Bank of New York where we learned about the role of the Fed in setting monetary policy, promoting financial stability and serving communities of advance economic growth – not to mention they house five days' worth of cash on hand in case there is a major disaster in lower Manhattan. Other tours included a WeWork a global flexible workspace company near Bryant Park as well as an organized walking tour of Wall Street with a historian. We managed to pack a lot into the two days we were in Manhattan…but there is more. The Nicholas Center made time for some social events…we hosted an alumni cocktail event, giving students the opportunity to network with our alumni and staff a chance to catch up with old friends. Our last night in the city, students and staff were invited to a Badgers in Finance event at the legendary Carnegie Hall. This was a great networking event for our students who could connect with NYC alumni in the financial services industry.
One of my favorite parts of the trip was seeing the students bond with each other and create life-long relationships with one another.
The Nicholas Center would like to thank the following people for making this trip possible:
Barb Bolens, VP & Treasurer/Komatsu Mining Corp Group, David Hanley, Senior Director/FTI Consulting, John Oros, Managing Director/J.C. Flowers Inc., Richard Marx, Principal-Business Advisory Service/Ernst & Young, Mike Jalkut, Managing Director/Goldman Sachs
---