Here's a Story of a Lovely Lady…
The art of storytelling isn't just for the Brady Bunch. Some entrepreneurs, like Lisa Harris, are making careers out of it.
Before discovering her passion for storytelling, she spent two decades building her career in corporate America.
"After I graduated from the University of Wisconsin-Madison with a Bachelor of Business Administration degree in Marketing, I spent 18 years in retail business development, retail buying, and strategy work. I had the opportunity to work for large, global corporations and Fortune 500 companies." Lisa started her career at Mervyn's and then moved onto Target and Sanrio, Inc.
For entrepreneurial-minded people, corporate America may sound suffocating. The 9-5 lifestyle that some regard as 'signing your life away,' but Lisa never believed that.
"I have great memories and a profound appreciation for everything I learned during that time in my professional life. As I grew older, the corporate life didn't align with where I needed to focus my attention, but I would recommend to all young women who have an interest in business that it is a really great way of getting a global understanding of business."
Our lives aren't meant to be stagnant, and our jobs are supposed to evolve just as we do. Turning to entrepreneurship wasn't something Lisa expected, but it was her best next move.
"Entrepreneurship was not part of the plan. I tripped upon it. I was far along in my career and doing extremely well, but as a mother, it became challenging to manage my time between raising kids and meeting the high demands of the corporate."
To handle the increased level of stress, Lisa needed an outlet to express herself and make sense of her life. That's when she re-discovered her passion for writing.
"It was a space for me to figure out who I was. Through the process, I recognized that it was time to explore a different side of me, a more creative side. And so, my entrepreneurial journey began by leaving corporate America in 2015 to publish my first book."
Lisa published a poetry book entitled Unveiled Beauty: Handwritten Stories from a Poetic Heart. "A poetry book is not what most people would have expected," says Lisa. It offered her a place to explore her creativity and heal. This is where her journey began.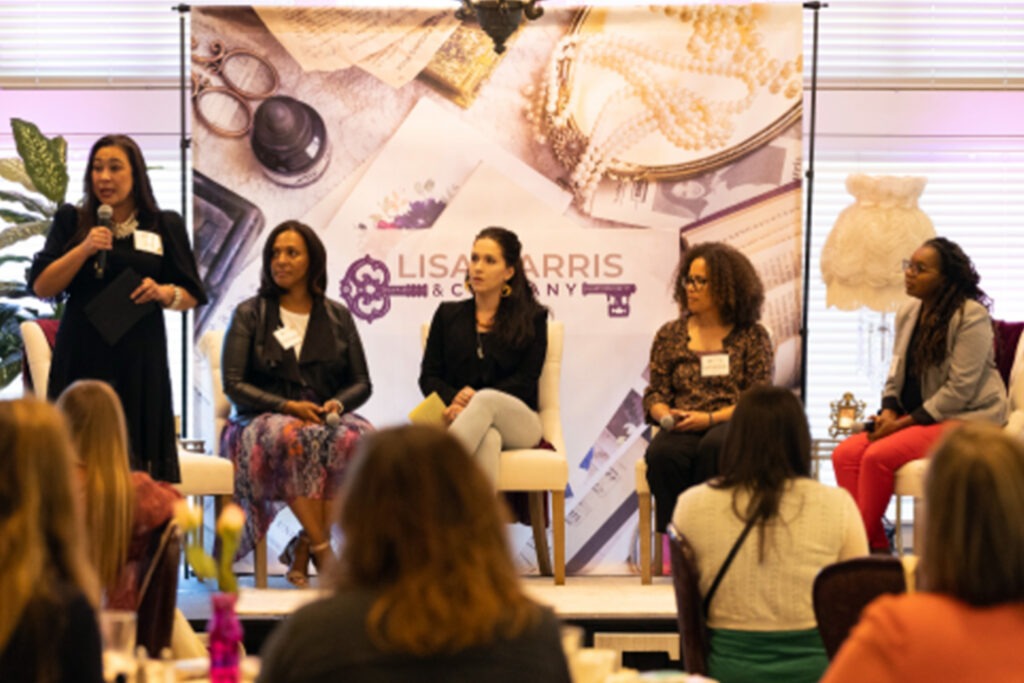 "Through book signings and poetry readings, I discovered that women needed a space to share their stories and be heard. Recognizing this opportunity, I launched storytelling events in 2017. Since then, I have produced 40-50 different events where women share their stories and have vulnerable conversations as a form of growth and healing.These events led me to the work I do today as a narrative coach certified in narrative therapy."
Lisa Harris & Company was founded to help women change their narratives. It's a personal development company and coaching business that transforms women's lives through storytelling.
The programs offered by the company consist of a 6-week online group coaching program, private narrative coaching sessions, and a 3-month writing program to help women transform their stories into powerful narratives.
"I am a lover of stories, and I truly believe that inside of our stories, there are these nuggets of knowledge and hope and healing. My favorite part of being a narrative coach, and also helping women on their healing journeys, is watching women rise and move forward in their lives. Oftentimes we are stuck. The world has so many different messages that we, as women, have to navigate and unravel in order to find our way. It's in the conversations and the vulnerability where I see the real honest side of women."
Transcending job fields is difficult, especially when one goes from corporate to being self-employed. Lisa regards this change as one of her biggest obstacles.
"One of my greatest roadblocks was my experience. I was so comfortable in the old version of Lisa , that it made it difficult to have a more open and fluid mindset necessary for innovative thinking. When you are an entrepreneur, you have to show up as your most authentic self. It's hard to do that when you are used to a different version of yourself showing up in corporate America."
Oftentimes when someone decides to become an entrepreneur, their business becomes their entire lives. For Lisa, this same thing happened. However, a flexible schedule allows her to balance her personal and professional lives so she can spend quality time with her children—something that was challenging in a typical corporate job.

"Asking for help." Some of the best advice Lisa can give. "I think it's really hard whether it's in your business or your personal life. Especially for women, we don't always ask for what we need. We don't always speak up. Asking for help is vulnerable, but it's only when we're vulnerable when we can really connect with other people."

In 2013, Lisa became a more involved alumni by first becoming a Madison Business Mentor until 2020. She also served as a Wisconsin Business Alumni Board Member from 2014-2018 and became a WAVE board member in the Fall of 2022.
If people are lucky enough, they are able to find work that fuels them. Lisa was able to create work that fueled her, and now she does what she is passionate about every day of her life.
"The secret of life is to live life. Peace, joy, and happiness come from the journey. It comes from accepting and embracing all the challenges and tragedies that one experiences along the way. We can't change things of the past. All we can do is to move forward. I think the secret of life is embracing the journey, and that's what I help women do every day."
We welcome Lisa Harris to the WAVE Advisory Board!
---