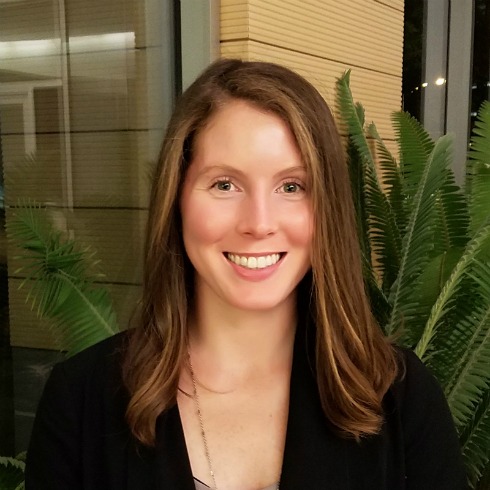 We had the chance to catch up with Emily Zupan, who graduated with an MBA from the Wisconsin School of Business in 2016. Emily studied in the Center for Brand & Product Management, and was heavily involved with the Weinert Center during her time in Madison. As a Wisconsin Fellow in Enterprise Development and WAVE alum, she also received her Certificate in Entrepreneurship.
Although Emily came to UW-Madison to focus on marketing, it did not take long for her to develop an interest in entrepreneurship. She was accepted into the Fellowship in Enterprise Development program, where she was able to take classes specific to entrepreneurship during her second year. As part of the Weinert Applied Ventures in Entrepreneurship (WAVE) class, Emily worked on a business model for Trail Dog, a meal-replacement bars for dogs. As a dog owner, Emily had recognized that there was an unmet need in the market. It was not until her entrepreneurship classes, however, that she performed extensive market research and further developed the idea. Emily was grateful for the opportunity to leverage the resources that the university offered, and worked closely with faculty and staff within the Animal Science department. Looking back at her WAVE project, Emily told us what a privilege it was to have the university resources at her disposal.
Emily currently works as an Associate Product Manager for Hollister Incorporated, a medical device company outside of Chicago. She practices intrapraneurship at her work, as every day she works with cross functional teams to design, develop, and commercialize new products for the health care industry. Although she graduated from the program over a year ago, she continues to look back to lessons from her entrepreneurship classes. Being innovative, moving fast, and coming up with creative ways to get rapid feedback from customers are all lessons that she learned on campus, and currently uses at her job. She reports that the medical device industry is becoming more fast-paced and consumer-centric, and Hollister is no exception. This shift "is a big change for the company, but one that I'm definitely excited to be a part of," she reports. She credits the lessons learned during her entrepreneurship classes with a lot of her success at Hollister.
While she acts as an intrapreneur at work, she is an entrepreneur in her free time. Emily is currently working on a new project, Puppernut, which will sell products and accessories for hyper-passionate pet owners, including yoga mats for dogs. Although in its infancy stages, the project is an exciting one for Emily. The idea came to her when speaking with a fellow dog owner, and after doing extensive market research, Emily believes that she has uncovered many unmet needs in this segment. Although she herself does not practice doggy-yoga, she loves animals and recognizes how serious pet owners are today, which is what makes this such an attractive target market. Although she has a handle on the marketing and operations, Emily recognized that she needed help with sourcing materials. She knew that one of her former classmates from the Weinert Center, Mike Vig (WAVE '16), had contacts for overseas sourcing and manufacturing from his previous experience in the sporting goods industry, so she reached out to him for help. Mike has partnered up with Emily to help with Puppernut, and they hope to turn this vision into a reality soon. Emily is thankful for the connections that she made during her time in entrepreneurship classes on campus. These people "are your classmates today, but they just might be your co-founders tomorrow!"
When asked what advice she would give current students who are considering getting involved in the Weinert Center, she responds enthusiastically "do it!" Entrepreneurship classes "give you a framework and a way of working and thinking that is unique from other specialties," she says. "It will set you up for a successful career wherever you go." Emily is grateful for her experience in WAVE, not just for the lessons learned, but for the network it provided. Emily can certainly attest to this out of her own experience.
We wish her the best of luck and hope to see Puppernut products hit shelves soon!
---