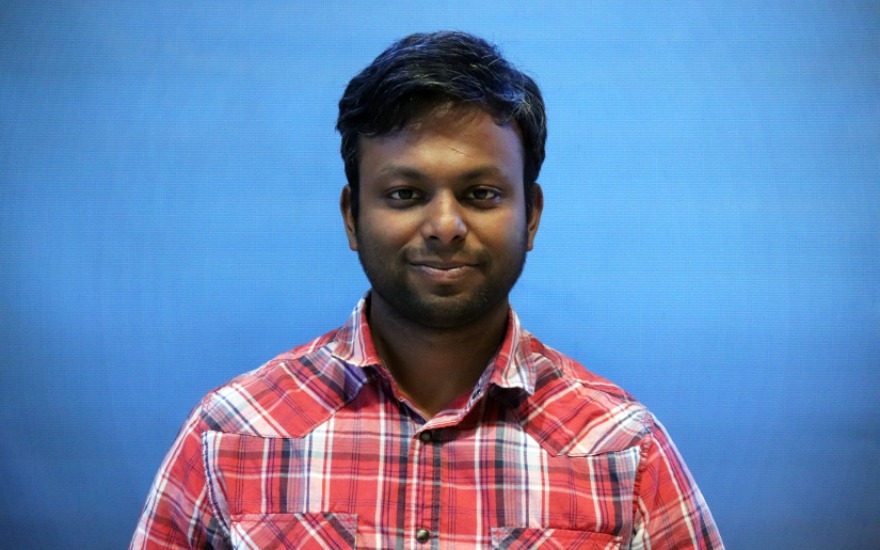 DataChat was founded by UW-Madison computer sciences professor Jignesh Patel, a serial entrepreneur for whom the startup is his fourth, and Ph.D. student Rogers Jeffrey Leo John (WAVE '18 and MEB '18) back in June 2017. The company's value proposition is to make data analytics more accessible to those from a non-computer science background so they may interact directly with data. With DataChat, business leaders have the ability to "chat" with an intuitive automated bot using basic language.
Recently, the Madison-based tech start-up raised $4 million to help build up its team and scale its operations. Rogers shared his perspective on his experience with DataChat thus far and some of the lessons he's learned. He mentioned that he considers himself fortunate for being in a computer science field, which facilitates working remotely much more than other industries. He expressed that he feels grateful to have a job at all, and on a personal level, he shared that he feels privileged to be home with his family. His son just recently had his first birthday and Rogers has enjoyed getting to see his developmental milestones that he otherwise would likely miss if not working from home.
DataChat began as a research project that was part of Rogers' thesis that Professor Patel and Rogers then materialized into a startup. Rogers mentions that his time with DataChat has caused his perspective on the relationship between tech and business to change considerably:
"Tech and business, although they seem independent, actually are not — you're writing code for the business and the customer. It's important to think from the customer's perspective when you're developing a product. That thinking has to come down to the level of developing your product, which was really an eye-opening experience for me" explained Rogers.
A common insight among entrepreneurs is the importance of customer research and feedback throughout the product development process. Rogers reaffirmed the value of including the customer in any product decisions, stating "It started off as a research project [where] we proposed a problem, so it was just our line of sight when we [determined] what the product should look like. But when we took it on a road test and tried it out in the real world where we got people to use it, we realized 'Oh, this is perhaps not how the product should be. Our assumptions were not correct, so let's make some adjustments.' It's not that we had to drastically change the product, but we had to make little adjustments to the product directions and the product features."
But Rogers adds that challenges can arise within the dialogue itself, recounting how early on his team had some trouble framing DataChat's value to customers: "DataChat improves the productivity of data analytics and sometimes individuals in organizations see it as a threat to their position. That was the initial challenge we faced, [and in fact] we still face when we meet with prospective customers. It was something we learned over time and that we had to tweak our approach so that customers see it as a tool that will help augment their efficiency and not as a threat."
As a graduate of both the WAVE and MEB programs, Rogers shared how the Weinert Center prepared him with valuable skills he has applied over the last few years with his startup: "One [aspect] from those classes that has definitely improved me is learning to develop empathy towards the customer. Instead of just thinking in terms of the product and what I want, which is what a researcher may typically say because 'I came up with the problem, I came up with the solution, and so this is what I think the product should be', the MEB and WAVE classes helped me [realize] that you don't need to build the best product, but rather the product the customer loves and find easy to use. So I'd say that was one key takeaway from my courses."
Like other Weinert Center graduates, Rogers emphatically recommended current students consider taking the WAVE practicum course!
---