In 2019, the Pill Skills team came to the Business and Entrepreneurship Clinic (B&E Clinic) seeking advice on search engine optimization and marketing. Pill Skills is working to increase awareness about the benefits of their product to parents of small children who might be struggling to swallow needed medications. The B&E Clinic is excited to continue supporting this venture as they grow and gain recognition and receive grants from local seed funds.
In 2019, sisters Marissa and Samantha Harkness started their journey to develop a product to teach children how to swallow pills. Marissa and Samantha became aware of this problem from their mother who has always had trouble swallowing pills from a very young age. They discovered this problem was not unique to their mom; in fact, 40% of Americans struggle to swallow pills. From their research the duo uncovered that through instruction, kids can effectively be taught to swallow pills, and avoid joining the population of adults who still have difficulty swallowing pills later in life.
The sisters decided to create a product featuring practice pills (sugar pills), a progress log, and helpful hints to help children build confidence while learning this important lifelong skill. Both sisters utilized a combination of their science, engineering, and business backgrounds to develop the product. Marissa is a recent graduate from UW-Madison with a Bachelor of Science degree in biomedical engineering and Samantha is currently pursuing a Bachelor of Science degree in biomedical engineering and a Master degrees in technological entrepreneurship at Illinois Tech. After developing a prototype kit, the sisters collected feedback and made revisions and improvements to the product. From the detailed feedback they collected, they were able to manufacture a product which they sell direct to consumers on their website.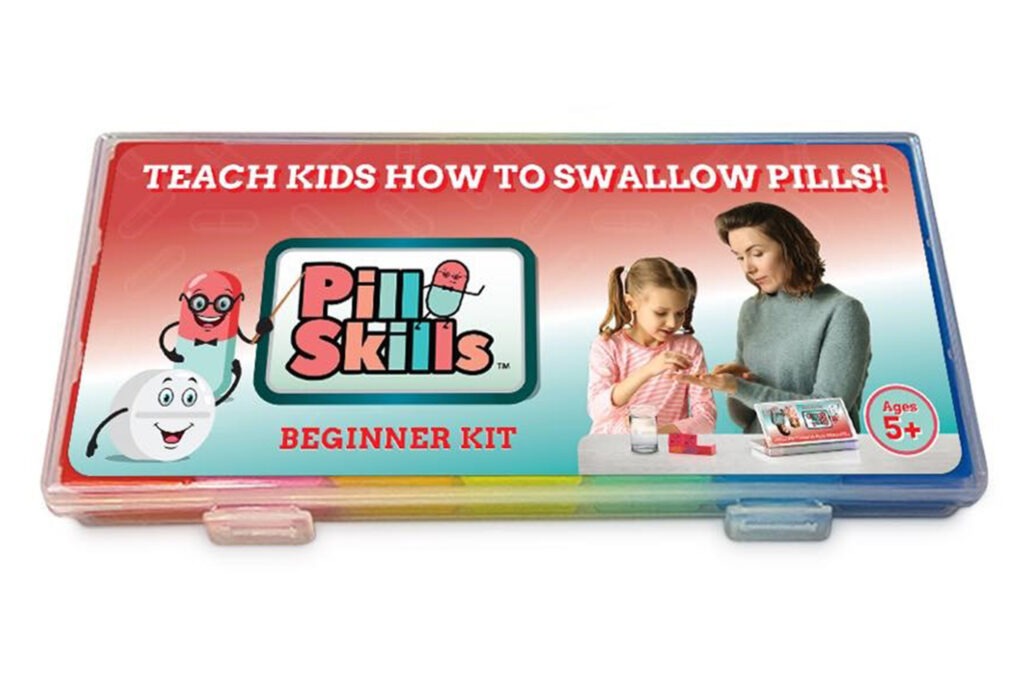 What's Included in the Kit?
The kit consists of seven different increasing sizes of pills. The pills are placebos with no active ingredients and increase in size as children progress through the training regimen. In addition to the pills, the kit contains a practice log and instructions providing a step-by-step guide on how to build a positive experience while developing pill swallowing skills.
A Growing Need for Behavioral Therapies
Recent analyses by the National Library of Medicine found that behavioral therapies for pill swallowing can be implemented to help improve medication administration and compliance in the pediatric population. Products such like Pill Skill's Beginner Kit could play a large role in helping patients learn to take a variety of medicines contained in different capsule sizes. Marissa and Samantha were especially attentive to the needs of younger learners. With their focus on designing a product to meet the needs of children and their families, they are looking to establish and grow a customer base within this market segment.
What's next for Pill Skills?
Last year, Pill Skills was awarded a $15K grant from the Ideadvance Seed Fund. Ideadvance provides grants to startup teams that are affiliated with the UW system, alumni, staff, student, or faculty enabling teams to complete lean startup initiatives. Marissa and Samantha are using the grant money to support their marketing strategy, which will facilitate partnerships and new customer acquisition. The Pill Skills team is looking to further define and grow this market, and ultimately improve the lives of children and families.
If you have a business idea, contact the B&E Clinic through their application for services located at https://tinyurl.com/beclinicapplication. We are eager to help!
---