Friday, December 1
All day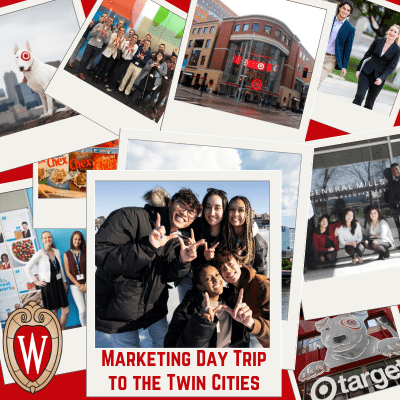 Calling all undergraduate students interested in marketing! You're invited to visit General Mills & Target with the Marketing Leadership Institute on Dec 1, 2023.
Spend the day in the Twin Cities with us and you'll get to:
Tour General Mills, one of the world's largest CPG companies with over 100 brands. Meet the marketers that help make this America's Most Innovative Company (Fortune 2023), America's Most Responsible companies (Newsweek 2023), and World's Best Employer (Forbes 2022).
Visit the headquarters and flagship store for Target, one of the top 10 largest retailers in the United States. Learn to "walk the store like a marketer" with Target Team Members from each division.
Attend an exclusive Industry Panel & Networking Reception with area alumni and industry friends after the company visits.
Why Attend?
There are many benefits to going on this field trip. A few of which include:
Networking Opportunities
Learning about CPG & Retail Industries
Understanding the company cultures and values
Exploring careers at Fortune 500 companies
Meeting other students interested in marketing
Developing relationships with UW Alumni in the Twin Cities.
More Details
This is a full day trip. Currently we plan for students to meet the bus for departure at 6:45am at Grainger Hall and arrive back at Grainger around 11:30pm. Registrants will receive exact details.
Who Can Attend?
This experience is open to any undergraduate or masters student interested in marketing. Space is limited due to the number of seats available on the bus.
Costs & Financial Considerations:
Travel to and from Minneapolis and throughout the day will be provided by the MLI. Meals provided include: Breakfast on the bunch, Lunch at General Mills, and the evening reception will include beverages and heavy appetizers. No fee associated with this trip.
Register
Registering is easy. All you need is: confirmation that you can attend, your contact information, and your in case of emergency contact information. A resume is preferred, but not required.
Questions about this event can be sent to MLI@wsb.wisc.edu