Friday, September 29
|
12:00pm
–
1:00pm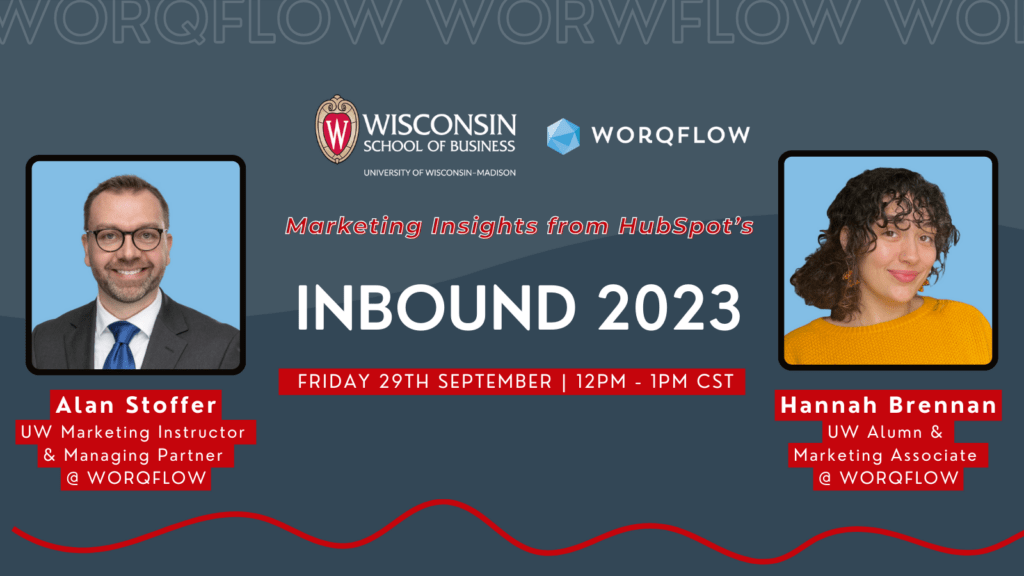 The Marketing Leadership Institute is excited to partner with our very own Alan Stoffer (MBA class of '13) and Hannah Brennan (WSB Class of '23) to hear their insights from one of Forbes' Top 10 Must-Attend Conferences. The one-hour session will be Friday, September 29th at 12pm CT.
Want to know the latest marketing best practices that world-class companies are implementing today? Alan Stoffer, WSB Marketing Instructor and Managing Partner at WORQFLOW, as well as Hannah Brennan, WSB Alumna and Marketing Associate at WORQFLOW, will share their learnings and insights from attending this year's INBOUND conference. INBOUND is one of the largest gatherings of marketing, sales, and CX industry professionals. You'll learn how to optimize your and your company's LinkedIn presence, revolutionize your email marketing tactics, and power your marketing with AI (the right way).
This is your chance to grow your network with fellow alumni, ask questions, and get your marketing creative juices flowing!
This webinar is open to anyone who would like to attend (Alumni, Students, Faculty, etc.) as everyone interested in marketing will find this content useful. To receive the calendar invite with the Zoom link please reach out to mahina.adams@wisc.edu.