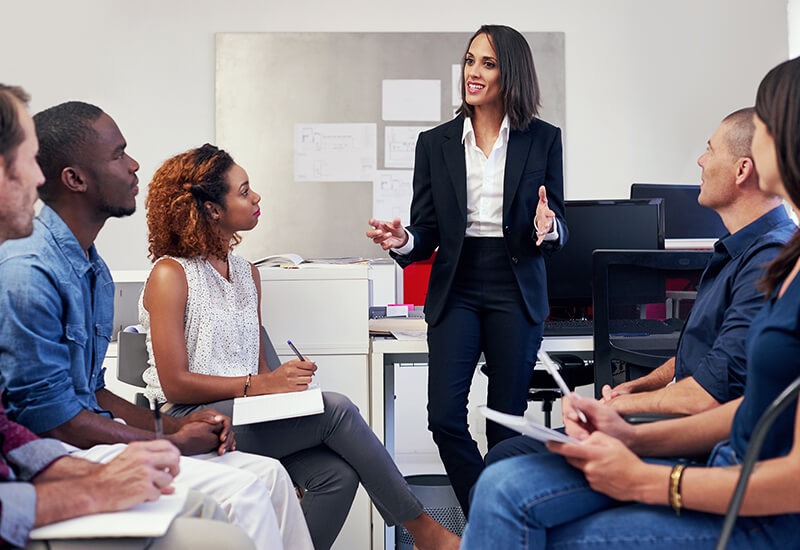 In 2010, Kendra Armstrong had an "aha" moment. She was working in sales and internal consulting for a software company when she discovered a passion for client training and coaching. Armstrong set her sights on a human resources career, but to change direction she needed broader business knowledge and skills. Like many people, Armstrong got to a place where she was striving for something different and wanted her career to advance quickly. She was motivated to explore next steps.
Do a job satisfaction check-in
If where you are now is not where you want to be, ask yourself questions like what motivates you, what you value, and what you're good at. By following your passion and building on your strengths, your career can take on a whole new dimension. For Armstrong, an MBA was the game-changer she needed.

What the research shows about an MBA
If an MBA is on your radar, there's good research to support your decision journey. The Graduate Management Admission Council (GMAC) reports the following about an MBA:
90% of alumni who wanted to change job functions say their MBA was worth the investment.
90% of alumni say they are better positioned to lead because of their degree.
More than half of alumni work in industries and jobs that are completely new to them.
MBA graduates have a $2 million lifetime earning potential.
MBA graduates, on average, double their salaries right out of grad school.
Getting an MBA is a big decision. The data on ROI tells part of the story, but to get a fuller picture it's valuable to hear what students say when they reflect on their time in an MBA program.
What matters to students
Overall, students seek a career-changing experience that integrates in-depth learning with career management and helps them become the kind of leaders they aspire to be. Students have said that what they value most in the MBA experience are the opportunities to:
Learn from faculty experts who challenge them and teach core principals of critical-thinking, strategy, and analytics.
Participate in a diverse range of real-world consulting projects with top global companies.
Define the kind of leaders they want to be as they interact with diverse people, projects, and organizations.
Get exceptional career navigation from successful, highly engaged alumni and influential executive mentors.
Gain essential business skills to support success throughout their entire career, like managing change and leading diverse groups.
Develop a lifetime network of well-connected, high-achieving professionals that opens doors.
The true evidence of what you gain in an MBA program, of course, is when the rigorous training gets you the job you really want.
Why employers seek the MBA difference
Employers report that MBA graduates bring a fresh perspective to corporate strategy with their ability to frame problems, analyze data, and implement change by leading cross-functional teams. The proof shows in the bottom line and in how quickly MBA hires progress. It's a win-win. Graduates get the career they want and employers gain a competitive advantage in today's dynamic, global business environment.
My MBA education gave me the tools and experience to enter a new field at high level with confidence and authority. It provided a chance to build leadership skills and change my career focus.
—Kendra Armstrong (MBA '12), Vice President and Human Resources Manager, Bank of America
That game plan has certainly paid off for Armstrong. "My MBA education gave me the tools and experience to enter a new field at a high level with confidence and authority. It provided a chance to build leadership skills and change my career focus," she says. Armstrong is doing the work she loves and her employer continues to promote her as a result of her exceptional preparation.
Switch careers with an MBA and go further, faster
 Armstrong's MBA from the Wisconsin School of Business gave her the skills and credentials to enter her new field, human resources. While in the program she gained experience as an MBA intern with Bank of America and was hired there after graduation as an executive compensation consultant. Three promotions later, Armstrong has advanced to VP, Human Resources Manager of The Chief Financial Group at Bank of America.
An MBA can be one of the best ways to quickly obtain the expertise and skills you need to switch careers. At the University of Wisconsin–Madison, the Wisconsin Full-Time MBA Program prepares you to get the exact job you want by offering one-on-one attention, participation in consulting projects, a lifetime professional network of high-achieving peers, and strong career outcomes to guide your entire career.
The Wisconsin Full-Time MBA helps students transform their careers to follow their dreams. As #1 in ROI, it delivers exceptional value. As the #14 public full-time MBA program, Wisconsin offers a strong reputation. Accelerate your career in a new role or in a new industry. See where a Wisconsin MBA can take you.
---